What is HyperWrite AI? How to Use This AI Tool?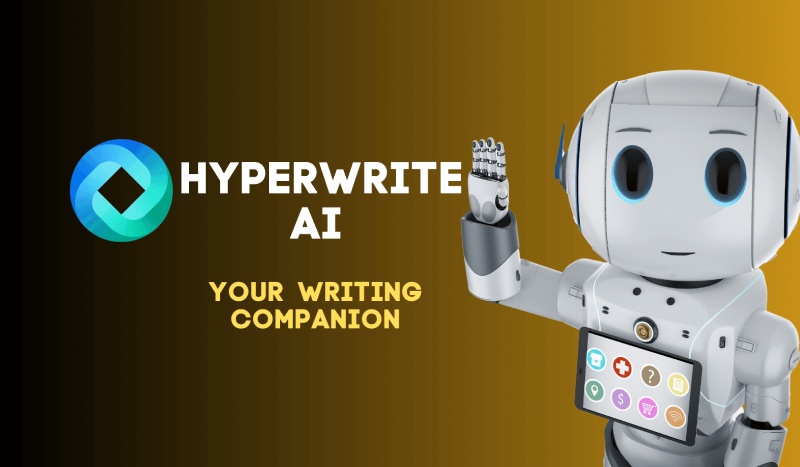 Are you seeking a general-purpose AI tool that might replace ChatGPT? Announcing HyperWrite AI! We'll go over all the details with you today, including features, an explanation, pricing, and more!
The demand for efficient and effective writing tools has never been higher than it is in the fast-paced world of today, where content reigns supreme. Here comes HyperWrite AI, your own personal writing assistant that aims to transform your writing process. HyperWrite AI will help you create persuasive marketing copy, interesting blog pieces, and better daily business communications.
What is HyperWrite AI?
At its core, HyperWrite AI is an artificial intelligence and machine learning powerhouse created to speed up and streamline your writing process. Imagine having a sage by your side who is prepared to help you with a variety of writing tasks, from creating marketing content to handling your regular business correspondence. That buddy is exactly what this AI tool is.
The ability of HyperWrite AI to modify your particular writing style is one of its standout features. You may feed the platform with external documents through its HyperWrite Chrome extension, allowing it to learn and imitate your writing style and resulting in a personalized experience made just for you.
HyperWrite AI Features
There are many tools available on HyperWrite AI, and its active user base develops some of the most fascinating ones. Here are some noteworthy features that set HyperWrite AI apart:
Expert Writing Assistance: While HyperWrite AI is excellent at generating drafts, it's important to note that the quality of its recommendations differs. While some suggestions are on point, others can just barely miss the mark or even veer off track. But it's a useful tool for refining your writing.
Topic Research Using HyperChat: HyperWrite AI's topic research makes use of HyperChat's capabilities to propose reliable sources and summarize relevant articles. HyperChat saves you time and effort by eliminating the need for endless online searches for trustworthy information.
Plagiarism Checker: HyperWrite AI is a helpful plagiarism detector for users working on academic documents, blog posts, or articles. It checks to make sure your text is original and plagiarism-free by scanning it and cross-referencing it with its huge database.
Summarizer: With HyperWrite AI's summarizer, tackling lengthy and challenging pieces of work is now a breeze. The most important data is delivered while complex content is condensed, saving you valuable time.
Magic Editor: Consider the Magic Editor to be the magical godmother of your writing. Your words become dazzling by being sprinkled with clarity, tone, and style, turning them from ordinary to brilliant.
Typeahead: Typeahead is a feature of the AutoWrite feature that anticipates the end of your phrase. Although it might take some getting accustomed to, it's a useful tool for overcoming writer's block and discovering inspiration.
How to use HyperWrite AI
The AI tool is simple to use once you've installed it. For maximum effect, adhere to these few steps:
Go to the HyperWrite homepage: Visit the HyperWrite AI official website.
Sign Up: To register, click either the "Sign up" or "Try for Free" buttons in the top right corner of the screen. You'll be taken to the sign-up page by any options.
Create an Account: Select 'Sign Up' if you do not already have an account. You have the option of signing up with your Google account or entering your email address and password.
Accept Terms: To confirm that you are over 18 and accept the terms of service, click the checkbox. After that, press the "Sign Up" button.
Start Enjoying HyperWrite: Now that your account is set up, you are prepared to take full advantage of HyperWrite AI. Create engaging content quickly and easily.
HyperWrite AI Pricing
To accommodate a variety of users, the tool has three distinct pricing tiers:
Free Plan: Credit cards are not necessary. You can benefit from 3,000 character inputs every month, 15 generations, 15 rewrites, and 500 TypeAheads per day.
Premium Plan ($19.99 per month): Unlimited TypeAheads, generations, rewrites, 400 Assistant actions, and 5,000 character inputs each month are included.
Ultra Plan ($44.99 per month): All benefits of the Premium Plan are included, along with 1,000 assistant actions, 7,000 character inputs, longer-term AI memory, and priority support.
Finally, in the world of content creation, HyperWrite AI is your trusted ally. Its potent AI-driven features, community-driven tools, and personalized assistance are made to advance your writing. The AI tool presents a potential choice for writers of all experience levels with multiple pricing options and an intuitive UI. Explore, dive in, and let HyperWrite AI take your writing to the next level.