Port Harcourt Poetry Festival, PhPoetryFestival will take place in the Garden City on November 3–5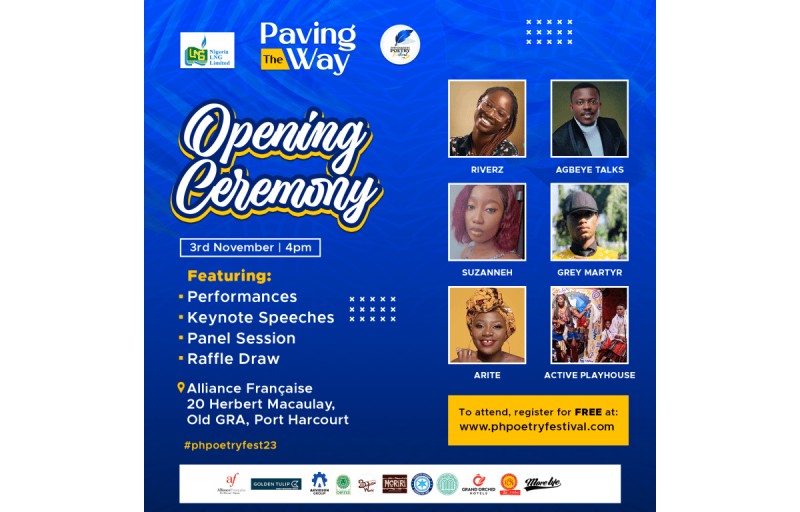 The inaugural Port Harcourt Poetry Festival, PhPoetryFestival, will take place in the Garden City, also known as the Alliance Francaise, Old GRA, for three days from November 3–5. During that time, the city will be filled with rhymes and rhythms.
The Garden City Book Festival, which was promoted by Mrs. Koko Kalango and her team at the Rainbow Book Club, had made the city famous before. In 2014, the city gained international recognition when it was designated as the World Book Capital by UNESCO. This achievement was made possible by the Rainbow Book Club, which was supported by the Rivers State administration led by Rotimi Amaechi at the time.
This time, though, it is solely a celebration of poetry, and a group of up-and-coming poets, literary activists, and enthusiasts are the brains behind it.
Riding on the theme of "Paving the Way," the festival will feature a cast of up-and-coming local poets as well as well-known figures in the N Nigerian poetry circuits, such as the corporate executive-poet Kudo Ersesia Eke, activist Dike Chukwiumerije, lyricist Sage Has.Son, and "poet of the dust," Umar Abubakar Sidi.
Over the course of its three days, the festival will include performances, panel discussions, workshops, keynote addresses, and raffle draws.
Ken-Adele Marvellous Oruchi, the festival's director and convener, states that the three-day event is "designed to promote poetry, culture, and the arts in Rivers State. Founded in 2023, the festival is geared towards fostering harmony and collaboration between poets, writers, and practitioners of the performing arts."
Kennedy continues, "We seek to put the spotlight on our beloved garden city as we believe our activities will create an enabling environment for creative expressions within the state; building capacity and developing talents who will go on to take advantage of the numerous opportunities in the global creative economy."
"The festival presents activities such as workshops, masterclasses, book readings, author sessions, poetry short-film screening, an art gallery tour, high schools poetry exhibition, performance poetry prize, an awards ceremony, and a concert.
"It is our desire to create a vibrant and friendly ecosystem that can spur the sustainable growth of creative expressions within the region, promote our alluring heritage as a people and consequentially bring the world to Port Harcourt."
Kennedy speaks at the star-studded opening ceremony, which takes place at the Alliance Francaise, Herbert Macaulay Way, Old GRA.
"We welcome you to an evening of splendid artistic expressions that will usher us into the spirit of the festival. Join us as we welcome guests and participants from across the country in a ceremony that promises to be GRAND in every sense. With keynote speeches and exhilarating performances from our distinguished guests, we are certain you'd rather be a part of this novel experience. Time: 4 PM"