Technology Trends in Airline Industry: Aviation Industry Outlook in 2021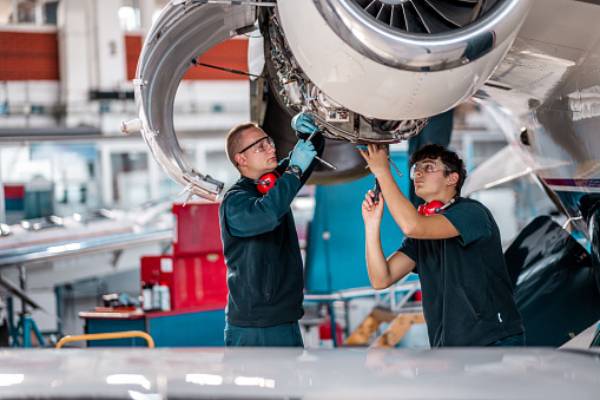 Had you been willing to travel abroad for business or fun in 2020? Have you booked a flight to a certain country you were willing to visit but your flight was cancelled? Have you been willing to visit some relatives and family members abroad or to travel back to your homeland to visit your dear loved ones during summer vacation yet your flight got cancelled and you had to stay there till further notice?

Surely, a lot of people have been unable to leave some countries borders because of COVID-19 pandemic. And that was disappointing to travellers and to the transport and airline industry!

"Lockdown! Borders closed! Flights cancellation! No flights! No Vaccination!"
All these terms were common in 2020, being one of the gloomiest years in the aviation industry and airline industry because of the COVID-19 pandemic.
Aviation Industry Trends for 2021
2020 is over and, thanks to the COVID-19 vaccination availability; countries are reviving the airline and aviation industry for the year 2021. Some airline and aviation industry trends are emerging that are transforming the airline industry outlook for 2021.
What Are Some Emerging Technology Trends in the Airline Industry?
Airline trends and aviation industry trends for 2021 focus on some technology trends that aim at ensuring safety of passengers and transport industry employees.

The airline industry outlook in 2021 aims at providing airport and airline operations with sustainability, technology and training in the aim of boosting their growth and to make it up for any losses the aviation and transport industry have been facing since 2020.
Emerging Technology Trends: Artificial Intelligence (AI), Machine Learning (ML) and Internet of Things (IoT)
2020 was the year of lockdown and borders closure, and surely that have negatively affected the airline and transport industry.

Airports and airlines worldwide are exerting their utmost efforts to enhance passengers' and aviation industry workers' safety. Some measures are taken in keeping the transport industry safe.

2021 marks a turning point in digitization of the airline and aviation industry. There is a huge dependence on technology in terms of Artificial Intelligence (AI), Machine Learning (ML) and Internet of Things (IoT) so as to provide airports and airlines with some digitalized services that shall keep passengers and aviation industry employees safe and avoid infection transmission.  
How Technology Affects Airline Industry?
The transport processes that passengers are currently familiar with are taken to a whole new level.
 
– On-the-phone flight reservation and ticket payment are made easy thanks to AI technology that makes life easy for passengers to do most of their flight reservations online and with a push of a button. AI is expected to help a great deal with facial recognition at airports.

– Airports shall have touch-less washroom doors that are to open and close automatically after each usage. Self-cleaning washrooms will be the trend.  Lots of facilities are going much further thanks to AI. 
– Airports are turning into data-collecting locations that offer instantaneous safety information like thermal scanning, detecting and notifying airport workers of crowd management and social distancing and cleaning crews of any issues that may come up.

– Machine Learning (ML) and Artificial Intelligence (AI) shall provide prediction and recommendation algorithms that shall help a great deal in improving health and safety precautions and processes at airports and in the aviation industry.
– Management of flights in terms of reservations and ticket bookings will be enhanced with updated software that depends mainly on AI as well as ML. Everything related to the aviation industry is turning digital. Every single detail is stored on a Cloud – the so-called Cloud Migration Technology. Cloud Migration has become vital to ensure uninterrupted and unified visibility of operations and data reliability.
– Internet of Things (IoT) is a part and parcel of the technology trends in the airline industry and the aviation industry for 2021; it is transforming the airline industry outlook. Internet of Things (IoT) – combined with AI – is responsible for creating a network of data-producing devices and assets that converse and increase efficiency of services and facilities at airports. Some examples of IoT airline trends in 2021 are robots, autonomous self-driving vehicles and virtual agents. Depending on those technology trends shall have a positive impact in facilitating processes and operations at airports and ensuring safety as well as minimizing infection as various services are touch-less.
Technology Trends Efficiency through Training
The emerging technology and digitizing processes in the aviation industry necessitate training on manipulating AI, Machine Learning and Cloud Migration technology. Truly, training on the knowhow is crucial to efficiency in the future trends in airline industry in 2021 and years to come.

Truly, implementing these technology trends cannot have a positive impact without perfect aviation industry employees' awareness and training. Airlines are engaging their employees in various training programs that aim at familiarizing them with those technologies so as to make sure that they provide great customer experience to passengers.

In order to enjoy the fruits of such a digital transformation, all those involved in the airline and aviation industry have to be well trained.

The implementation of IoT and Cloud Migration technology – as an example of the technology trends in the aviation industry in 2021 – assume that all employees and workers in the transport industry are well trained and familiar with the new processes and understand their issues.

To put the long story short, such training with regard to 2021 technology trends shall ensure that those involved in the aviation and airline industry have abundant knowledge to move forward and cope with the airline industry outlook for 2021 and years to come.

Transport industry is turning digital allowing more passengers to travel safe and with high levels of comfort. Truly, the airline technology trends are revolutionizing the aviation industry in 2021.

Emirates Airlines, Turkish Airlines, and Saudia airlines flight bookings are applying various technology trends that make life easy for passengers to travel the world with a push of a button at the comfort of their homes, and airports are turning into places enhanced with smart technologies that make flights safe and easy.