Tennis Star, Novak impressed with Power Sportz Editor-in-Chief, remains non-committal!!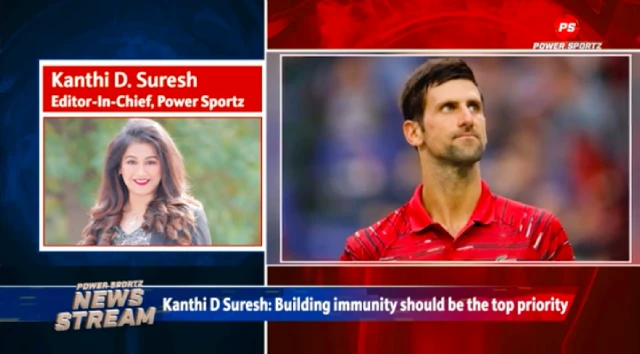 When the entire world is waiting for for the virus to subside, the debate on the vaccine continues. Recently, tennis star Novak Djokovic has made a statement that left everybody flabbergasted.
Djokovic, who has won 17 Grand Slam singles titles and is popularly known for his extraordinary ability to shrink the court has surprised everybody with this recent statement. He said that he would prefer to improve his immunity rather taking any vaccination on COVID – 19. Also, he said that he would have a difficult decision to make if receiving a coronavirus vaccine became mandatory to compete on the tennis circuit. He made this statement while speaking with a group of Serbian players on a live Facebook chat.
Though a statement that was released on Monday through his management team, Djokovic declined to address whether he opposed to vaccines in general.
Meanwhile, the editor-in-chief of Power Sportz, Ms. Kanthi D Suresh, supported Djokovic stand by saying that vaccination need not be a mandatory prerequisite to participate in international sports events as long as players are agreeable to undergo tests to prove that they are not carrying any contagious virus. There is no point in pushing it down anybody's throat, she had categorically emphasized on the show.
She also said that sports federations cannot allow the business of vaccination to dominate the spirit of sports
Ms. Kanthi is a very well-known personality in the world of sports. More than her sports journalism she is popular for taking bold views which are unconventional and different from the regular approach,
The show aired on April 23.While, Djokovic seemed to be quite impressed with Kanthi's point of view and support, the same was acknowledged on a mail with a note stating that vaccines are certainly a sensitive issue, though the star remained non commital on his final stand. The mail from the tennis star came in last evening that left team PS pleasantly surprised
Ms Kanthi D Suresh has been recently in the news for the new league division which the channel is launching. The Power Sportz Premier league we are told are ready with 8 teams to role out the North zone cricket championship. Along with this, Ms Kanthi D Suresh has been handling shows on COVID through the Power Sportz covid tracker which seems to have garnered good traction and goodwill.
To know more, watch Power Sportz News Stream!