Top 15 Best Books of the Year 2023 by Amazon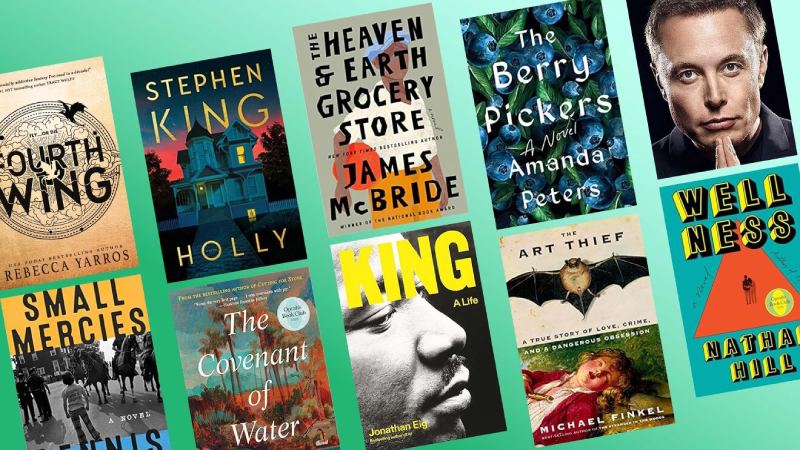 The best books of the year 2023 list was published by Amazon today. The list comprises one hundred books that have been personally chosen by the editors at Amazon after they looked through more than a thousand books. 12 categories—biographies and memoirs, nonfiction, cookbooks, history, romance, science fiction and fantasy, YA, children's books, and more—are used to group the books.
The Amazon books editorial team convenes in Seattle once a year for a literary battle royale.
Their goal is to narrow down the hundreds of books each editor has read to a list of the best books of the year. They come together from home bases across the nation to accomplish this task.
The arena is a corporate meeting space furnished with whiteboards and sticky notes. Editors bring books they want to promote with them. The stories they find themselves unable to shake. They're confident you'll love the characters.
"We discuss, fight, talk about the ones we like the most," says senior manager Al Woodworth. "It's the best day of the year. We get to do what we do best which is advocate for these books and these authors. It's such an honor and we take it very seriously."
A list of the year's best books serves as the conclusion of their discussion.
Some bestsellers, such as the mega-hit The Fourth Wing, some books by seasoned writers, and some debuts by lesser-known authors are all included in this list. James McBride's The Heaven & Earth Grocery Store, however, is the best book of them all. The editorial director of Amazon Books, Sarah Gelmen, stated, "…it was James McBride's The Heaven & Earth Grocery Store that our team unanimously fell in love with, wanting to spend time with the residents of Pottstown, Pennsylvania's Chicken Hill neighborhood long after the last page was turned. Centered on a mysterious murder, it is, at its heart, a story of how powerful communities can be and what it means to be American, and it's also a hopeful (and sometimes hilarious) reminder of our own capacity for kindness and compassion."
According to Sarah Gelman, editorial director of Amazon Books, the list is purposefully diverse. Both fiction and nonfiction, murder mysteries and love stories are available. All books can captivate the reader and hold their attention through to the very end.
This year's winner was the book that came in first place overall. As one of the "great American novels of our time," James McBride's "The Heaven & Earth Grocery Store" is an instant classic, according to Woodworth.
See the Top 10 and learn more about the criteria used to choose them. Amazon.com/bestbooks2023 has lists categorized by genre in addition to the top 100 list.
HERE ARE OF 15 MORE AMAZON'S BEST BOOKS OF 2023:
The Berry Pickers by Amanda Peters
The Covenant of Water by Abraham Verghese
A Man of Two Faces: A Memoir, A History, A Memorial by Viet Thanh Nguyen
Warrior Girl Unearthed by Angeline Boulley
Fourth Wing by Rebecca Yarros
What the River Knows by Isabel Ibañez
Chain Gang All Stars by Nana Kwame Adjei-Brenyah
Black AF History: The Un-Whitewashed Story of America by Michael Harriot
Yellowface by R. F Kuang
Let Us Descend by Jesmyn Ward
Something, Someday by Amanda Gorman, illustrated by Christian Robinson
Emmett by L. C. Rosen
The Woman in Me by Britney Spears
Tastes Like Shakkar by Nisha Sharma
Made in Taiwan: Recipes and Stories from the Island Nation by Clarissa Wei
'The Heaven & Earth Grocery Store' by James McBride
This book, "Deacon King Kong," by the National Book Award winner, is based on small-town secrets. When excavating a development's foundation in Pottstown, Pennsylvania, in 1972, laborers discovered a skeleton at the bottom of a well. Secrets are kept by the people who live in Chicken Hill, a run-down neighborhood where Black and Jewish people coexist peacefully on the margins of society, about who the skeleton was and how it got there.
'The Berry Pickers' by Amanda Peters
A four-year-old Mi'kmaq girl disappears in 1962 after her family takes her from Nova Scotia to Maine for blueberry picking. The last person to see her before she vanishes is her 6-year-old brother Joe, who will be troubled by her disappearance for years to come. A girl named Norma grows up in a wealthy family in Maine with an emotionally distant father and an overprotective mother. She spends decades figuring out the meaning of dreams that feel like memories.
'The Art Thief: A True Story of Love, Crime, and a Dangerous Obsession' by Michael Finkel
The author of "The Stranger in the Woods" does a fantastic job bringing this true story of French master thief Stéphane Breitwieser to life on paper. With the help of his girlfriend, Breitwieser committed more than 200 thefts from cathedrals and museums throughout Europe in less than a decade. The compelling narrative explores Breitwieser's methods of committing his crimes as well as the reasons behind his decision to keep his riches in one room for his personal viewing rather than trying to sell any of them.
'Fourth Wing' by Rebecca Yarros
Violet Sorrengail, a twenty-year-old, is compelled to become a candidate dragon rider after being denied a life in the peaceful Scribe Quadrant, completely upending her world. Her mother, an elite commanding general, pushes her into Basgiath War College despite her fragile nature, where she uses her cunning to fight dragons, sly leaders, and other cadets. Amazon MGM Studios is developing a TV series based on the novel, which is a part of Yarros' "The Empyrean" books from Entangled Publishing.
'King: A Life' by Jonathan Eig
Eig's biography of America's modern-day founding father, nominated for a National Book Award (the winners will be announced after this story goes to press on November 15), is the first major work to incorporate recently declassified FBI files. Eig presents a picture of a man who "demanded peaceful protest for his movement but was rarely at peace with himself," according to its publisher, through thorough research. The rights to adapt Eig's biography of King have been optioned by Universal Pictures, with Chris Rock in talks to direct and Steven Spielberg producing.
'Wellness' by Nathan Hill
The best-selling author of "The Nix," Hill, makes a comeback with a book about balancing our aspirations with adult realities. Jack and Elizabeth are two kindred spirits brought together in the gritty underground of Chicago's art scene in the 1990s while attending college there. After two decades, they still can't quite recognize each other or themselves, even after having children and moving to a suburban house. Will they be able to reconcile, or will their love end up as collateral damage in the face of unmet expectations and dysfunctional families?
'The Covenant of Water' by Abraham Verghese
Bestselling author Verghese ("Cutting for Stone") makes a comeback with a story that spans generations and is set in Kerala, on the Malabar Coast of South India, between 1900 and 1977. Since there is water all around in Kerala, the family at its center experiences at least one drowning death per generation. The matriarch Big Ammachi, also known as "Big Mother," is the focal point of the family. At the age of 12, she is forced to marry a 40-year-old man while still mourning the loss of her father. Her life is full of happiness and success, suffering and bereavement, faith and love.
'Holly' by Stephen King
In the latest detective adventure from the master of horror, Holly, the beloved private investigator, takes the lead. But "Holly" isn't exactly your typical whodunit since the antagonists are presented in the first chapter: Rodney and Emily Harris are old, semi-retired academics, and what they've been doing for years in secret in their basement is just plain horrible. According to his review, the novel "satisfies as a fitfully freaky thriller, a solid exploration of the title character as a soulful beacon of hope, and a reminder of how important it is to answer that call when it comes."
'Elon Musk' by Walter Isaacson
Returning with an in-depth analysis of another billionaire tech visionary, Isaacson is the author of the "Steve Jobs" biography that was turned into a 2015 biopic starring Michael Fassbender as the co-founder of Apple. For two years, he followed Musk around, attending meetings and interacting with his friends, family, coworkers, and enemies. The outcome seeks to address the following query: Is innovation propelled by Musk's inner demons? According to the Puck news agency, director Darren Aronofsky ("The Whale") and independent studio A24 are reportedly developing a big-screen version of Isaacson's most recent book.
'Small Mercies' by Dennis Lehane
In the summer of 1974, a young Black man is discovered dead and a white teenage girl goes missing in Boston amid a wave of violence sparked by the desegregation of the city's public schools. Amid a desperate search for her daughter in the housing projects of "Southie," an Irish American neighborhood, the girl's mother, Mary Pat Fennessy, crosses paths with Irish mob leader Marty Butler.