Top 5 Hotels in Johor Bahru, Malaysia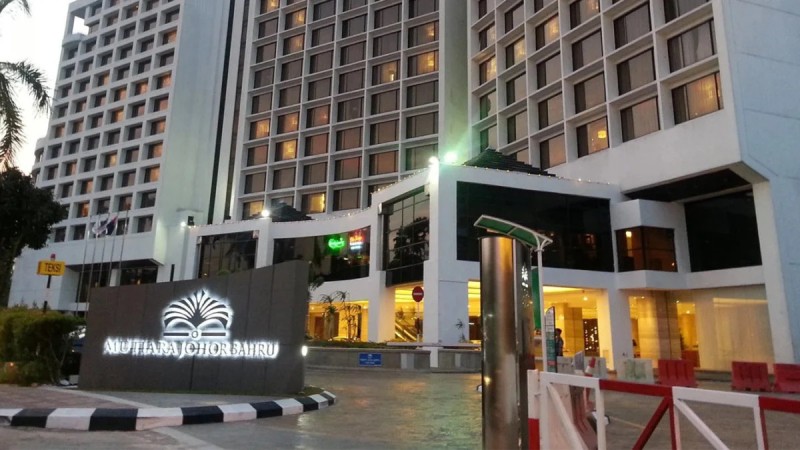 With the development of its economy, Johor Bahru has turned into a popular tourist destination. It attracts numerous tourists with its modern city architecture, rich history and culture, and beautiful natural scenery. As the second largest city in Malaysia, Johor Bahru has many high-quality hotels that provide comfortable stays for tourists. Whether you are a business traveler or a leisure traveler, this bustling city has diverse options for you to choose from.
In this article, we will recommend you five hotels in Johor Bahru. These hotels not only have first-class facilities and services, but also have their own characteristics. They are sure to meet all your expectations for a stay. Let's take a look at these 5 hotels and see if they are the ideal place to stay for you.
1. Mutiara Hotel Johor Bahru
Mutiara Hotel is a first-class hotel that reflects the friendliness and hospitality of Malaysians. This 4-star hotel is conveniently located in the city center of Johor Bahru. It is just a 10-minute walk from Holiday Plaza and KSL City Mall. The hotel has three restaurants and guests can enjoy free WiFi throughout the hotel including public areas.
For guests' relaxation and enjoyment, Hotel Mutiara offers an outdoor pool, a fitness center, a poolside bar and free parking. In addition, they offer a free shuttle service to the airport. The hotel has 336 guest rooms, each of which is equipped with amenities. These include a coffee machine, refrigerator, LCD TV with satellite channels, minibar, hairdryer and safe.
Guests can choose from four types of rooms: deluxe, executive, suite and deluxe rooms. Each room type offers 1 king bed or 2 single beds. Plus, each room can accommodate up to 3 guests. Guests staying in Executive Rooms and Suites have exclusive access to the Business Lounge.
2. Renaissance Hotel Johor Bahru
Renaissance Hotel at Bandar Baru Permas Jaya is a renowned five-star hotel in Johor Bahru. Its prime location gives it easy access to the heart of Singapore and Johor Bahru.
If you are a fitness-conscious person, the Renaissance Hotel offers 24-hour fitness services. They ensure that the fitness center is available to guests around the clock.
Whether it's morning or midnight, guests can satisfy their hunger at the hotel's restaurant and lounge. Dining options feature a diverse selection of Chinese and international cuisine accompanied by expertly crafted cocktails.
The Renaissance Hotel is also equipped with seven elegant venues and a luxurious grand ballroom. It is an ideal venue for special events such as birthday parties and wedding receptions.
3. Berjaya Waterfront Hotel Johor Bahru
Berjaya Waterfront Hotel is a popular 4-star hotel in Johor Bahru. With a total of 400 rooms, guests have plenty of options to choose from. Conveniently located just 30 meters from The Zon Duty Free, the hotel offers easy access to shopping opportunities.
In terms of dining, guests have the opportunity to sample a variety of cuisines. One of the hotel's renowned restaurants, the Salt 'n' Pepper Café, serves fusion cuisine and hosts themed dinner buffets on weekends. For those looking for a relaxed atmosphere. The Palm Lounge and Coffee Bar offer a variety of beverages and snacks as well as live music.
One of the highlights of the Berjaya Waterfront is its rooftop pool, which allows guests to relax and enjoy panoramic views. To enhance the guest experience, the hotel also provides recreational facilities. Among them are billiards at the club and refreshing massages at the spa. Additional services, including laundry and valet parking, are available for an additional fee.
The hotel offers a variety of room types, including basic suites, standard suites and deluxe triple rooms. Guests receive a complimentary breakfast and children under 12 stay free.
4. Pulai Spring Resort ( Cinta Ayu All Suites )
Located in Jalan Pontian Lama, Johor, Cinta Ayu All Suites by Pulai Spa Resort offers a delightful vacation experience. The resort boasts two restaurants and a refreshing outdoor pool for guests to enjoy.
Guests can indulge in a variety of cuisines. Because the hotel's restaurants offer a variety of cuisines, such as international, western, Chinese, Indian and local dishes. To enhance guest convenience, the hotel provides free parking.
For golfers, the resort offers two 18-hole championship golf courses. They are Melana Course and Pulai Course respectively. It offers everyone a great opportunity to play in a beautiful environment.
To stay active and healthy, guests can take advantage of the hotel's fitness center and tennis courts. For those looking for relaxation, a visit to Pulai Spa is highly recommended. Professional massage therapists provide soothing massages to rejuvenate the body and mind.
Cinta Ayu All Suites offers six types of suites to suit different preferences. A variety of room types include Cinta Ayu studios, multi-bedroom suites and apartments with balconies.
5. Bello Hotel Johor Bahru Sentral
Located in the bustling city center, Hotel Bello proudly boasts a 3-star rating. Its location is one of the reasons why tourists come here. Because it is only 350 meters away from the popular Johor Bahru City Square Mall. In addition, it is just 650 meters from Komtar JBCC, another shopping center frequented by locals and tourists alike.
The hotel has prioritized the comfort and convenience of its guests by providing free WiFi access throughout the premises. With provisions like this in place, guests can easily keep in touch with their loved ones. Even stay connected at work and on social media without any additional costs. This Wi-Fi service is consistent and uninterrupted, enhancing the stay experience for all guests.
Hotel Belo's guest rooms are designed with comfort in mind. Each is equipped with a lounge area, perfect for relaxing after a day of sightseeing or work. For entertainment, the hotel offers a flat-screen satellite TV so guests can catch up on their favorite shows or movies.
In addition, a work desk is provided for any business needs or personal writing. Besides, all rooms have a private bathroom with free toiletries and a hairdryer. Allow guests to rejuvenate at their convenience.
There is no question about experiencing true comfort and hospitality in Johor Bahru. There are 5 top hotels to suit every preference, budget and requirement. These hotels offer world-class facilities, unparalleled service and a warm and welcoming atmosphere that makes you feel right at home.
Whether your trip is for business purposes or purely for leisure. Their unique charm will undoubtedly help you have a memorable stay. The right hotel can greatly enhance your overall travel experience.
Convenience needs to be taken into consideration when considering the transport from Singapore to JB. So, when arranging your travel plans, consider SG MYTRIPS, the best choice for all your transportation needs. Visitors can seamlessly transition from Singapore to Johor Bahru.
SGMYTRIPS specializes in providing high quality SG MY taxi services between Singapore and Malaysia. They offer door-to-door pickup, saving you the hassle of navigating through public transport with bulky luggage. With the support of a professional driver who knows the route. You can rest assured that you will reach your destination quickly and safely.