US Teacher Appreciation Week: History, Significance, and How and Ideas to Celebrate This National Week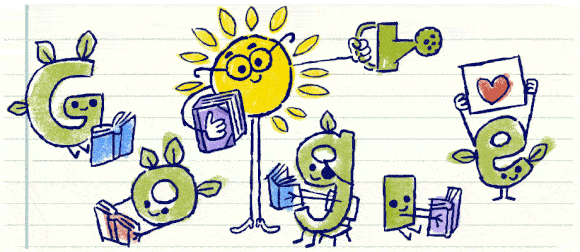 Today Google Doodle honors American teachers who guide students toward personal growth and development. Everything you need to know about Teacher Appreciation Week 2023, which begins today Monday, May 8, and ends Friday, May 12, 2023, can be read in this article.
Happy US Teacher Appreciation Week 2023!
Today's Google animated Doodle pays tribute to teachers across the country who inspire students to be their best selves.
To all American educators: We appreciate everything you do to encourage a love of learning in your students.
It is the responsibility of teachers to establish a foundation of knowledge and skills that students will use throughout their lives. Teachers play a key role in nurturing students from the beginning. This week is designated as Teacher Appreciation Week by the American government to recognize the teachers' spirit of dedication. In the following sections, we will learn more about this event.
US Teacher Appreciation Week 2023: Background
The foundation of the US. Teacher Appreciation Week goes long back. In 1944, a few conversations among the political and educational leaders prompted the revelation of the day that will be devoted to honoring the efforts of educators in the lives of students. Eleanor Roosevelt persuaded the 81st Congress to establish National Teachers' Day in 1953, and on March 7, it established National Teacher's Day.
After this declaration, the National Education Association (NEA) started noticing Teacher Day on the first Tuesday in March until 1985, the National Parent Teacher Association began noticing the whole first week of May as Teacher Appreciation Week.
It is Eleanor Roosevelt, the former first lady, who laid the groundwork for what would eventually become Teacher Appreciation Week. Roosevelt urged Congress to establish a day to honor teachers in 1953.
However, the National Education Association and a few state boards lobbied together to make it a national day on March 7, 1980. Teacher Appreciation Week was established in 1984 by the National Parent-Teacher Association.
When is the US Teacher Appreciation Week 2023?
Although Teacher Appreciation Week is observed by both the National Education Association and the National Parent Teacher Association from May 8 to May 12, there is still some disagreement regarding when it is observed. However, it is celebrated this week in some American districts and states. Additionally, the National Day Calendar and Calenderpedia observe Teachers Day on May 9.
What is the celebration for Teacher Appreciation Week 2023?
With the dedicated efforts that teachers make every day, they ought to be celebrated and appreciated by the students and specialists. From establishing major areas of strength for students to assisting them with obtaining the essential information and range of abilities that assist them with making due in reality, they guide the students in the correct bearing.
American schools celebrate Teacher Appreciation Week with classroom celebrations, school assemblies, and community events to honor their selflessness. In addition, students, parents, and members of the community express their gratitude and appreciation by sending them gifts or writing thank-you notes.
How can students show their teachers their gratitude?
The majority of those who are reading this may be college and school students. You might also have had special teachers and mentors who have been there for you at every turn. You can express your gratitude to your teachers this Teacher's Day by engaging in the following activities:
Write a thank you note or a letter to your favorite teacher.
We all have that one teacher we greatly admire and respect. You can write a thank you note or letter to that teacher to show them how much you appreciate them and that their efforts inspire you to do better.
Showing active participation in class
For a teacher, nothing is more satisfying than knowing that their students comprehend what they are teaching. Assuming you like how they educate, you can show your active association in their class by seeking clarification on some pressing issues or partaking in the study hall exercises led by teachers.
One of the best ways to express your gratitude for your teachers is to give them gifts. If you can't say much about what to gift them, you can look for some ideas online and even really take a look at the discounts on gifting websites.