USCIS will Welcome More Than 6,900 New Citizens to Celebrate Constitution and Citizenship Day as part of Constitution Week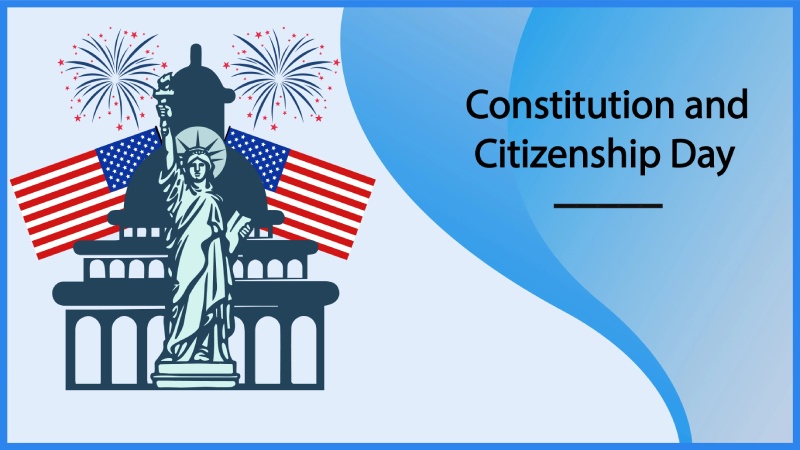 Between September 17 and September 22, U.S. Citizenship and Immigration Services will celebrate Constitution Day and Citizenship Day by greeting more than 6,900 new citizens at more than 130 naturalization ceremonies held across the country.
"USCIS will continue to work in communities to raise awareness about citizenship in line with our mission to uphold America's promise as a nation of welcome and possibility with fairness, integrity, and respect," said USCIS Director Ur M. Jaddou. "We believe that promoting citizenship and encouraging eligible immigrants to naturalize and fully participate in our democracy is a cornerstone of the agency's work and illustrates the spirit of Constitution Day and Citizenship Day through a focus on the rights, responsibilities, and importance of citizenship."
As part of Constitution Week (September 17–23), the country honors Constitution Day and Citizenship Day on September 17. The celebration recognizes both the U.S. Constitution's adoption on September 17, 1787 and an occasion known as "I Am an American Day" that first occurred in 1940. President Harry Truman passed Citizenship Day into law in 1952, and President Dwight Eisenhower declared the first Constitution Week in 1955.
The United States Citizenship and Immigration Services (USCIS) celebrates Constitution Day and Citizenship Day – and Constitution Week every year by performing unique naturalization ceremonies across the nation and highlighting the relationship between the Constitution and citizenship.
Every American, but especially those who are citizens by choice, benefits from the Constitution's influence in their daily lives. In addition to establishing the rule of law, the Constitution also lays the foundation for an immigration system that permits immigrants to obtain citizenship.
A thorough, multi-step process is followed by eligible lawful permanent residents who want to become citizens of the United States. The Oath of Allegiance, which comes last in the naturalization process, is the most important one.
The USCIS will highlight naturalization ceremonies scheduled between September 17 and September 22 as part of Constitution Week. We encourage new citizens to use the hashtags #NewUSCitizen, #ConstitutionWeek, and #WeThePeople when posting images of their naturalization ceremonies on social media after each ceremony.
During Constitution Week, USCIS will highlight several activities, including the Citizenship Ambassador Initiative, in addition to hosting more than 130 ceremonies across the nation.
The Citizenship Ambassador Initiative, which was launched in July 2022, works with community leaders to promote naturalization there. These ambassadors' efforts have allowed USCIS to reach more people and spread the word about citizenship to thousands of people across the country.
USCIS reiterates its dedication to promoting citizenship and ensuring that all those who qualify can participate in the naturalization process. We have taken several actions to promote the implementation of Executive Order 14012: Restoring Faith in Our Legal Immigration System and Strengthening Integration and Inclusion Efforts for New Americans since the Biden-Harris administration's inception.