Who was St James the Apostle? Why is the feast day celebrated?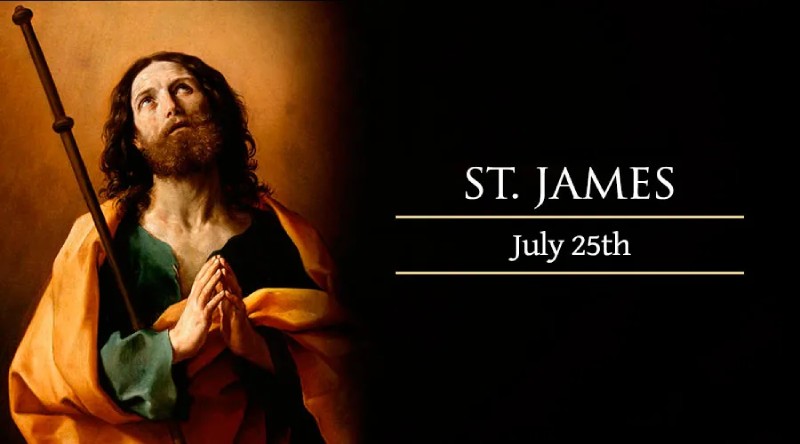 Feast of Saint James the Apostle (Santiago Apostol), otherwise called James the Great, St James, son of Zebedee or as Saint James the Greater, is celebrated on July 25. Saint James Day is likewise Galicia Day, which is fitting as St. James is the patron saint of Galicia as well as Spain. As per legend, his remains are held in the Santiago de Compostela cathedral in Galicia.
Who was St James the Apostle?
St James was one of the Twelve Apostles and he and his brother John, "the disciple whom Jesus loved", were sons of Zebedee, a fisherman. His martyrdom, being executed by the sword on the orders of King Herod, is recorded in the Book of Acts: "Now about that time Herod the king stretched forth his hands to vex certain of the church. And he killed James the brother of John with the sword." (Acts 12:1-2, King James Version)
St James is the patron saint of Spain and his shrine at the Cathedral of Santiago de Compostela has been a place of the journey for centuries. As per Fisheaters, those individuals who couldn't go on a journey to Santiago de Compostela would manufacture grottoes out of seashells, bits of broken colored glass, stones, and flowers in his honor. It was likewise traditional to eat shellfish on St James' Day.
Why is the Feast of Saint James the Apostle celebrated?
It is a public holiday celebrated in Galicia, and is seen but not a public holiday in different areas of Spain.
St James was one of the twelve apostles of Jesus. Following the ascension of Jesus, the apostles traveled getting the message out of the gospel. James' travels took him to Spain, Initially, his messages were not generally received – in any event, being taken prisoner in Grenada. Be that as it may, he was soon released and proceeded to lecture in Galicia.
As indicated by local tradition, in January 40AD, the Virgin Mary appeared to James on the bank of the Ebro River, while he was lecturing the Gospel in Iberia. She showed up upon a pillar, which remains today and is adored within the Basilica of Our Lady of the Pillar, in Zaragoza. She advised James to come back to Jerusalem once the church had been built up.
James returned to Jerusalem in 44AD, as Mary had wished. During the trip back he visited Mary in Ephesus. Mary anticipated his passing in Jerusalem, and on his arrival to Jerusalem, he was soon taken, prisoner.
He was taken to Calvary, a similar place where years before Jesus had been killed. He was then attached to the rocks, blindfolded and executed.
The body of James was taken by his devotees back to Galicia. His remains are supposed to be buried in the cathedral in Galicia.