30 Interesting Facts about Rashidi Yekini, a Nigerian Football Player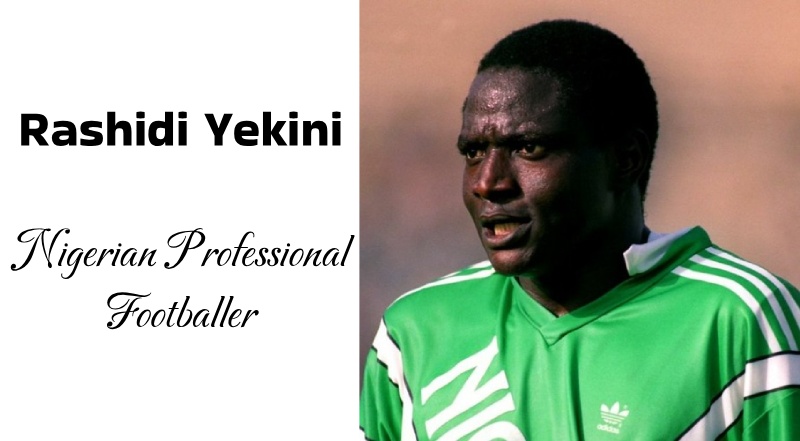 Rashidi Yekini, a renowned forward known as the "Goalsfather" for his ability to sneak shots by the keeper, turns 60 today. This Google Doodle honors his life and career on Rashidi Yekini's 60th Birthday. He was born in Kaduna, Nigeria, on October 23, 1963. Here are some interesting and fun facts about Nigerian professional footballer Rashidi Yekini.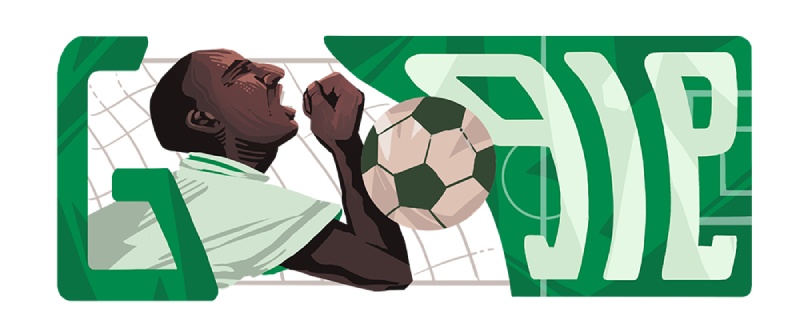 Who was Rashidi Yekini?
Quick Look
Birth date: 23 October 1963
Birthplace: Kaduna, Nigeria
Died on: 4 May 2012 (aged 48)
Death place: Ibadan, Nigeria
30 Interesting Facts about Rashidi Yekini
Rashidi Yekini was a forward-oriented professional football player from Nigeria. He leads his country in goals scored all time.
Throughout his more than two-decade professional career, he played in six different countries in addition to Portugal, primarily with Vitória de Setúbal.
As a Nigerian international football player, Yekini scored 37 goals and played for his country in seven major competitions, including two World Cups where he scored the first goal ever for Nigeria. In 1993, he was also recognized as the African Footballer of the Year.
Of Yoruba descent, Rashidi Yekini was born in Kaduna on October 23, 1963.
Yekini had a difficult beginning in life because he was poor and homeless. His first jobs were as a mechanic and welder to make money, but his real ambition was to play football.
Soon after, Rashidi Yekini started practicing in front of scouts, and in 1981, he signed up for UNTL FC, a Kaduna football club.
He moved to Ivory Coast to play for Africa Sports National after beginning his professional career in the Nigerian league. From there, he traveled to Portugal and Vitória de Setúbal, where he spent some of his most memorable years.
Rashidi Yekini eventually finished as the Primeira Liga's top scorer in the 1993–94 season with 21 goals; the season before, he had scored 34 goals in 32 games to help the Sadinos promoted from the second division, and those performances earned him the first-ever African Footballer of the Year title for the country.
The talented striker then joined the Shooting Stars, where he scored 45 goals in 53 games.
He became the first player from Nigeria to win African Footballer of the Year in 1983 thanks to his incredible scoring prowess. He assisted in getting the Shooting Stars to the African Champions Cup finals the next year.
Read More: Interesting and Fun Facts about Andrew Watson, the World's First Black International Footballer
Rashidi Yekini represented football clubs in Spain, Tanzania, Saudi Arabia, Portugal, Tunisia, Switzerland, and Greece in addition to Nigeria.
He was the top scorer in the league in the 1993–94 season and won the Bola de Prata (Silver Ball) while he was a player for Vitória Setúbal, a Portuguese team.
Rashidi Yekini signed for the Greek team Olympiacos in the summer of 1994, but he quickly left the team because he did not get along with his teammates.
Even after he returned to Setúbal following another modest stint in La Liga with Sporting de Gijón, his career never really got back on track. Before joining Africa Sports again, he played for FC Zürich, Club Athlétique Bizertin, and Al-Shabab Riyadh.
Rashidi Yekini made a comeback to the Nigerian championship with Julius Berger FC in 2003, at the age of 39.
Yekini assisted the Super Eagles, Nigeria's national team, in earning a spot in the 1994 World Cup.
On June 21, Nigeria played Bulgaria, and Rashidi Yekini made it a memorable match. Not only did he score the opening goal of the match, but it was also Nigeria's first goal in the World Cup. He cheered and let out happy tears as he ran into the net, clutching it with both arms, overcome with excitement and pride. It is regarded by many as one of the most famous goal celebrations in football history, and the Google Doodle artwork from today was inspired by it.
He continued to play for the Super Eagles for a little more than 14 years, during which time he made one more World Cup appearance in 1998.
Rashidi Yekini scored 37 goals in his 58 games for Nigeria, still holding the record for most goals scored for the nation.
Yekini, 41, made a brief reappearance in April 2005 when he moved to Gateway United FC with former national teammate Mobi Oparaku.
Rashidi Yekini holds the national record for goals scored for Nigeria, having netted 37 goals in 62 games.
He was a member of the squad that competed in the FIFA World Cups in 1994 (when he scored Nigeria's first goal in a World Cup in a 3-0 victory over Bulgaria; his tearful celebration after scoring, clutching the goal net, became one of the tournament's iconic images) and 1998 the 1998 FIFA World Cups.
Rashidi Yekini also led the goal charts and was named the competition's best player while helping the Super Eagles win the 1994 Africa Cup of Nations in Tunisia.
In Seoul in 1988, he competed at the Olympic level as well.
Rashidi Yekini had three spouses. Omoyemi, Damilola, and Yemisi were his three daughters.
It was said that Yekini had been unwell for a while. News outlets in Nigeria started reporting on his failing health in 2011. It was claimed that he was said to suffer from bipolar disorder and some other undisclosed psychiatric condition.
Former national teammates Mutiu Adepoju and Ike Shorunmu confirmed his death on May 4, 2012, in Ibadan, at the young age of 48. He was buried at his home in Ira, Kwara State. Among others, he was surrounded by his elderly mother, brother, wives, and children.
In an interview with BBC Sport, Rashidi Yekini's former teammate Sunday Oliseh called him "the best striker Nigeria ever had." With 37 goals, he was the highest goal-scorer in the history of the Nigerian national team.
African Player of the Year (1993), Ivory Coast's highest goal scorer (1988, 1989, and 1990), Top Scorer in the Portuguese Primeira Liga (1993), and Niger Order member (1994).
On October 23, 2023, Google featured a Google Doodle on its homepage to celebrate Rashidi Yekini's 60th Birthday.