Alan Wake, Michael Myers, Jack Skellington, and Wood Stake Shotgun are now included in Fortnite's Fortnitemares 2023 update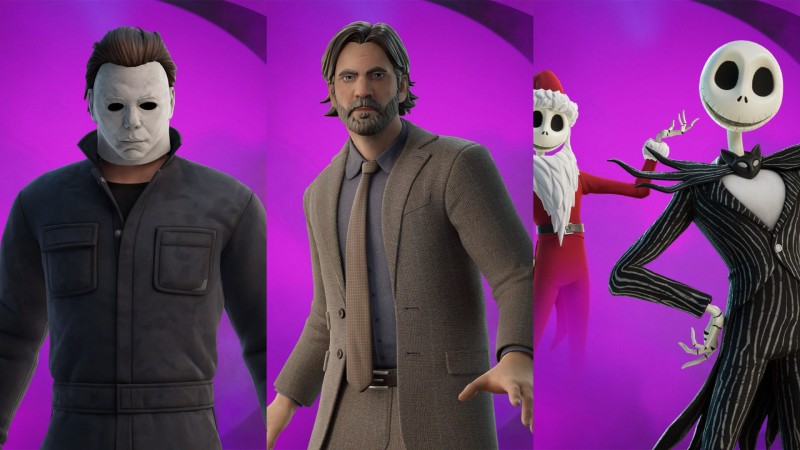 As Halloween approaches, Fortnitemares 2023 has returned to the game, bringing a variety of creepy goodies, including an Alan Wake outfit, a Jack Skellington outfit from The Nightmare Before Christmas, and Michael Myers (also known as "The Shape") from the Halloween films.
Additionally, you'll need to go vampire hunting and use the new Wood Stake Shotgun to combat Kado Thorne's menace. You can participate in the limited-time Horde Rush experience as well, which features quests that must be finished to earn various in-game rewards.
To beat Thorne at Eclipse Estate, you'll need the Wood Stake Shotgun, which you can discover on the ground, in ordinary and Rare Chests, as well as in Holo-Chests. A mythic Vampiric Blade, which restores your health while draining the health of opponents, will drop when vanquishing Thorne. Additionally unvaulted are the Pumpkin Launcher and Witch Broom.
Fortnitemares 2023 is currently live in Fortnite Battle Royale and will be there until November 3rd, 2 a.m. ET. It features sweets, additional rewards, and a variety of other creepy Halloween-themed outfits to earn.
The annual Fortnite Halloween event, Fortnitemares, will include a few special guests. The item shop for the battle royale will soon be updated with three characters who fit the current season: Alan Wake, Michael Myers, and Jack Skellington.
They will join other Fortnite characters who will be available during the holiday, both new and old.
Here's a look at what to expect:
In addition to items for sale, the event will include the customary eerie makeover. In the past, that has ranged from ghosts to werewolves to an Ariana Grande on the prowl for monsters. However, this year's Fortnitemares is entirely focused on vampires in keeping with the current Fortnite season. The pumpkin launcher and witch broom items are back, along with a new shotgun that fires wooden stakes, a vampire sword that drains the energy from your adversaries, and more. Another horde mode is available where players can repel zombies and gain in-game rewards.
From now through November 2nd, there will be a Halloween celebration.
Along with all the holiday-themed additions, today's update brings with it a significant change for users of older Android hardware. According to developer Epic Games, "Starting with v28.00, players will be required to use OS10 or higher to continue playing Fortnite natively on Android in an officially supported manner. Android OS9 will no longer be officially supported in Fortnite, which means that we will no longer actively ensure that it is compatible with Fortnite and that the service quality may degrade over time and eventually become unplayable."
The update comes at a busy time for Epic and Fortnite, with significant layoffs at the developer and noteworthy changes including the introduction of age ratings for Creative experiences, the increase in the price of V-Bucks, and the departure of Creative Lead Donald Mustard.
The annual Halloween spectacular hosted by Fortnite is back for another year, and this time the battle royale has enlisted the help of a few more famous friends.
Later on in the event, Remedy's very own Alan Wake will be offered for purchase as a skin, likely to coincide with the release of the eagerly anticipated Alan Wake 2 (coming on October 27).
Alongside Halloween's Michael Myers, Jack Skellington from Tim Burton's The Nightmare Before Christmas is now joining Fortnite. He also has his Santa Jack suit on.
A few changes have been made to the island itself, including the addition of some new and returning weaponry (such as the Pumpkin Launcher and Witch's Broom) and the return of the Horde Rush mode, a favorite of players who may take on waves of Cube Monsters together.
In addition, there is a disturbing new Fishstick variation called Bogstick, which resembles nightmare material.
The ongoing seasonal questline for Fortnite, which is about a vampire mob boss named Kado Thorne gaining control of some of the Island, is also still going strong. According to leaks, as this Chapter and Island Map both approach their year anniversaries, we will likely see Thorne's time machine in action in the following weeks, as well as the appearance of a well-known character from Fortnite's overarching narrative.