Search These Movies on Google This Halloween 2023, You will Find Amazing Google Horror Easter Eggs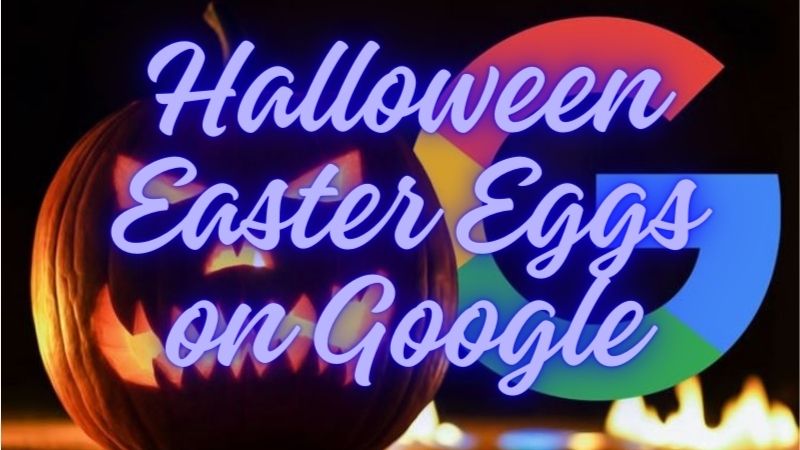 Google loves to play around with search, as evidenced by everything from Taylor Swift's Vault puzzles to a perfectly pink Barbie takeover. This Halloween, it's no different.
Here are some entertaining movies to look up during the spookiest time of year, whether it's an amazing Halloween Google Doodle or ghosts appearing in your search results.
Halloween on Google
Google's Halloween doodle for 2023 honors Trick or Treating—or, for those of us in Scotland, guising. Going door to door with a storybook in hand to trick-or-treat as a vampire, witch, or ghost to gather candy and frighten the neighbors is part of this adorable storybook adventure.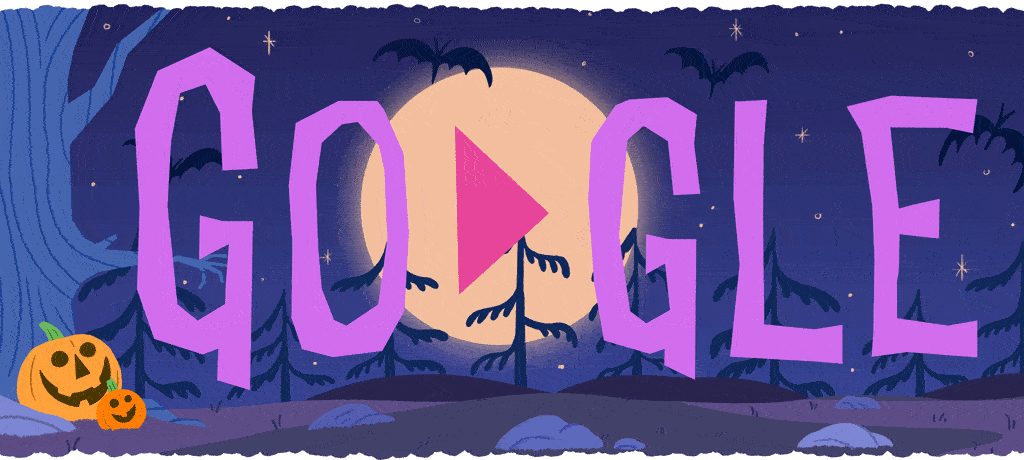 Additionally, you should prepare for adorable green ghosts, including cat spirits, to haunt your Google search results page if you type in "Halloween."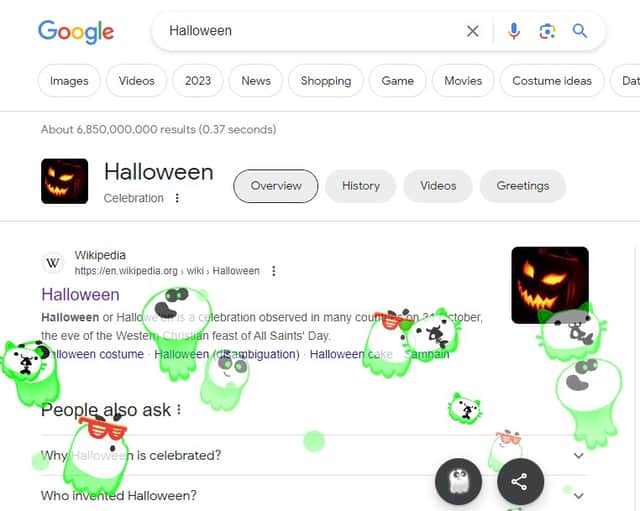 What more is there to ask for?
Google's horror Easter eggs
There are several entertaining additions to Google search results in October, the spookiest month of the year. These are just a few entertaining queries that will bring up Halloween and horror-themed Google Easter eggs.
Horror movies

Not only are horror films great for Halloween, but October is unquestionably the greatest month to watch and enjoy them. A rolling banner of emojis, ranging from vampires to zombies, will appear if you search for "horror movies" or "horror films".
Furthermore, Google has been involved in the action with several movies, including Child's Play and The Shining.
Haunted House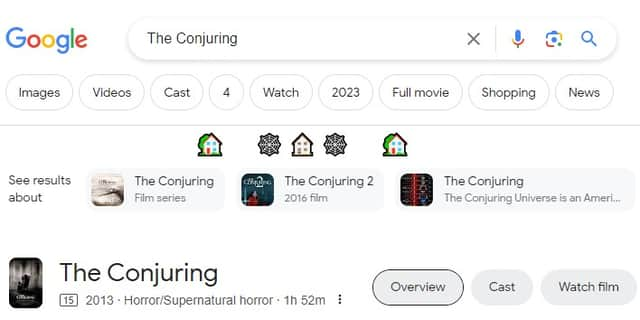 Google search results for "haunted house" will display a series of emojis. Interestingly enough, though, the same emojis will also show up in any haunted house movie.
The appearance of emojis shouldn't scare you if you're looking for haunted house movies like The Conjuring, Poltergeist, Insidious, The Amityville Horror, Paranormal Activity, or any other.
Zombie movies

A series of undead emojis will appear in addition to Google's recommendations when you search for "zombie films" or "zombie movies".
The same will show up in movies like Shaun of the Dead, Dawn of the Dead, and Train to Busan.
Slasher movies

The term "slasher movies" or "slasher films" also appears with an exciting series of emojis. Though there are many slashers, only a select few receive their own unique variation of Google emoji Easter eggs. Examples of these include Friday the 13th and Nightmare on Elm Street.
Aside from spectral beings, the living dead, and standard villains, numerous other movies and television shows have been given particular attention.
Buffy the Vampire Slayer

One of the more generic emojis that appears when someone searches for Buffy the Vampire Slayer on Google is a person being chased by vampires.
The Addams Family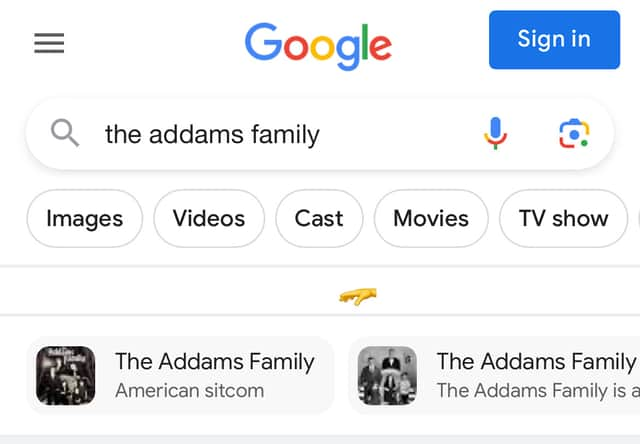 When you search for The Addams Family or Wednesday on Netflix, Thing will appear in the search results.
The Shining
With the door, axe, and smiling emojis scrolling across search results, followed by the frozen emoji, The Shining is one of Google's Horror Easter Eggs.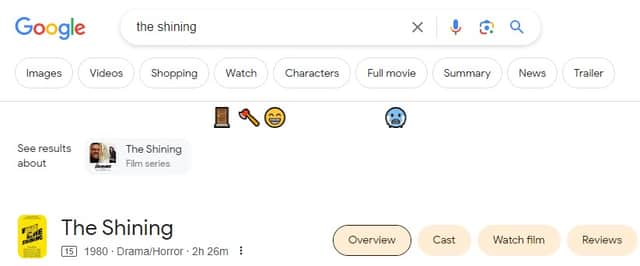 IT
Based on the Stephen King novel, looking for A Google Easter Egg featuring the recognizable red balloons revealed.

Ghostbusters
Google has selected the Ghostbusters franchise, with its emojis attempting to depict the iconic vehicle from the movie.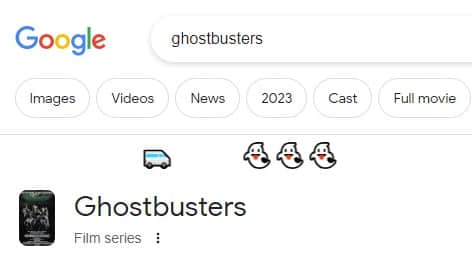 Child's Play
A Google Easter egg is found when searching for Child's Play, the television show that gave rise to the killer doll Chucky.

Alien
Google also has an Easter egg for the classic horror movie Alien. Interestingly, searching for the 2022 movie Nope also generates the same emojis.

Midsommar
The most recent movie to be featured in Google's Halloween Easter Eggs is Midsommar, which perfectly captures the essence of the movie with its elaborate floral emoji string (complete with blood drops).

Us
Another more recent movie featured in Google's horror Easter Eggs is Us, directed by Jordan Peele, the man behind Get Out and Nope.

Google Frightgeist
Google's 2023 Halloween celebrations include Google Trends in addition to standard search Easter eggs, even though it might be a little late to plan a costume for Halloween.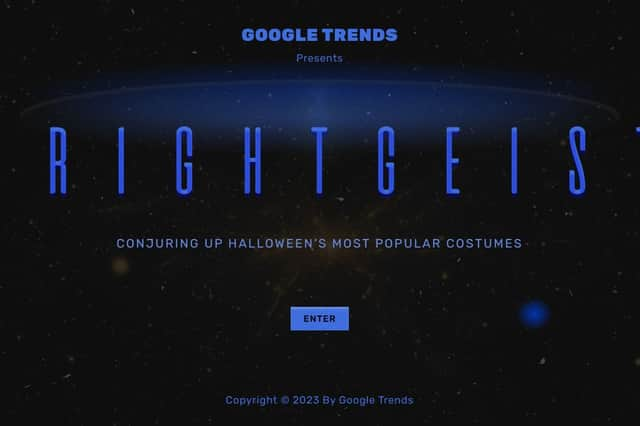 Its Frightgeist tool compiles search data for Halloween costumes from across the United States, showing you not only the most popular costumes for 2023 but also how to come up with original costume ideas depending on how scary and different you want to be.
Definitely a good fun addition to your Halloween planning.
What other Easter eggs are there on Google?
There are still a lot of hidden Easter eggs, so don't be alarmed if, as a Lord of the Rings enthusiast, your search for "the one ring" and Google slyly suggests that you should have searched for "my precioussss."
Furthermore, some Easter eggs have limited availability, like the puzzles in Taylor Swift's Vault that revealed the names of upcoming songs or the cast and movie's all-pink color scheme for Barbie.
Other year-round Google features include the dinosaur game in case you don't have internet access and entertaining additions to search results for movies and TV series like Legally Blonde and The Last of Us.