Argentina vs Saudi Arabia, 2022 FIFA World Cup Qatar – Preview, Prediction, Head to Head, Team Squads, Lineup, and More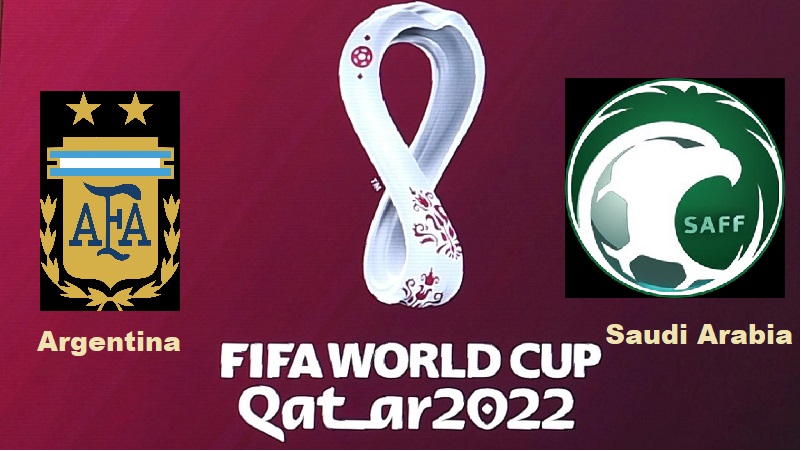 Argentina and Lionel Messi start their bid to win the Qatar 2022 FIFA World Cup against Saudi Arabia at Lusail Stadium. The first match in Group C of the World Cup will pit Argentina against Saudi Arabia. These teams have previously clashed in a friendly match in November 2022, which ended 0-0. This is their second meeting.
At the Lusail Iconic Stadium, Argentina and Saudi Arabia will play their first FIFA World Cup match to begin the action in Group C. Argentina, who defeated the United Arab Emirates 5-0 in their most recent match to extend their unbeaten streak to 36 matches, enters the match as a red hot favorite. Saudi Arabia enters this match having suffered their first defeat in seven matches, a grueling 1-0 defeat to Croatia. The match begins at 9 a.m. local time in the United Kingdom.
On the 4th Tuesday of November, World Cup 2022 favorites Argentina will begin their campaign against underdog Saudi Arabia. Lionel Scaloni, the head coach, will not take this fixture lightly given that numerous favorites have already failed to beat the supposedly small soccer countries at the World Cup. The team around superstar Lionel Messi, who will most likely play in his final World Cup, appears to be prepared to finally reach for the very big victory once more following the ultimately sovereign World Cup qualification.
Saudi Arabia, on the other hand, finished first in their group at the world cup qualifiers with 23 points. However, their team squad does not contain any players who are among the most important performers in a top European league, which is why we call them underdogs.
Since losing to Brazil in the Copa America semi-final in 2019, Lionel Scaloni's team hasn't lost in a game. Argentina, the South American champions in 2021, enters the competition without the familiar tumult that has accompanied their recent World Cup appearances.
Saudi Arabia does not boast quite the same impressive credentials. At the World Cup, the Green Falcons rank 51st, making them the second-lowest nation.
Argentina vs Saudi Arabia Team News
Argentina Team News
Argentina, the Copa America champions in 2021, are trying to win the FIFA World Cup for the first time since 1986, a long time for a nation that consistently produces so many talented football players.
Before this match, Lionel Messi has seen back training with his teammates, dispelling any doubts about his fitness. However, Paulo Dybala, Papu Gomez, and Cristian Romero remain doubtful.
By finishing runners-up in the CONMEBOL leg of the qualification campaign, Argentina qualified for the FIFA World Cup in 2022. Since taking over the team four years ago, Lionel Scaloni has built a formidable unit. Additionally, La Albiceleste entered the World Cup with a 36-game unbeaten streak after winning Copa America last year.
As always, Argentina is one of the favorites for this World Cup, and their current form is incredible. In 35 matches, Argentina has not lost, and there is a good chance that they will not lose in this group. Messi, Martinez, and Di Maria are projected to play for Argentina in this match, along with Lo Celso, De Paul, and Paredes in the midfield, Tagliafico, Romero, Otamendi, and Molina in defense, and E. Martinez in goal.
Argentina are top choice to win everything at Qatar in Lionel Messi's last opportunity to gather the only trophy he's missing: the World Cup. By winning Copa America in Brazil in 2021, Lionel Scaloni's team ended a 28-year international title drought. Besides, Argentina are on a historic and great 36-game unbeaten streak.
Argentina has won 36 games in a row without losing a single one. They are just one win away from matching Italy's current all-time record (2018-2021). Argentina haven't won the World Cup since Mexico in 1986 and the last time they reached the final was in Brazil in 2014.
Injuries have plagued Lionel Scaloni's squad ahead of the FIFA World Cup 2022 campaign. Due to their respective issues, Nicolas Gonzalez and Joaquin Correa have withdrawn from the group. In the meantime, the fitness of three additional players has been a major concern for the Argentina head coach.
On Saturday, Lionel Messi reportedly worked out on his own, but he should be healthy enough to play for Argentina against Saudi Arabia. Scaloni was also concerned about Exequiel Palacios and Lisandro Martinez. But they should be available, just like Messi, even though neither will start.
Against Qatar, Scaloni will use a 4-3-3 lineup with Emiliano Martinez starting between the sticks. Cristian Romero and Nicolas Otamendi ought to form the central defensive unit, with Nahuel Molina and Marcos Acuna being the full-backs.
Leandro Paredes will take over in midfield up front and try to set the pace. The other two midfielders should be Rodrigo De Paul and Alexis Mac Allister, who will support the 28-year-old defensively. Additionally, De Paul and Mac Allister will attempt to push La Albiceleste forward on transitions.
For Argentina, Lionel Messi will be the focus of attention during his likely final World Cup. The veteran attacker will be eager to leave the biggest stage on a high. Additionally, Messi will require the support of Angel Di Maria and Lautaro Martinez in the final third to lead Argentina to victory.
Saudi Arabia Team News
Saudi Arabia will compete in their sixth World Cup under the direction of Herve Renard, a Frenchman with extensive managerial experience who has won the Africa Cup of Nations twice.
Salman Al-Faraj, the captain, has been declared fit by Renard after suffering a shoulder injury recently.
In the lead-up to the FIFA World Cup, Saudi Arabia had been imposing. They won eight games in the second round of the qualifiers and went on to win their group in the third round, defeating Japan and Australia, the favorites. Herve Renard-led Green Falcons enter the World Cup with just one loss in eight games.
Saudi Arabia will be making their sixth appearance in the last eight at this forum after winning their World Cup qualifying group with 7 wins, 1 draw, and 2 defeats. Saudi Arabia is the weakest team in the group at this point, as none of its players play in major leagues. Al-Dawsari, Al-Buraikan, and Al-Muwallad are expected to play in the attack; Al-Najei, Al-Faraj, and Aldawsari will play in the midfield; Al-Shahrani, Al-Bulaihi, Al-Amri, and Abdulhamid will play in defense; and Al-Owais will play as the goalkeeper.
The team with the lowest odds of winning the World Cup in Qatar is Saudi Arabia. In comparison to rivals like Argentina, Mexico, and Poland, they are seen as the weakest opponent in Group C, according to numerous experts. However, they defeated teams like Japan, Australia, Oman, China, and Vietnam in the third round of the Asian qualifiers.
Saudi Arabia will compete in their sixth World Cup overall, they're second in a row. The Asian team only made it to the Round of 16 once, in 1994, when they lost 3-1 to Sweden in the Cotton Bowl in Dallas.
Like his partner in the Argentina dugout, Herve Renard has a couple of worries hampering his arrangements in front of Saudi Arabia's first fixture at the FIFA World Cup 2022. On Tuesday, the French tactician might be without two players.
Riyadh Sharahili's World Cup hopes are on the line after he suffered a muscle injury. What's more, Renard is perspiring over the fitness of Hassan Tambakti. However, regardless, neither player might have started against Argentina. So that the head coach of Saudi Arabia can select his strongest starting eleven.
The double-pivot should be positioned by Renard in a 4-2-3-1 formation with the Green Falcons playing safety first. Between the sticks, Mohammed Al-Owais will play. Mohammed Al-Breik, Abdulelah Al-Amri, Ali Al-Bulaihi, and Yasser Al-Shahrani make up the backline.
In the middle of the park, Mohamed Kanno and Abdulellah Al-Malki will be in charge of keeping things tight. The duo must prevent Rodrigo De Paul and Alexis Mac Allister from gaining possession of Lionel Messi.
Salman Al-Faraj should continue to play the no. 10 position, with Saleh Al-Shehri and Salem Al-Dawsari serving as the two wide men. Firas Al-Buraikan, who will lead Saudi Arabia's attack on Argentina on Tuesday, will be supported by the wide pair.
Argentina vs Saudi Arabia Head-to-Head (h2h)
These two nations have only met twice before, each time Argentina winning once and drawing once. During those games, Argentina scored three goals and only gave up one.
These teams have met competitively once. In the Confederations Cup final in Riyadh in 1992, Argentina won 4-3 in a competitive matchup.
Argentina vs Saudi Arabia: Match Information
Date: Tuesday, November 22, 2022.
Time: 10:00 GMT / 05:00 ET / 02:00 PT
Location: Lusail Stadium. Lusail, Qatar
Live Stream: fuboTV (7-day free trial)
How to watch or live stream Argentina vs Saudi Arabia in the US
The game will be available to watch or live stream on fuboTV (7-day free trial) and PeacockTV. in the United States.
Other options: Telemundo, Telemundo Deportes, Foxsports.com, SiriusXM FC, UFORIA App, Fox Sports 1, and FOX Sports App are additional options if you don't want to miss the game in the United States.
Argentina vs Saudi Arabia Prediction
Argentina is widely expected to win the 2022 FIFA World Cup Qatar, which is understandable. Lionel Scaloni's team is poised to continue their winning ways after defeating Brazil in Copa America last year. They are one game away from matching Italy's world-record 37-match unbeaten streak in international football, which is the longest in the history of the sport. With Lionel Messi, Angel Di Maria, and Lautaro Martinez's quality forward, goals are never far away, and Scaloni has assembled an extremely well-drilled defense.
While a loss here would not end Saudi Arabia's World Cup aspirations, it will be vital that they do not suffer a significant defeat for the sake of their goal difference. On the other hand, it is anticipated that Argentina will win by at least two clear goals.
In 2019, Argentina defeated Brazil in the Copa America semi-finals. They should also be able to break Italy's all-time unbeaten record of before the group stage ends. On the other hand, Saudi Arabia's recent matches have been dull, with neither team scoring more than twice.
In any case, the Green Falcons are no match for strong Argentina. Even though Herve Renard hopes to see his men fight, the disparity in quality will ultimately be instructive.
Given that Argentina entered the tournament in the best possible shape, we anticipate nothing less than a crushing victory for the team.
Saudi Arabia, which is known for playing tight defensive football in the Asian zone, might have a hard time if they give Argentina most of the ball possession.
Inter Milan's Lautaro Martinez has had a hot and cold Serie A and Champions League season. We do, however, believe that he will score at any time at the Lusail Iconic Stadium, where there will be plenty of chances against a moderate Asian team.
Argentina vs Saudi Arabia Team Squads
Argentina Team Squad
Lionel Scaloni, Argentina's head coach, has announced the following squad for the 2022 World Cup:
Goalkeepers: Emi Martinez, Geronimo Rulli, and Franco Armani
Defenders: Marcos Acuna, Juan Foyth, Lisandro Martinez, Nicolas Tagliafico, Cristian Romero, Nicolas Otamendi, Nhauel Molina, Gonzalo Montiel, and German Pezzella.
Midfielders: Angel Di Maria, Leandro Paredes, Alexia Mac, Rodrigo de Paul, Guido Rodriguez, Enzo Fernandez, and Exequiel Palacios.
Forwards: Lionel Messi, Paulo Dybala, Joaquin Correa, Lautaro Martinez, Alejandro Gomez and Nicolas Gonzalez
Saudi Arabia Team Squad
Head coach Herve Renard has named the Saudi Arabia World Cup squad.
Goalkeepers: Nawaf Al-Aqidi, Mohammed Al-Owais, and Mohammed Al –Rubaie.
Defenders: Sultan Al-Ghannam, Abdulelah Al-Amri, Ali Al-Bulaihi, Abdullah Mado, Saud Abdul, Hamid Hassan, Tumbukti Yasser, Al Shahrani, and Muhammad Al-Buraik.
Midfielders: Abdullah Otaif, Abdulelah Al Malki, Riad Shrahili, Ali Al Hassan, Salman Al-Faraj, Muhammad Kanoo, Nasser Al Dawari, Sami Al-Najei, Hattan Bahbari, Salem Al Dawsari, Fahad Al-Muwallad, and Abdulrahman Al-Aboud
Forwards: Haitham Asir,i Firas Al-Buraikan, and Saleh Al Shehri
Argentina vs Saudi Arabia Predicted Lineups
Argentina Lineup
Probable Lineup (4-3-3): Emiliano Martinez; Molina, Romero, Otamendi, Acuna; De Paul, Paredes, Mac Allister; Messi, Lautaro Martinez, Di Maria
Saudi Arabia Lineup
Probable Lineup (4-2-3-1): Al-Owais; Al-Breik, Al-Amri, Al-Bulaihi, Al-Shahrani; Kanno, Al-Malki; Al-Shehri, Al-Faraj, Salem Al-Dawsari; Al-Buraikan