Denmark vs Tunisia, 2022 FIFA World Cup Qatar – Preview, Prediction, Head to Head, Lineups, and More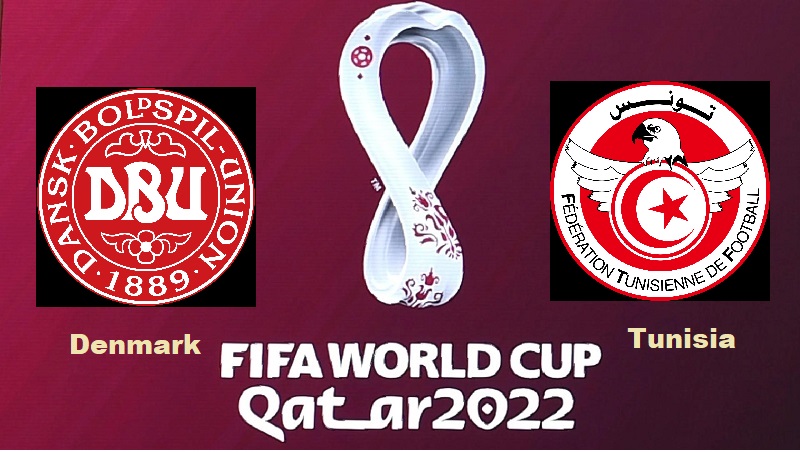 Denmark will want to continue their good run as they get ready for their World Cup opener against Tunisia at the Education City Stadium. When Denmark plays Tunisia in their FIFA World Cup Group D opener at the Education City Stadium in Qatar, they will be looking to continue their good run.
Tuesday's match against Tunisia in Al Rayyan will be Denmark's first game in their World Cup bid in 2022. In the lead-up to the competition in Qatar, the two nations did not play any friendly matches. They will be trying to get off to a good start in a group that also includes Australia and the defending champions, France.
Denmark will consider this to be the easiest of the group's matches, even though Tunisia is the underdog in this group. As a result, the Danes will want to win their first game. While Tunisia and Denmark have both won three of their last five matches, Denmark has faced more difficult opponents.
The World Cup matchup between Denmark and Tunisia that will take place on Tuesday will take place at the Education City Stadium in Al Rayyan, Qatar. Along with France and Australia, the two nations are in the tournament's Group D.
Denmark won the Nations League and advanced to the semifinals of the European Championship. Against a Tunisia team with a poor World Cup record, the Danes can get all three points.
Expectations are high that the Europeans will win the game and collect all three points. Denmark has every reason to be optimistic after going undefeated in their qualification phase and reaching the Euro 2020 semifinals.
In addition, during the most recent international break, the Danes defeated France, the defending champions, to bolster their credentials. Being a team with a lot of quality and experience, they wouldn't be expected to make it to the knockout stages.
The Tunisian Football Federation and the Tunisian government were at the center of controversy in the months leading up to Tunisia's participation in the competition. The nation in Africa can now relax and concentrate on the task at hand.
Even though they are ranked higher in the FIFA ratings than Australia, it will be difficult for them to even finish third. Tunisia's history is also not on their side, as they have only won two games in five World Cups.
However, the World Cup frequently surprises, and a victory on an opening day against Denmark will undoubtedly raise eyebrows. Due to the group's teams, neither nation can afford to take chances, and the matchup promises to be interesting.
Denmark vs Tunisia Team News
Denmark Team News
Denmark will be able to use Christian Eriksen for the first time in a major tournament match since his collapse midway through the game against Finland, which saw him go into cardiac arrest on the pitch. With another strong performance in Qatar, Denmark will be looking to show that their emotional run to the EURO 2020 semi-finals wasn't a fluke.
Head coach Kasper Hjulmand's only real concern is the fitness of central defender Andreas Christensen, who only recently returned to action for Barcelona after an ankle injury.
Denmark qualified for the World Cup as one of the most dominant teams in the entire European side of qualifiers. With an incredible goal differential of 30:3, they won their group with nine wins in ten games. In ten games, they only gave up two goals. Damsgaard, Braithwaite, and Skov Olsen are their expected attack, Eriksen, Delaney, and Hojbjerg are their midfield, Maehle, Christensen, Andersen, and Kristensen are their defense, and Schmeichel is their goalkeeper.
In Group D, Denmark is one of the favorites to advance to the Round of 16 against France, Australia, and Tunisia. The Danish team heads to Qatar with high hopes, especially after their strong performance at the UEFA Euro last year, when they reached the semifinals but lost to England in a thrilling extra session.
De Rod-Hvide climbed to 10th place in the FIFA ranking given that Denmark has performed admirably in recent years. First, Denmark showed that they could compete at the previous EURO 2020. There, they reached the semi-final, but England beat them in extra time to lose. The Danes won each of their first nine games with a goal difference of 30:1, making them the best team in their group. However, in the final round, in a match that had no competitive significance, they lost 0-2 to Scotland and finished with 27 points.
After a successful Euro 2020 campaign and an unbeaten qualifying run, the Danes head into the tournament. The team led by Kasper Hjulmand defied all odds to reach the semi-finals of the European Championships in the summer of 2021. Now, they will try to pull off another miracle, this time on the international stage.
In their history, the Europeans have qualified for the tournament six times but have never advanced past the quarterfinal stage. They did well in France in 1998, but an impressive Brazilian team beat them in the last eight.
The return of Christian Eriksen to Denmark's roster will be beneficial. At Euro 2020, the veteran collapsed on the field, posing a risk to his game. Nevertheless, he has since impressed Brentford and Manchester United, demonstrating his capacity to maintain his high level of play.
Denmark is in Group D with France, Tunisia, and Australia, who are the defending champions, so they can hope to advance to the knockout stages. The Danes have every reason to be optimistic about their chances after their 2-0 victory over France during the previous international break.
In the middle of the park, Hjulmand is likely to deploy his team in a 3-4-1-2 formation that provides both flexibility and stability. Goalkeeper Kasper Schmeichel is expected to start in goal of Joachin Andersen, Simon Kjaer, and Andreas Christensen in the back three. The three have a lot of experience and will shine against Tunisia.
The core of the central midfield will be Thomas Delaney and Piere-Emile Hojbjerg, who will add muscle and athleticism to the middle of the field. They ought to serve as a solid base for Daniel Wass and Joakim Maehle to use in the wings. In the event of a Tunisian counterattack, the latter two can also return to a five-man defense thanks to the formation.
Martin Braithwaite and Kasper Dolberg's attacking moves are likely to be orchestrated by Christian Eriksen, who is likely to start at number 10. If the Danes are forced to chase the game, Mikkel Damsgaard and Andreas Skov Olsen will both provide capable options off the bench.
Tunisia Team News
Tunisia's last appearance at the FIFA World Cup was in 2018 when they lost to England and Belgium in a tough group. This time around, it won't get any easier for them.
They are captained by Youssef Msakni and have access to Wahbi Khazri and Hannibal Mejbri, who is currently on the books by Manchester United, a Premier League giant.
In recent years, Tunisia has been quite impressive, qualifying for the second World Cup in a row in Russia in 2018. The team has a strong generation, which may pose a challenge to larger national teams. This group will not be any easier for Tunisia, who have never advanced past the Group Stage in any of their five previous appearances.
Coach Jalel Kadri is aware that Tunisia, the third-best African team and 30th in the FIFA world ranking, has a slim chance of succeeding at the World Cup. The Eagles of Carthage secured a visa to Qatar with a 1-0 aggregate victory over Mali in the play-off, while Tunisia finished their qualifying group as the leader but with just two points above Equatorial Guinea. This made their path to the World Cup difficult. Tunisia is in a group with Denmark and France, so they can't expect much at the World Cup in Qatar.
Although Tunisia is rarely mentioned prior to the World Cup, it is essential to keep in mind that they defeated Mali in the final round of Africa's qualifiers. They will be competing in the tournament for the second time in a row, ranking sixth overall. Tunisia has never advanced past the 16th round.
In Qatar, the African team will compete in their sixth World Cup competition. They have only won two of the 15 games in the showpiece event, and they have never advanced past the group stages.
Tunisia, along with Denmark, France, and Australia, has their work cut out for them. To even make it to the knockout stages, let alone win, they will need more than one miracle. Given that the Europeans will arrive with their swagger intact following a few years of good results on the international stage, their first match against Denmark will be difficult.
The Danes will have better players than Jalel Kadri's team, so they'll want to keep the game tight. If the Africans want to surprise a few people in Qatar, their next move seems to be a 4-3-3 formation. The sensational Hannibal Mejbri of Manchester United has also been included in the squad, but it is unknown whether or not he will make an impact in the starting XI lineup.
Behind the back four of Mohamed Drager, Montassar Talbi, Dylan Bronn, and Ali Abdi, Aymen Dahmen ought to start in goal. Ghaylen Chaaleli and Aissa Laidouni will support Ellyes Skhiri in his role of holding the defensive midfield line.
The trio of Wahbi Khazri, Youssef Msakni, and Anis Ben Slimane will be entrusted with scoring goals and putting the Danish defence under pressure. Kjaer's lack of pace may turn out to be a major weakness, but the AC Milan star will still be a tough opponent given his experience.
Denmark vs Tunisia Head to Head (h2h)
This will be the first competitive match between Denmark and Tunisia.
Denmark vs Tunisia Match Details
Date: Tuesday, November 22
Kickoff Time: 8:00 am ET / 1:00 pm GMT / 12:00 am AEST (Wed, Nov. 22)
Location: Education City Stadium (Al-Rayyan)
Official: Cesar Ramos (Mexico)
Denmark vs Tunisia: Time by State in the US
ET: 8 AM
CT: 7 AM
MT: 6 AM
PT: 5 AM
How to watch or live stream free Denmark vs Tunisia in the US
Denmark and Tunisia play in their first game of Group D at the Qatar 2022 World Cup. The game will be available to watch or live stream on FuboTV (with a 7-day free trial) and PeacockTV (for the US).
Other options: Telemundo, Telemundo Deportes, FOX Network, Foxsports.com, Fox Sports 1, SiriusXM FC, UFORIA App, and FOX Sports App are additional options if you want to watch the game in the United States.
What TV channel is Denmark vs Tunisia on?
ITV will broadcast Denmark vs Tunisia match live coverage beginning at 12:10 p.m.
How to live stream Denmark v Tunisia online?
Through ITV Hub, you can also watch Denmark vs Tunisia game live online.
Through the app, the streaming platform is accessible on a variety of devices, including smartphones, tablets, and desktop and laptop computers.
Denmark vs Tunisia Prediction
Denmark have slipped under the radar in the lead-up to the tournament because many people prefer to talk about countries with bigger names. In any case, according to a team perspective, relatively few can match the Danes, who have shown that every player within their squad is equipped for assuming a vital part of an exclusive requirement which has prompted them colossally dazzle on the pitch.
Tunisia are not the least demanding of groups to play against and will not be not difficult to separate, in addition to Denmark should be wary of Tunisia's going after danger. However, Denmark should prevail over their opponents during the 90 minutes and win the match.
The Tunisians will be competitive and eager to make their mark, but the Danes have the experience and quality to match. The Europeans will be favored to win the game 2-0 thanks to their optimism and a successful run of results.
In this match, Denmark should win by three points, but it won't be easy. They will need to break through a defense that hasn't given up a goal in eight straight games, with the exception of the 5-1 loss to Brazil at the end of September.
With Christian Eriksen in charge and Pierre-Emile Hojbjerg able to create from midfield, they should have enough firepower to do so. Wahbi Khazri, a veteran player who is 31 years old and has struggled for form at Montpellier, does not have the firepower to respond.
This does resemble a tense group opener, which is not always the case at World Cups.
Even though Denmark's midfield has more well-known players, they will have a tough time playing against Ellyes Skhiri and Aissa Laidouni in the middle of the park.
However, the Danes have goals, and Christian Eriksen gives them the spark they need to break through a determined Tunisian defense, which may just be the difference.
Going into this match, Denmark are obviously big favorites. Tunisia will park the bus and wait for the counter-attacks opportunities. The only remaining question is when Denmark will defeat its rivals.
We are tempted to take Denmark to win and Under 2.5 goals FT at 3.10 odds given that three of Denmark's last four Nations League games ended with fewer than three goals scored.
When looking at the players who could score goals, Andreas Skov Olsen, who is expected to start on the left side of the Danish front line, has the most value. Youngster Skov Olsen, who is 22 years old, is having a great season with Club Brugge this year.
In this match, Denmark should win by three points, but it won't be easy. They will need to break through a defense that hasn't given up a goal in eight straight games, with the exception of the 5-1 loss to Brazil at the end of September.
With Christian Eriksen in charge and Pierre-Emile Hojbjerg able to create from midfield, they should have enough firepower to do so. Wahbi Khazri, a veteran player who is 31 years old and has struggled for form at Montpellier, does not have the firepower to respond.
Denmark vs Tunisia Predicted Lineups
Denmark Lineup
Probable Lineup (3-4-1-2): Schmeichel; Andersen, Kjaer, Christensen; Wass, Delaney, Hojbjerg; Maehle; Eriksen; Dolberg, Braithwaite
Tunisia Lineup
Probable Lineup (4-3-3): Dahmen; Drager, Talbi, Bronn, Abdi; Laidouni, Skhiri, Chaaleli; Slimane, Msakni, Khazri