'Biggest concern is for Line Judges health', says Novak, in an email to Kanthi D Suresh of Power Sportz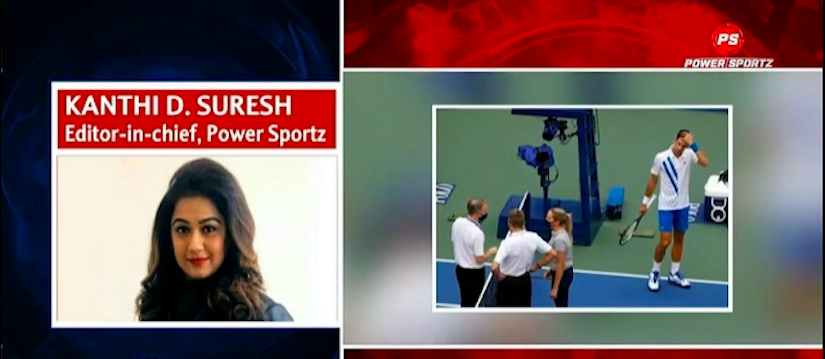 A huge decision, the opinion of which is still divided in people's minds is the disqualification of World No.1 Novak Djokovic from the US Open 2020. In his 4th round clash with Pablo Carreno Busta, Djokovic hit a spare ball which went on to hit the line judge.
While Novaks former coach in a surprise statement said 'He knew he was wrong', echoing the sentiments of many others who felt the same, Kanthi D Suresh, Editor-in-Chief, Power Sportz was very vocal in expressing that Novaks ouster was unfair and an over reaction. It was totally unintentional, and he seemed genuinely so apologetic, voiced Kanthi on a show when being quizzed by an anchor on Power Sportz. It seems like he is being targeted!
Djokovic sent shockwaves through the sport last month when he stepped down as head of the ATP council along with members Vasek Pospisil, John Isner and Sam Querrey and announced the formation of the Professional Tennis Players Association (PTPA). Tennis governing bodies have however, opposed the move and called for unity now that the sport has just resumed after a lengthy shutdown due to the  COVID-19 pandemic.

Djokovic in an immediate email reply addressed to Kanthi D Suresh over her show, mentioned that the situation is certainly difficult and inspires different opinions and interpretations . The biggest concern is for the line judges health, the mail reiterated. We hope everyone will recover from this situation so that all of us will enjoy great tennis.
Kanthi and Novak had exchanged emails previously in the month of April as well, when both were in agreement over a Covid vaccine issue, where the star had expressed his reservations on forced vaccination and was seconded by Kanthi on Power Sportz.