Brandon Rembert: What Makes Him One of the Top Hitters in the SWAC?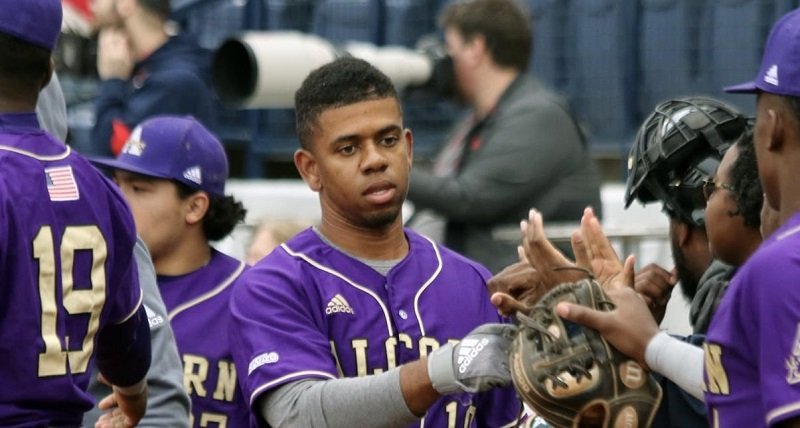 Brandon Rembert of Alcorn State University has become one of the most feared hitters in all of the Southwestern Athletic Conference. He has become a known force at the plate for the Braves. In his 2020 collegiate baseball season, Rembert batted in the three hole every game for them. For those of you that don't know, being the 3rd batter in the lineup usually signifies that the player can swing it a little bit. Teams usually put their best hitter in that position. So what makes Rembert such a great hitter at the plate?
Rembert has a career batting average of .321 over his 2 years at Alcorn State, adding 4 homers and 28 RBIs to that total. He also has a 35/23 walk to strikeout ratio through his 53 games played there. That is a pretty eye popping stat as well. That ratio proves that he is a patient hitter and has great discipline. Having plate discipline makes the batter a tough out and frustrates pitchers because he won't swing at pitches out of the strike zone or in the dirt. Rembert's discipline at the plate has contributed tremendously to his success because it puts him in good counts where pitchers are liable to make a mistake pitch that he can do some damage with. His numbers also show that he does not seem to strike out that much, putting the ball in play and forcing the defense to make plays.
He also had a whopping .462 on base percentage during his 2019 season, which is pretty impressive in itself. This means that Rembert was on base almost half the time he came up to the plate. Being on base often gives the offense a high chance of scoring more runs and aids in winning games. Most players that have a high on base percentage are offensive spark plugs for their respective teams. Walking a ton, not striking out a lot, and being on base almost half the time are recipes for offensive success. These 3 things contribute heavily to the offensive prowess of Rembert.
What other aspects of his game make Brandon Rembert one of the top hitters in the conference. Believe it or not, Rembert has sneaky power at the plate. He is only 5'9 and 185 pounds, but his small frame can pack a punch. Even though he only hit 4 homeruns in his career at Alcorn state, he did manage to hit almost a double digit amount of doubles, hitting 9 respectively. Some people do not know that many of his doubles could have easily been homeruns if they had been hit a foot or 2 farther. He has hit balls off of the wall multiple times that only resulted in a double. Hopefully his power can start to show more often in his game being a corner outfielder. Other's also rave over Rembert's lightning fast hands at the plate. He has great bat speed at the plate allowing him to wait until the last second to swing and still not be late. That is another reason why his discipline is really good because he can see the ball longer.
His bat speed also contributes to hard and solid contact with gap to gap power. Perfect Game states about him that he has a "compact RH (right handed) swing" and is also "quick twitch." Rembert does in fact have a quick twitch swing at the plate. Rembert also has the ability to hit to all fields. This attribute is very important in the success of hitters. He has the ability to drive an outside pitch to right field as well as hammer the inside pitch to left field. This ability makes it difficult for pitchers to pitch to him because he can hit the ball well to both sides of the field, even though I would like to see a little more power from him to the opposite field. Brandon Rembert has one more collegiate year to continue to build on his already impressive offensive prowess. After his upcoming spring season, hopefully a MLB team will pick up one of the best offensive players in the SWAC.