BYD wants to become India's second-largest manufacturer of electric cars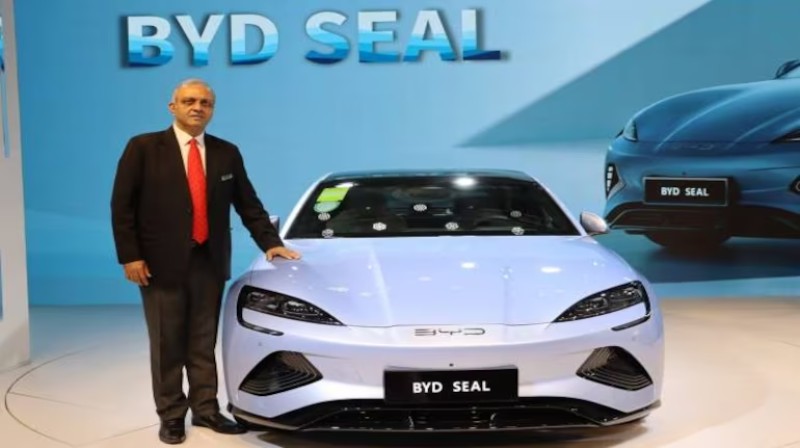 By introducing additional models, including a battery-powered premium saloon, China's top electric car manufacturer BYD hopes to surpass Tata Motors to become India's second-largest EV manufacturer this year.
The Shenzhen-based group, whose investors include Warren Buffett, is said to be considering expanding its Indian production base after 2025 if there is sufficient demand for its vehicles.
According to Sanjay Gopalakrishnan, BYD's senior vice president for India, Sanjay Gopalakrishnan told, "If the technology has been accepted by consumers, then we can't say no to the demand. We have to cater to the demand, which means we have to explore this possibility of local assembly with partners."
BYD builds its electric vehicles in Chennai using semi-knocked down kits (SKDs), which automakers typically use to avoid paying high import duties.
According to Gopalakrishnan, if BYD decided to offer more products in greater quantities, it could begin assembling vehicles from completely knocked-down kits (CKDs) in a "second phase of expansion" based on demand.
India's component localization would increase as a result of the switch from SKDs to CKDs.
This week, BYD started selling its electric ATTO 3 SUV in India. The company said it had close to 2,000 bookings.
The Chinese automaker unveiled the BYD Seal on Thursday at the most important auto show in India, Auto Expo 2023. It is a premium electric saloon that it said it would start selling in October, during the Hindu festival season, when car sales typically rise.
According to Gopalakrishnan, BYD intended to sell 15,000 automobiles in India this year. That would place it behind Tata Motors, which anticipates selling 45,000-50,000 electric vehicles during the current fiscal year, which ends in March.
In addition, BYD sells the e6, a vehicle with multiple uses intended for business customers in India.
In an effort to compete with established premium carmakers like Mercedes-Benz and BMW at the top end of the market, BYD unveiled the first models of a new luxury brand last week.
Last year, the company reported unit sales of 1.86 million, an increase of 155% from the previous year. BYD no longer makes cars with traditional internal combustion engines; instead, it makes hybrid and battery-electric vehicles in combination.
According to the consultancy LMC Automotive, India's overall wholesale vehicle sales totaled 4.07 million units from January to November of last year, an increase of 26% year over year.
In comparison to the US and Europe, where average incomes are higher and governments have generously subsidized early producers and buyers, India's price-sensitive market has seen EV adoption slow.
However, as India expands its vehicle charging infrastructure and increases incentives for EV producers, their batteries, and other technology, industry figures and analysts anticipate that demand for EVs will rise in the coming years.
One of New Delhi's strategic industries is electric vehicle technology, which it wants to boost local manufacturing in order to avoid ceding important industrial sectors to Chinese imports.
Rajat Verma, founder, and CEO of Lohum, a company that recycles car batteries and extracts the raw materials for resale, stated, "The world is looking for an alternative to China. We can be that alternative."