Best-selling electric cars of 2022 in Australia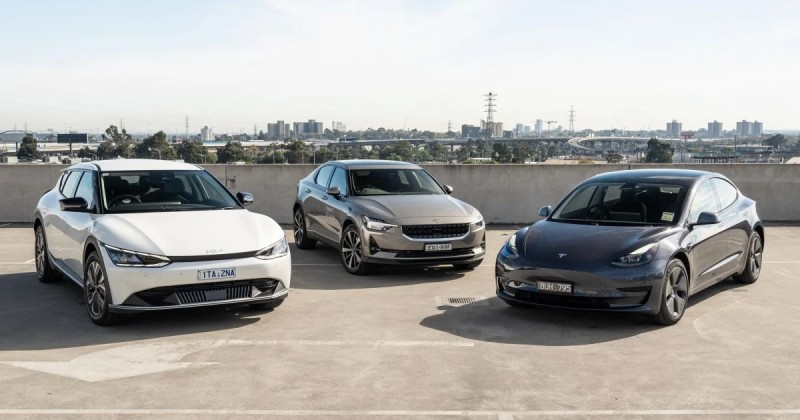 In a year marred by stock shortages, sales of electric vehicles nearly doubled in Australia in 2022 compared to the previous year. Tesla remains the category's top seller.
The Federal Chamber of Automotive Industries (FCAI) reported that 33,410 electric vehicles were sold in 2022, an increase of 94% from the 17,243 sold in 2021 (when Tesla registrations are taken into account). This represents 3.1% of all new motor vehicles sold.
There were 19,594 Tesla-branded electric vehicles sold in 2018, an increase of 62% from the 12,094 vehicles the company reported selling in 2021 and a 190% increase from the approximately 1000 vehicles it delivered four years earlier.
Tesla beat established brands like Audi, Honda, Volvo, and Renault to the top spot on the Australian new car sales charts, up from 19th in 2021.
Following slowdowns caused by COVID-19 lockdowns in China from early to mid-2022, Tesla increased production at its Shanghai factory, which produces automobiles for Australia, in the second half of the year, resulting in a record result.
Following the August introduction of the related Tesla Model Y family SUV, of which 8717 deliveries were reported in 2022, sales of the Tesla Model 3 sedan, which was the company's sole model in 2021, decreased by 10% in 2022.
It was reported yesterday that 10,877 Tesla Model 3 deliveries were enough to end the Toyota Camry's 28-year winning streak in the mid-size sedan category. Toyota Camry sales were 9538, down 27% from the previous year.
Even though Tesla sells the majority of electric cars in Australia, competition from other manufacturers heated up last year.
With 13,816 reported sales in 2022, up 168% from the 5149 delivered in 2021, non-Tesla electric vehicle sales outpaced the broader electric vehicle market and Tesla cars.
The BYD Atto 3 small SUV, another newcomer from China, dethroned China's MG ZS EV small SUV, the best-selling non-Tesla electric vehicle in 2021.
In 2022, BYD reported selling 2113 Atto 3 electric SUVs, compared to 1119 MG ZS EVs, as showrooms were without stock for seven months due to a switch between the old and new models.
Despite deliveries only beginning in September and a three-week pause on deliveries in October and November to resolve two breaches of Australian motor vehicle regulations, the BYD's impressive sales result was achieved.
BYD's Australian distributor, EVDirect, reported selling 1268 vehicles in December 2022 alone, placing it second overall for the month, ahead of the Tesla Model Y (460) and Tesla Model 3 (1806).
The Polestar 2 on 1524 sales, the first model sold in Australia by the Chinese electric Volvo offshoot, came in between the BYD Atto 3, which came in third place, and the MG ZS EV, which came in fifth place.
With 1096 deliveries, the Hyundai Kona Electric came in sixth place for the year. Together with 580 Ioniq Electric hatchbacks and 756 Ioniq 5 SUVs, Hyundai was Australia's second-largest seller of electric cars with 2432 reported sales.
Polestar just beat Volvo, its sister company, which reported a record 1474 electric vehicles sold in 2022, including 491 of its electric-only coupe-styled C40 twin and 983 of the XC40 Recharge Pure Electric.
In total, in 2022, 13.8% of Volvos sold in Australia were electric vehicles, exceeding the 10.9% share of Volvo electric cars sold worldwide the previous year. This is a significant milestone for the company, which plans to go entirely electric in 2026, four years ahead of Europe.
Volvo Australia reported selling 327 electric XC40s and 196 C40s in December, or 55% of the 959 vehicles it delivered last month, due to the arrival of large shipments late in the year.
Polestar and Volvo dominated the luxury car market, surpassing BMW (1290), Mercedes-Benz (1166), Mini (455), Porsche (430), Genesis (174), Audi (142), and Jaguar (23).
The LDV eDeliver 9 van (5) came in last, followed by the BMW i3 hatch (3), the Mercedes-Benz eVito van (2 each), the LDV Mifa 9 people mover, and the Ford e-Transit, Cupra Born, and Mercedes-Benz eVito Tourer (1).
These cars, on the other hand, are "niche" low-volume models that only went on sale in the last few months of 2022 (like the Mercedes-Benz and LDV models), were discontinued early in the year (like the BMW i3), or, in the case of Ford and the Cupra, are internal company demonstrator and training vehicles that have been imported before customer cars later this year.
The entire leaderboard for the sale of electric cars in Australia in 2022 is listed below.
Australian electric vehicle sales (2022)
| Model | Sales |
| --- | --- |
| Tesla Model 3 | 10877 |
| Tesla Model Y | 8717 |
| BYD Atto 3 | 2113 |
| Polestar 2 | 1524 |
| MG ZS EV | 1119 |
| Hyundai Kona | 1096 |
| Volvo XC40 Recharge Pure Electric | 983 |
| Hyundai Ioniq 5 | 756 |
| Mercedes-Benz EQA | 624 |
| BMW iX3 | 593 |
| Hyundai Ioniq | 580 |
| Kia EV6 | 564 |
| Volvo C40 Recharge | 491 |
| BMW iX | 477 |
| Mini Cooper SE | 455 |
| Porsche Taycan | 430 |
| Kia Niro EV | 385 |
| Nissan Leaf | 331 |
| Mercedes-Benz EQC | 318 |
| BMW i4 | 207 |
| Mercedes-Benz EQB | 141 |
| Audi E-Tron | 129 |
| Genesis GV60 | 114 |
| Lexus UX300e | 82 |
| Mercedes-Benz EQS | 70 |
| Mazda MX-30 Electric | 55 |
| Renault Kangoo ZE | 49 |
| Genesis Electrified GV70 | 44 |
| Jaguar I-Pace | 23 |
| Genesis Electrified G80 | 16 |
| Audi E-Tron GT | 13 |
| BMW i7 | 10 |
| Mercedes-Benz EQV | 10 |
| LDV eDeliver 9 | 5 |
| BMW i3 | 3 |
| LDV Mifa 9 | 2 |
| LDV eT60 | 2 |
| Mercedes-Benz eVito Van | 2 |
| Cupra Born | 1 |
| Ford E-Transit | 1 |
| Mercedes-Benz eVito Tourer | 1 |
Electric cars coming to Australia in 2023
In 2023, the market for electric cars is expected to grow even more. Some highlights are:
BYD Dolphin city hatch – first half of 2023
BYD Seal mid-size sedan – second half of 2023
Cupra Born – March or April 2023
Fiat 500e city hatch – mid-2023
Abarth 500e hot hatch – late 2023
Ford E-Transit large van – February 2023
Ora Good Cat city hatch – expected first half of 2023
Hyundai Ioniq 6 mid-size sedan – early 2023
Hyundai Ioniq 5 N hot hatch/SUV – late 2023
Kia EV6 GT hot 'SUV' – January 2023
Lexus RZ luxury SUV – mid-2023
MG 4 small car – first half of 2023
Renault Kangoo E-Tech Electric – first half of 2023
Renault Megane E-Tech Electric – second half of 2023
Skoda Enyaq iV family SUV – orders open the second half of 2023
Toyota BZ4X family SUV – second half of 2023
Volkswagen ID.4 and ID.5 family SUV – end of 2023
Volvo EX30 city SUV – expected sometime in 2023