Chloé Zhao became the first Asian-American woman and second woman to win the Oscar Academy Awards for best director in history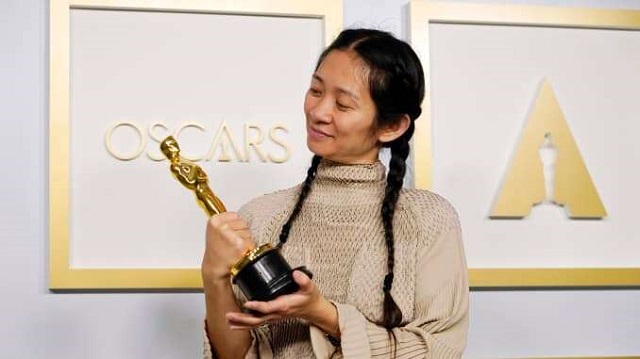 Chinese-born movie producer Chloé Zhao became the first woman of color to win the best director at the Academy Awards on Sunday night for her frightful, meditative drama "Nomadland," about a middle-aged widow (Frances McDormand) who lives out of a van after losing her factory job. She became the first Asian-American woman and second woman ever to win the best director at the Academy Awards.
Chloé Zhao won the Academy Award for Best Director because of "Nomadland," becoming only the second woman in the 93-year history of the Oscars to win the category. Zhao brought home the prize over fellow nominees David Fincher ("Mank"), Aaron Sorkin ("The Trial of the Chicago 7"), Thomas Vinterberg ("Another Round"), and Emerald Fennell ("Promising Young Woman").
"Nomadland" is Chloé Zhao's third feature directorial effort following "Songs My Brother Taught Me" and "The Rider." She is likewise the first Asian woman to be nominated for and to win the Oscar for Best Director.
Before the 2021 Oscars nominations declaration, just five women had ever been nominated in the Best Director category: Lina Wertmüller (1976′s "Seven Beauties"), Jane Campion (1993′s "The Piano"), Sofia Coppola (2003′s "Lost in Translation"), Kathryn Bigelow (2009′s "The Hurt Locker"), and Greta Gerwig (2017′s "Lady Bird").
With nominations for Chloé Zhao and Fennell this year, the total number of Oscar-nominated women for Best Director rose to seven. The 93rd Academy Awards is additionally the first time two women cut the Best Director category in the same year.
Chloé Zhao, 39, made that big appearance at Los Angeles' Union Station for her acceptance speech, where she thanked her "Nomadland" cast and team. She additionally read and remembering Chinese poems and texts with her father experiencing childhood in Beijing, including the "Three Character Classic." She referred to a specific line that informed her life philosophy: "People at birth are inherently good."
"When I was growing up in China, my dad and I would play this game. We would memorize classic poems and text and try to finish each other's sentences," said Chloé Zhao during her acceptance speech. She recited a line of poetry in Chinese before translating it into English, "People at birth are inherently good."
"I have always found goodness in the people I met," she said. "…This is for anyone who has the faith and courage to hold onto the goodness in themselves."
Chloé Zhao was the favorite to win the Oscar for Best Director going into the 93rd Academy Awards ceremony. The producer ruled the category throughout the season, winning Best Director prizes at the Golden Globes, the Critics' Choice Awards, the BAFTA Film Awards, and the Directors Guild of America awards. Zhao additionally got the Golden Lion at the 2020 Venice Film Festival, where "Nomadland" had its world premiere.
With her "Nomadland" win, Chloé Zhao joins Kathryn Bigelow as the only female winner of the Best Director Oscar. Bigelow won her Best Director trophy for "The Hurt Locker," which likewise proceeded to win Oscars for Best Picture and Best Original Screenplay. After Bigelow's historic win as the first woman Best Director winner, no female directors were even nominated in the category until 2018.
That was the year Gerta Gerwig became the fifth woman nominated for Best Director with her solo feature directorial debut "Lady Bird." Gerwig at last missed out on Guillermo del Toro for his Best Picture winner "The Shape of Water."
Women movie producers were then closed out in 2019 and 2020, notwithstanding there being a few commendable competitors like Gerwig for "Little Women," Céline Sciamma for "Portrait of a Lady on Fire," and Alma Har'el for "Honey Boy." The closing out of women directors at the 2019 and 2020 Oscars prompted a widespread backlash.
"It might seem like the opposite is true, but I've always found goodness in the people I've met in the world," Chloé Zhao said. "This is for you. You inspire me to keep going."
"I tried to focus on the human experience and things that I feel go beyond political statements to be more universal — the loss of a loved one, searching for a home," Zhao told IndieWire last year about her now-Oscar winner "Nomadland." "I keep thinking about my family back in China — how would they feel about a cowboy in South Dakota, or a woman in her 60s living in America? If I make it too specific to any issues, I know it's going to create a barrier. They'd go, 'That's their problem.'"
The Frances McDormand-fronted drama additionally won huge at the Golden Globe Awards recently. The film procured a nod for best screenplay and got awards for best director and best movie — drama, making Chloé Zhao the first Asian-American woman to win the Globe for best director as well as the second woman ever to win for directing. Zhao follows in the footsteps of Barbra Streisand, who was the first female to score the best director Globe in 1984 for "Yentl."
The Oscar nominations for Chung, 42, and Zhao likewise make this year the first time when that two directors of Asian descent have gone head to head. There have just been five Asian nominees that have preceded them, beginning with Hiroshi Teshigahara's 1966 film "Woman in the Dunes."
Chloé Zhao is the third Asian-American to win the award, after Ang Lee and Bong Joon-ho's successes. Lee won in 2006 for "Brokeback Mountain" and for "Life of Pi" in 2013. Joon-ho received awards in 2020 for "Parasite."
She is only the second woman ever to win a directing Oscar, over a decade after Katheryn Bigelow for her 2009 Iraq War drama "The Hurt Locker." In the show's 93-year history, just seven women have been nominated for best director: Bigelow, Zhao, Emerald Fennell (2020's "Promising Young Woman"), Greta Gerwig (2017's "Lady Bird"), Sofia Coppola (2003's "Lost in Translation"), Jane Campion (1993's "The Piano") and Lina Wertmüller (1976′s "Seven Beauties").
Of those women, Chloé Zhao is the first woman of color to even be nominated in the category – a maddening truth, especially given the awards-worthy films from women directors including Lulu Wang ("The Farewell"), Dee Rees ("Mudbound"), and Ava DuVernay ("Selma") that have recently been scorned for director honors.
"Nomadland" marks Chloé Zhao's third feature film after her 2016 debut "Songs My Brothers Taught Me" and the 2018 breakthrough "The Rider." All three dramas are set in the American West – a region that has intrigued the Beijing native since graduating from New York University's Tisch School of the Arts, where she studied filmmaking.
"I had spent a decade in New York and didn't think I was going to be able to tell a story there that could be any better than what's already been done," Zhao told in February. "I was feeling a little restless because I wasn't sure what I wanted to say, partially because it was too noisy around me. That's why I first traveled to South Dakota."
"Nomadland" depends on Jessica Bruder's 2017 nonfiction book and highlights a cast of generally non-professional actors, large numbers of whom are real-life nomads playing versions of themselves. Before shooting in late 2018, Zhao and her producing team spent time becoming acquainted with the van-dwellers as she composed the script.
"That's what Chloé is the best at: gaining people's trust and listening to their stories," McDormand told. "She says that part of what she enjoys about her filmmaking is getting to know people. And they really do want to tell her their stories."
All through awards season, Chloé Zhao has been working diligently editing her next film, Marvel's "Eternals" (in theaters Nov. 5). The blockbuster-sized superhero film includes an elite player cast led by Angelina Jolie, Salma Hayek, Kumail Nanjiani, and Richard Madden, and marks historic firsts for deaf, South Asian, and LGBTQ characters in the Marvel Cinematic Universe.
What's more, in February, she signed on for a new Dracula film for Universal Pictures, in what's been portrayed as a "futuristic sci-fi western" take on the classic vampire story.
The two projects are sharp left turns for a movie producer known for her calm character studies. Yet, after the masterpiece of "Nomadland," we'll cheerfully follow Chloé Zhao any place she takes us next.
Next up for Chloé Zhao is the release of her Marvel Cinematic Universe entry "Eternals." The Oscar win will make her the first Academy Award winner for Best Director to helm a Marvel project.
The producer previously told, "I've been a fan of the MCU for over a decade, so it makes sense for me to jump into a Marvel movie. I want to make films that last, that have a timeless feel to them, that isn't just a flash in the pan with whatever topic is trending on Twitter right now. I'm not interested in that stuff."
"I'm not the kind of filmmaker who just makes films," Zhao added. "I have to be in love with my subject matter and want to learn more about it. Someone once said to me that passion doesn't sustain, but curiosity does. I have to be excited by little things I discover along the way."
With her Oscar close by, Chloé Zhao is moving into the Hollywood studio system. The movie producer is likewise connected to direct a Western sci-fi spin on "Dracula" for Universal Pictures.
Chloé Zhao's upcoming films include Marvel Studios' big-budget action flick "Eternals," scheduled for release in November, and a sci-fi Western version of "Dracula."