Claudio Kano: Google Doodle celebrates a Japanese Brazilian table tennis player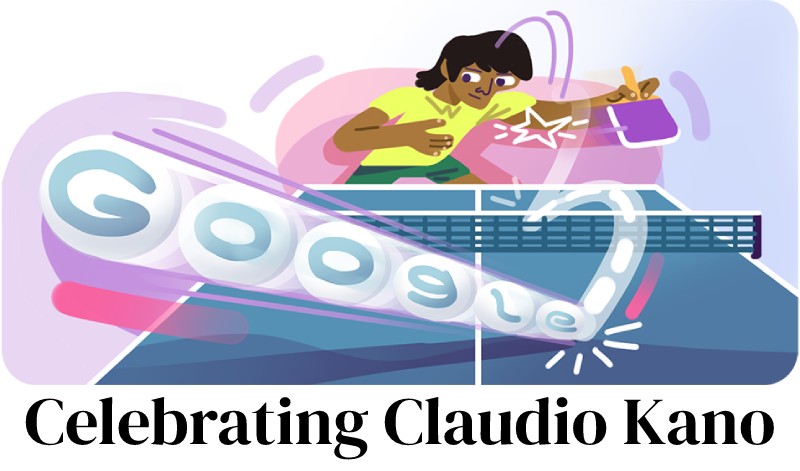 Google Doodle honors Cláudio Mitsuhiro Kano, a Japanese Brazilian table tennis player who "spearheaded Brazilian table tennis in the 1990s" and contributed to the sport's popularity in Brazil on December 15, 2022.
Claudio Kano, a Brazilian table tennis player from Japan, is honored in today's Google Doodle. He contributed to the sport's popularity and is widely regarded as one of the greatest Brazilian players of all time.
On December 18th, Kano was born in So Paulo, Brazil. At 10 years of age, he began playing table tennis at Clube Showa where the best nearby players hung out. The players were impressed by Kano's skill and hard work, and they suggested that he join the So Bernardo Club, one of the best table tennis teams in the country.
A few years later, Kano was competing against some of the world's most aggressive players. Kano quickly made friends with professional players on the international circuit because he spoke English, Japanese, and Spanish fluently. Kano returned to Brazil as one of the country's most talented players after four years of playing with Olympic champions in Sweden.
Kano became Brazil's unofficial manager at the age of 17 and mentored younger players. With Moxy and discipline past his years, Kano likewise turned into a good example for youngsters across Brazil. At the 1983 Pan American Games, he won two gold medals in men's doubles and men's team table tennis, elevating him to the status of a national hero. At the Pan American Games, Kano won an additional ten medals, including five gold ones.
In addition, Kano competed in the Olympics in Barcelona in 1993 and Seoul in 1988, where he finished in the top 20.
When he passed away in a tragic motorcycle accident at the age of 30, he was on the verge of competing in the 1996 Olympics in Atlanta. The world-class table tennis player leaves behind a glittering legacy, and his success has made table tennis a well-known sport in Brazil. The best players in the country continue to look up to Kano as an example.