Disney 100th Anniversary Short Now Streaming: Disney+ Celebrates Century with Iconic Genie and Robin Williams 'Once Upon a Studio'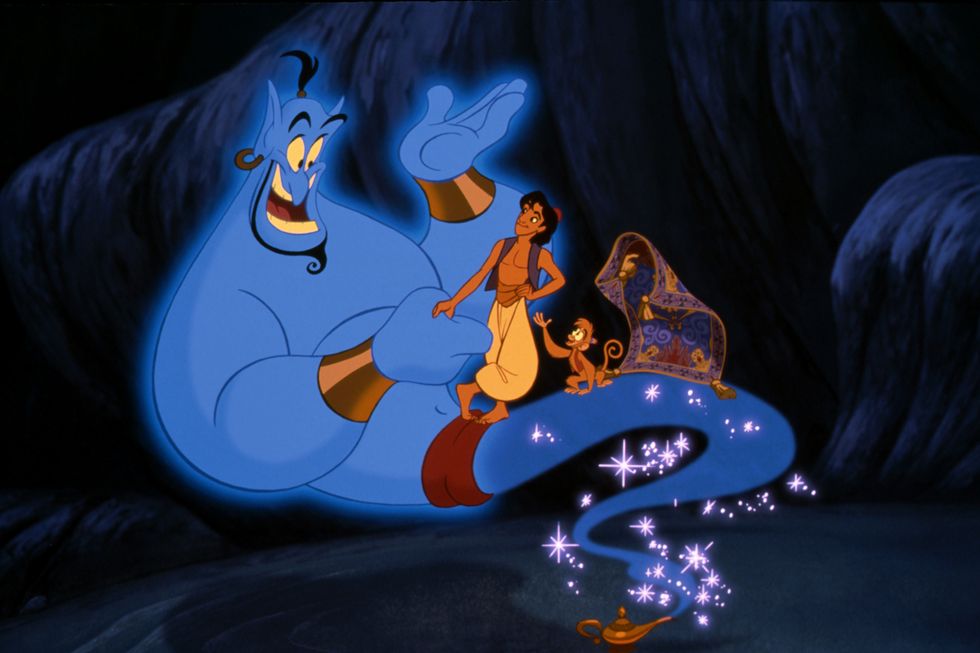 Disney's 100th anniversary short, which stars Genie played by Robin Williams, is currently available to stream on Disney Plus. The renowned actor died in 2014. In the Disney+ original series Once Upon a Studio, which debuted today (October 16), characters from 85 Disney feature-length and short films join together to honor "10 decades of storytelling, artistry, and technological achievements."
The late Robin Williams' voice was not artificially enhanced for the short, despite the Genie having new vocal lines, according to producer Bradford Simonsen, who spoke. The first step in the procedure was contacting Williams' estate.
To celebrate the studio's 100th anniversary, Disney has resurrected Robin Williams' Genie from 1992's Aladdin for a brand-new short film.
Robin Williams' contribution was put together with the help of the late actor's estate using outtakes from his sessions recording for Aladdin.
"We tried to take them on the journey with us to say, 'We've got this very special short that we're doing. Robin as the genie means so much to so many people and we would really love to involve him," Simonsen said. "So Dan [Abraham, director] listened to the outtakes from the original recording and he found those little bites that we could use. We went back to the estate and said, 'This is what we hope to do.' Eric [Goldberg], who originally animated the genie is on the show, and he's going to be part of it.' And it was wonderful to see that happen."
To celebrate the animation studio's 100th birthday, the short film Once Upon a Studio brings together every Disney figure you can imagine. Many voice performers, such as Jeremy Irons as Scar, Idina Menzel as Elsa, and Jodi Benson as Ariel, came back to play their classic parts.
With the aid of a talking wishing star, a little girl named Asha (Ariana DeBose) battles to protect her country from a villainous monarch in Disney Animation's upcoming movie Wish.
Once Upon a Studio features 543 characters, including Mickey Mouse, Princess Elsa from Frozen, and Peter Pan, who all come to life in a Night at the Museum-style gathering at the studios using both hand-drawn and CGI animation.
"Is that it, they all gone?" In the preview for the short movie, Mickey whispers to Tinkerbell. He gets the all-clear and leaps out of his picture frame.
Producer Bradford Simonsen noted that they wanted to honor Robin Williams, who passed away back in 2014, without the usage of AI when asked about the inclusion of the Genie character.
Jodi Benson as Ariel, Jeremy Irons as The Lion King villain Scar, Auli'i Cravalho as Moana, and Idina Menzel and Kristen Bell as their Frozen roles Elsa and Anna are among the voice actresses who have returned to reprise their beloved animation characters.
The movie was directed by the animators Abraham (Space Jam, Once Upon a Snowman), Trent Correy (Raya and the Last Dragon, Moana), and Yvett Merino (Encanto), with Simonsen serving as producer.
The short film's original score was composed by Tarzan, Frozen, Moana, and Tarzan soundtrack composer Dave Metzger.
Donald Duck, Goofy, Pluto, Winnie the Pooh, and the original Disney character Oswald the Lucky Rabbit are among the other characters that appear in the project.
On Disney+, you may stream Once Upon a Studio.