Lifestyle
Dr. Priyasi Das – The award-winning and record holder author making it big at 22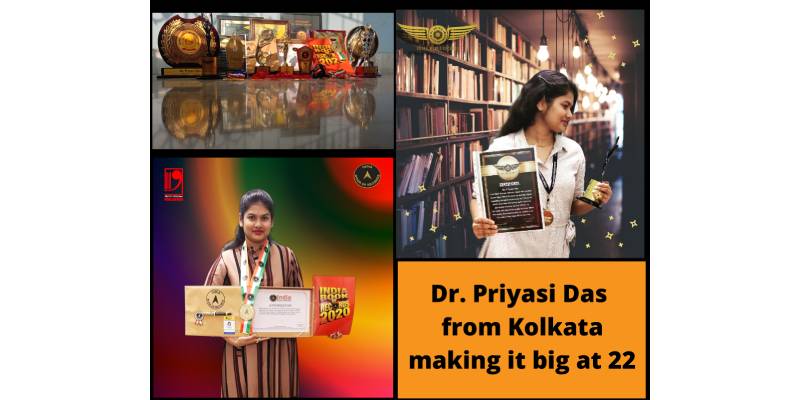 Dr. Priyasi Das belongs to the City of Joy Kolkata. She is an Award-Winning Author, Engineer, Publisher, Honorary Doctorate in Literature, Model & World Record Holder. She has Authored 7 Books & Co-Authored more than 48 Anthologies. She has also been a Guinness World Record Mass Attempt participant curated via Mountains of India & Triumph Expeditions. She is the founder of Priya's Wisdom Publication.
Awards & Records received by her –
However the list of her awards are huge but still we would love to mention few of them which are "Vajra World Records", "India Book of Records", "OMG Book of Records", Laureate Award, 100 Inspiring Authors of India Award, MVLA Global Achievers Award, Miss E&E UNIVERSE (West Bengal), REX Karamveer Chakra Nominee, Cherry Book Awards, Aaghaz 2K20, & many more. Her work has also been appreciated via VIVEKANANDA WORLD PEACE FOUNDATION.
Books Written by her –
Writer's Write
The Unfinished Love
Hridoyer Spondon
Thoughts From Inner Soul
Poetic Rhythms
Verse of Emotions
Phases of COVID-19
Her Latest Released Book –
Phases of COVID-19
Listing Done on –
Amazon, Amazon Kindle, Amazon Prime, NP Bookstore & Flipkart
About The Book –
The World is changing everyday and people are suffering from this drastic Pandemic with their mental & physical strength. This virus is truly taking away our loved ones and creating a barrier of destruction in our life with huge panic attacks & depression. This book contains the truth of this deadly virus which includes several deep thoughts & elaborations regarding proper precautions, symptoms, medications & etc. which portrays my personal experiences regarding the virus.
(Note – The girl in the Book front Cover Picture is the Author herself. This used to be the way how she took precautions while taking care of her father & mother)
Priyasi's latest released book titled "Phases of COVID-19" has hitted the Bestsellers Chart at no. #27 & she dedicated this book to her beloved Grandfather whom she lost due to COVID pandemic.
RECOGNITIONS OF HER RECENTLY PUBLISHED BOOK –
INDIA BOOK OF RECORDS TITLE –
Priyasi Das (born on November 13, 1999) of Kolkata, West Bengal, is appreciated for writing a book on a true incident related to Covid-19. The book named Phases of COVID-19 (ISBN: 978-1-63633-115-7) is published by Priya's Wisdom Publication via Xpress Publishing, as confirmed on October 8, 2020.
VAJRA WORLD RECORD TITLE –
"Phases of COVID-19" (A Non Fictional book based on Reality)
Ms.Priyasi Das from West Bengal, Kolkata, India has created a new Vajra World Records by writing a book regarding personal experience on COVID-19 which describes her family suffering in the pandemic situation during COVID-19. The book will help every reader to know about the reality of pandemic and the crucial virus. This sets a new Vajra World Records.
She always wondered to chase her dreams & uplift her writing skills in the World of Literature. She also wants to help the aspiring authors in getting themselves published & help them in utilising their talent.
One Quote which she believes –
WRITE । READ । REPEAT!