Germany vs Japan, 2022 FIFA World Cup Qatar – Preview, Prediction, Head to Head, Team Squads, Lineup, and More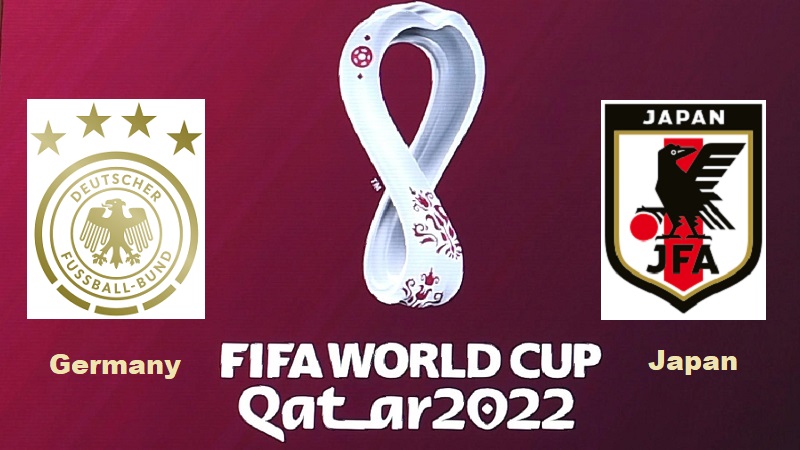 When Germany and Japan meet at the FIFA World Cup's Khalifa International Stadium, the action in Group E begins. With half of the teams in Group E being former world champions, there will soon be some exciting moments. Germany must ensure that they begin their campaign against their Asian counterparts, the Japanese, on a high note.
When Germany and Spain meet in Group E of the FIFA World Cup 2022, everyone's eyes will be on them. Germany and Spain were world champions for a decade. However, in order for the Germans to open their account, they will have to confront Japan, the Asian machine. In November of last year, the hosts appeared to be scoring frequently, scoring 17 goals against three opponents in ten days. Well, it would appear that Germans love November.
However, Japan's participation in the World Cup will be entirely different. This summer, the Asians put on impressive games against Brazil, Ghana, and Paraguay. It was the first time they had shown their full-strength team, which was training for the World Cup. Japan will undoubtedly give the Germans a run for their money, despite the fact that they will undoubtedly be favored greatly.
The first game of the group stage between Germany and Japan on Wednesday afternoon marks the beginning of their quest to reclaim their status as a Turniermannschaft (tournament team).
During Germany's most recent World Cup match, Joachim Low was still in charge; a crushing 2-0 loss to South Korea established the nation's first-ever exit from the group stage.
Japan advanced ahead of Senegal because they received fewer yellow cards, narrowly missing out on the pool. After the 2018 tournament, Hajime Moriyasu took over for his former boss Akira Nishina, just as Germany's coach Hansi Flick worked alongside Low.
After losing two of their three matches, Germany was eliminated from the 2018 World Cup in the group stage. In two games in the group stage, they failed to score. However, the former World Cup champions hope for better results at the 2022 FIFA World Cup in Qatar, and this first match against Japan will have a significant impact on the rest of the tournament.
In their final warm-up match before the tournament, the Germans defeated Oman 1-0, while Japan lost 2-1 to Canada in their final warm-up match. Germany has only lost once in their last 16 games, while Japan has lost for the first time in six matches. Both teams have been very difficult to beat recently. The match will begin at 12:01 p.m. UTC.
The four-time world champions had a bad year in 2018 because they lost in the first round of the previous tournament.
The previous group was relatively easy for them, with Sweden, Mexico, and South Korea as the other three teams. However, Die Mannschaft not only failed to advance past the group stage as a whole, but they also came in dead-last place in the table.
Fans still remember Manuel Neuer's embarrassed expression when he attempted a skillful move in the midfield in the dying moments of their final game.
Reparations are required from the former champions. Also, for some of their veterans, this could be their last trip to the biggest football event. Before they hang up their boots for good, they need to have one last hurrah.
But keep in mind that the Japanese are not a mean adversary. In the previous edition, they finished second in their group, just behind Colombia, and advanced to the Round of 16.
They also had the unfortunate circumstance of running into the Belgians, against whom they had to withdraw. But not before the team gave Belgium a run for its money. There is no telling what the Japanese could have accomplished if not for the miraculous 3-2 comeback that the Belgians planned after going down 2-0.
Expect a fierce battle between the 2014 champions and the Asian heavyweights. But the Germans are favored by experience and, frankly, talent. Additionally, they are wounded beasts. They need to settle their scores. In their first match at the Qatar World Cup, Germany is expected to win with a lot of hard work.
2022 FIFA World Cup Qatar – Germany vs Japan Team News
GERMANY Team News
Germany, the four-time World Cup champions, are hoping for retribution in 2022 after their embarrassing 2018 World Cup exit in the group stage, their first in the tournament's current format of four-team groups followed by a knockout stage.
Joachim Low left his position as head coach following EURO 2020 to be replaced by his former assistant Hansi Flick, who won the UEFA Champions League with Bayern Munich in 2020. This will be Germany's first major tournament since the 2006 World Cup.
Germany wants to put the disappointment that came with their poor performance at the previous World Cup behind them in the big football event in 2022. Hans Flick, the new head coach, and former manager of Bayern Munich have led his team well in preparation for the World Cup. In 15 games, Hans Flick has only lost once, won nine, and drawn five. Under Hans Flick, the only loss was a 1-0 defeat to Hungary, a bitter rival. However, this time around, we anticipate a different performance from the Germans.
The German group shows up as one of the main determinations of this world cup. After finishing first in group J with 27 of 30 points played, they were able to get into Qatar. The Germans show up with the conviction of washing their countenances after their horrible showing in the past World Cups, where they neglected to move beyond the gathering stage and definitely they were the failure of Russia 2018.
Of the nine games, they played this year, they only won three of them played, two against minor rivals such as Israel and the most recent against Oman. Timo Werner, who was ruled out of the team because of an injury, is without a doubt one of the most significant casualties for the German team. In this group of death, we'll see who can impose conditions.
The success of this German team is absolutely dependent on three generations of players coming through. Starting with Manuel Neuer, who would prefer to play in his final World Cup due to his age. The best goalkeeper in the country is still the number one German stopper, who has kept his team together through a lot. Kai Havertz will take over in the forward position next.
Since reaching the Champions League final, the 22-year-old Chelsea player has struggled in his professional career. His World Cup performance will finally make or break his position as the team's primary striker. Joshua Kimmich is the final player on which the entire team was built. Kimmich has been a member of this German team since he was a young player when he was a breakout star, and now as a veteran, he will use his experience to lead the team. At least his nation will advance to the semi-finals of this competition thanks to the extraordinary midfield talent.
JAPAN Team News
Japan although they have never advanced beyond the Round of 16 stages during that time, Japan is all set to compete in the FIFA World Cup for the seventh time in a row, which is an extremely impressive feat.
Given that their adversaries, the formidable Germans, are just 13 ranks ahead of them, Japan's current position in the FIFA rankings is truly commendable. On offense, Takumi Minamino and Yuya Osako will be in charge. Minamino's high-level European experience will be beneficial to Asians. Additionally, the club is home to some of the best players in the J.League.
The Hiroshima national team's chances in a group from which they are unlikely to qualify will depend heavily on the experienced defensive duo of Sho Sasaki and Hayato Araki. However, Sasaki and Araki's experience may ensure that they force the Germans and the Spaniards following them to work hard to break through the backline. In this game, Minamino, Osako, Sasaki, and Araki will be our players to watch.
On the FIFA football ranking list, Japan is ranked 24th. They are the best team in Asia ahead of the 2022 FIFA World Cup in Qatar. South Korea is 28th overall and second in the region. Japan put on a great show at the previous World Cup, but they lost to Belgium due to counterattack goals and were eliminated. With players like Minamino, Kubo, Morita, Yoshida, and a number of other top talents prepared for the football spectacle, Japan appears to have done better this time.
Maya Yoshida provides valuable defensive experience, and Takumi Minamino and Daichi Kamada are two well-known names in European football. Kamada won the UEFA Europa League last season with Eintracht Frankfurt.
Although the Japanese do not have any players who are world-renowned, they do have players who can be unbalanced and are a lot of trouble for rivals, as is the case. Despite this, the Japanese have always been known for being a very orderly and well-organized team. In the case of Takefusa Kubo and Takumi Minamino, the team's most important members are under Hajime Moriyasu's leadership.
The Saudi Arabian team would be the stepping stone for the Japanese team at this World Cup because they qualified second in their group in the Asian qualifiers. They would only lose two games during the entire qualifying round, to Saudi Arabia and Oman, but they were able to get into the World Cup fairly easily.
2022 FIFA World Cup Qatar – Germany vs Japan Head-to-Head (h2h)
The German team has never lost to Japan in any way over the past two decades. During this time, they scored two or more goals in every match. A friendly match, the most recent match ended in a 2-2 draw. The four-time champions prevailed 3-0 in the matchup before that.
What time does Germany vs Japan match begin?
The matchup between Germany and Japan will take place on November 23, 2022, at 13:00 (UK time).
Japan versus Germany: Times by State in the US
ET:8:00 AM
CT:7:00 AM
MT:6:00 AM
PT:5:00 AM
Where is Germany vs Japan taking place?
At the Khalifa International Stadium in Al Rayyan, Qatar, Germany will take on Japan.
In the UK, which channel broadcasts Germany vs Japan?
ITV will broadcast the live match between Germany and Japan.
How to watch or stream live free online Germany vs Japan in the U.S.
The Group Stage of the Qatar 2022 World Cup, FuboTV (with a 7-day free trial), and Peacock will broadcast the game in the United States. Other options for watching the game in the United States include SiriusXM FC, UFORIA App, Telemundo Deportes En Vivo, Peacock, Sling, FOX Sports App, Telemundo, Fox Sports 1, and Foxsport.com. If you want to watch the game on your smartphone, don't forget to download the app.
Where can I stream Germany vs Japan in the UK?
The ITV Hub allows for live streaming of Germany vs. Japan.
2022 FIFA World Cup Qatar – Germany vs Japan Prediction
With Spaniards in the mix, Germany will be determined to begin their campaign with a decisive victory. Along with Brazil, they see this as an opportunity to become the world's second-most successful football team.
They went through the qualifiers as if they had no problem at all. This Wednesday, they absolutely have the upper hand over the relatively inexperienced Japanese. In addition, Japan may be a major player in the Asian region, but this is a completely different situation.
The Samurai Blues' inferior h2h record against this opponent only exacerbates the situation.
At Khalifa International, Germany, winners four times, are likely to win.
In the meantime, Thomas Muller will be the focus of all attention as the lanky striker aspires to surpass fellow German Miroslav Klose at the top of the World Cup goal-scoring list. To rise to the top, the frontman for Bayern Munich needs six more goals.
After the embarrassment of 2018, you can rest assured that he will relentlessly pursue this target.
Hansi Flick has a world-class squad to pick from and he can depend on Jamal Musiala, Thomas Muller, Leroy Normal, Serge Gnabry, and Kai Havertz to cause any team issues.
Germany has enough to get their World Cup campaign off to a flying start, but Japan won't be easy to beat.
Following progressive significant competition disappointments for Germany at both the 2018 FIFA World Cup and all the more as of late EURO 2022, they can't manage the cost of a comparative destiny in Qatar. Die Mannschaft is expected to have a strong start to the group stage under Flick's leadership, and Japan will have to work hard to contain them. When comparing the two teams, Germany has significantly more depth of strength and individual quality across the field than their rivals. As a result, they are well worth backing if they beat Japan here to kick off their World Cup campaign in 2022.
Because eight Japanese players play in the Bundesliga, Japan will be familiar with German players. Two managers will compete in a tactical game. However, Germany has an advantage in this match due to the qualities of their players. Under Flick, the team plays a high-pressing game and will terrorize the pitch with their agility. Japan needs to be careful of Germany's fast forwards and the defense needs to work together, but the Germans always find a way.
2022 FIFA World Cup Qatar – Germany vs Japan Team Squads
Germany 2022 FIFA World Cup Squad
Germany Football Team –
The final squad may have undergone a few minor adjustments, but the current squad is loaded with the best talent and skill.
Goalkeeper: Kevin Trapp, Bernd Leno, Marc-Andre ter Stegen
Defenders: Antonio Rudiger, Christian Gunter, Matthias Ginter, Thilo Kehrer, Ridle Baku, Jonathan Tah, David Raum
Midfielders: Kai Havertz, Leon Goretzka, Marco Reus, Maximilian Arnold, Florian Neuhaus, Jonas Hofmann, llkay Gundogan, Julian Brandt.
Forwards: Kevin Volland, Serge Gnabry, Thomas Muller, Lukas Nmecha, Leroy Sane.
Captain: Manuel Neuer
Head Coach: Hansi Flick
Japan Football Team
There may be minor changes to this team for the upcoming Qatar 2022 FIFA World Cup qualification matches on the Final List.
Goalkeeper: Eiji Kawashima, Shuichi Gonda, Daniel Schmidt.
Defenders: Naomichi Ueda, Shogo Taniguchi, Ko Itakura, Yuto Nagatomo, Shinnosuke Nakatani, Hiroki Sakai, Yuta Nakayama, Miki Yamane.
Midfielders: Wataru Endo, Gaku Shibasaki, Genki Haraguchi, Takumi Minamino, Takefusa Kubo, Hidemasa Morita, Junya Ito, Ao Tanaka, Ritsu Doan.
Forwards: Daizen Maeda, Yuya Osako, Takuma Asano.
Captain: Maya Yoshida
Coach: Hajime Yoshida
2022 FIFA World Cup Qatar – Germany vs Japan Predicted Lineups
GERMANY Lineup
PREDICTED XI (4-2-3-1): Neuer; Kehrer, Sule, Rudiger, Raum; Kimmich, Gundogan; Gnabry, Musiala, Sane; Havertz
UNAVAILABLE:
QUESTIONABLE: Klostermann (Injured), ter Stegen (Illness)
JAPAN Lineup
PREDICTED XI (4-2-3-1): Schmidt; Yamane, Tomiyasu, Yoshida, H. Ito; Endo, Tanaka; Doan, Kamada, Minamino; Asano
UNAVAILABLE:
QUESTIONABLE: Hidemasa (Injured), Kaori (Illness), Wataru (Injured)