Interesting and Fun Facts about Jerry Lawson; Google Game Doodle Celebrates the Father of Modern Gaming Gerald A. Lawson's 82nd birthday

Google Doodle celebrates the 82nd birthday of American electronic engineer Gerald 'Jerry' Lawson, one of the fathers of modern gaming who led the team that developed the first home video gaming system with interchangeable game cartridges, on December 1, 2022. Here are some interesting and fun facts about Jerry Lawson.
Who was Gerald "Jerry" Lawson?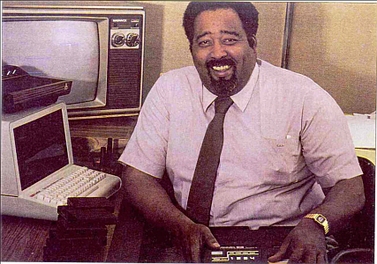 Personal
Birth date: December 1, 1940
Birthplace: Brooklyn, New York, U.S
Died on: April 9, 2011 (aged 70)
Death place: Santa Clara, California, U.S.
Alma mater: Queens College
Known as: Computer engineer
Interesting Facts about Jerry Lawson
Jerry Lawson is well-known for designing the Fairchild Channel F video game console and leading the team that pioneered the first commercial video game cartridge.
Black Enterprise magazine referred to him as the "father of the videogame cartridge" in 1982. After leaving Fairchild, he established Video-Soft.
Gerald Anderson Lawson was born on December 1, 1940, in Brooklyn, New York City.
His mother, Mannings, worked for the city and was also a member of the Parents-Teachers Association for the local school. His father, Blanton, was a longshoreman who was interested in science. His grandfather had studied to be a physicist, but he ended up working as a postmaster instead of pursuing a career in physics.
Gerald Lawson's parents made sure he got a good education and encouraged him to do things like ham radio and chemistry as hobbies. Lawson also claimed that his first-grade teacher inspired him to become a powerful figure like George Washington Carver.
As a teenager, Gerald Lawson lived in Queens and repaired television sets for a living. He got his amateur ham radio license when he was 13 years old, and then he built his own station at home using parts from local electronics stores that he bought with his money.
Gerald Lawson went to Queens College and City College of New York, but neither of them gave him a degree.
At the time, the city and the area around it were known as "Silicon Valley" because so many new and creative tech companies started there.
Gerald 'Jerry' Lawson started working for Fairchild Semiconductor in San Francisco in 1970 as a sales consultant for applications engineering.
He developed Demolition Derby, an early coin-operated arcade game, in his garage while he was there. Demolition Derby was one of the first microprocessor-driven games, and it was completed in the early part of 1975 using Fairchild's brand-new F8 microprocessors.
Gerald Lawson was promoted to the positions of Director of Engineering and Marketing for Fairchild's video game division and Chief Hardware Engineer in the middle of the 1970s. He led the development of the Fairchild Channel F console there, which was released in 1976 and was made to use swappable game cartridges using Alpex-licensed technology.
Lawson and his team refined and enhanced Alpex-developed technology that made it possible to store games as software on ROM cartridges that could be removed.
A new eight-way joystick designed by Lawson and a "pause" button—a first for a home video game console—were among the controls on the Channel F console. The commercial success of Channel F was limited, but the Atari 2600 in 1977 popularized the cartridge method.
Gerald Lawson and Ron Jones were the only black members of the Homebrew Computer Club while he was working for Fairchild. This group of early computer hobbyists included several well-known individuals, such as Steve Jobs and Steve Wozniak, who founded Apple. Lawson mentioned that he didn't hire Wozniak after interviewing him for a job at Fairchild.
Gerald 'Jerry' Lawson left Fairchild in 1980 to start Videosoft. This company developed video games and produced software for the Atari 2600 at the beginning of the 1980s when the 2600 had overtaken Channel F as the most popular system on the market. Videosoft shut around five years after the fact, and Lawson began to take on counseling work.
Jerry Lawson and Stevie Wonder collaborated on the creation of a "Wonder Clock" that would wake a child with the sound of a parent's voice at one point, but it never saw production. Later on, Lawson worked with the Stanford mentor program to write a book about his career.
The International Game Developers Association (IGDA) recognized Lawson as a pioneer in the game cartridge concept in March 2011.
At the 21st Independent Games Festival on March 20, 2019, Lawson received the ID@Xbox Gaming Heroes award for leading the development of the first cartridge-based game console.
The World Video Game Hall of Fame at The Strong National Museum of Play in Rochester, New York, has a permanent display of Lawson's contribution to the gaming industry.
Gerald 'Jerry' Lawson died on April 9, 2011, approximately one month after receiving the IGDA's honor. He had diabetes complications.
Gerald A. Lawson Academy of the Arts, Mathematics, and Science is the name given to Elementary School #11 by the Los Angeles Unified School District.
As part of Block Starz Music Television's Profiles of African-American Success video series, the director of The Czar of Black Hollywood, Bayer Mack, produced and released a short documentary on Lawson and his work on the Fairchild Channel F.
Jerry Lawson's story was also told by his children, Karen and Anderson, in the first episode of the Netflix limited-series documentary High Score, which was released on August 19, 2020.
The first episode of Season 6 of Command Line Heroes, "Jerry Lawson: The Engineer Who Changed the Game", covers his work on Channel F.
Gerald 'Jerry' Lawson is likewise noticeably featured in the second episode of the second season of History's The Toys That Built America "The Birth of Video Games" alongside different trailblazers of the early video game industry Nolan Bushnell and Ralph Baer.
The Gerald A. Lawson Fund was established in May 2021 by Take Two Interactive and the Games Program at the University of Southern California to assist black and indigenous students pursuing careers in the video game industry. In August 2021, Microsoft also began contributing to the fund.
On December 1, 2022, Lawson honoured with a Google Doodle that allowed users to create games and modify existing in-built games.
Google Game Doodle on Gerald 'Jerry' Lawson's 82nd Birthday
Today's interactive game Doodle on Google celebrates Gerald "Jerry" Lawson's 82nd birthday. Gerald 'Jerry' Lawson was one of the pioneers of modern gaming and led the team that created the first home video gaming system with game cartridges that could be swapped out. Three American guest artists and game designers: Momo Pixel, Davionne Gooden, and Lauren Brown created the Doodle and games with the help of Lawson's children.
To celebrate Jerry Lawson's 82nd birthday on Thursday, Google developed a collection of interactive Doodle games to recognize the American electronics engineer's contribution to gaming. The games, which look like early video games from the 1970s, take you through important points in Lawson's career and give you a look at the graphics and goals of those games. You are also invited to create your very own video game or modify one that is already out there.