Interesting Facts about Sapardi Djoko Damono; Google Doodle Celebrates Indonesian Lyrical Poetry Pioneer's 83rd Birthday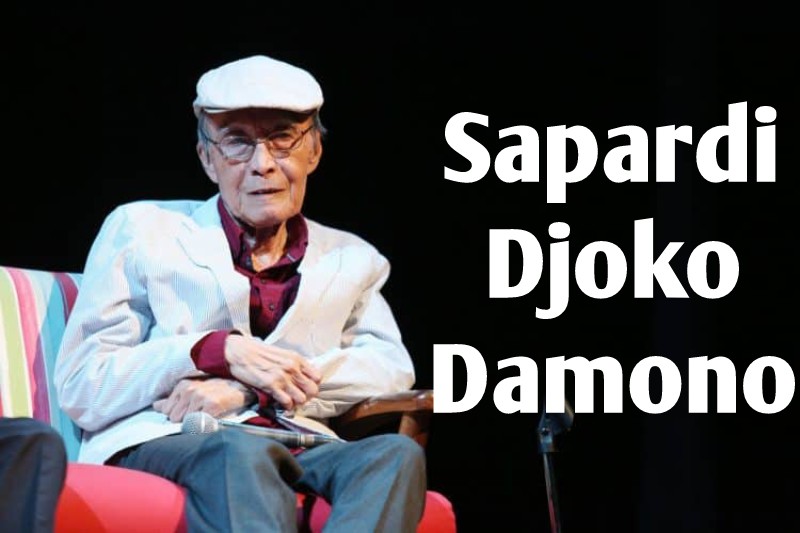 Google Doodle celebrates the 83rd birthday of Sapardi Djoko Damono, an Indonesian poet known for lyrical poems, and who was broadly recognized as the pioneer of lyrical poetry in Indonesia, on March 20, 2023. Here are some interesting and fun facts about Sapardi Djoko Damono.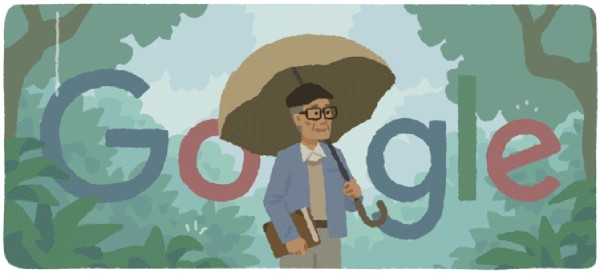 Here is a look at the life and work of Sapardi Djoko Damono.
Who was Sapardi Djoko Damono?
Personal
Birth date: 20 March 1940
Birthplace: Surakarta, Dutch East Indies
Died on: 19 July 2020 (aged 80)
Death place: South Tangerang, Banten, Indonesia
Nationality: Indonesia
Parents: Sapariah, Sadyoko
Spouse: Wardiningsih
Alma mater/Education:

Gadjah Mada University,
University of Indonesia

Notable awards:

The Putera Poetry Award in 1983
The Jakarta Arts Council Literary Award in 1984
The SEA Write Award in 1986
The Achmad Bakrie Award for Literature in 2003.
The Akademi Jakarta Award in 2012
35 Interesting and Amazing Fun Facts about Sapardi Djoko Damono
Sapardi Djoko Damono was born on March 20, 1940, in Solo, Central Java. He spent his childhood and adolescent years in his hometown.
Professor Dr. Sapardi Djoko Damono was a well-known poet from Indonesia. His abbreviation, SDD, is frequently used.
Surakarta was his home as a child. After completing grammar school from Sekolah Dasar Kasatriyan, also known as Solo, in his hometown of Surakarta, Sapardi went on to junior and high school at SMP Negeri 2 Surakarta (SMP 2, graduated 1955) and SMA Negeri 2 Surakarta (SMA 2, graduated 1958).
Sapardi Djoko Damono has contributed to several works that have been published in magazines during this time. When he studied English at Gadjah Mada University in Yogyakarta's Department of Western Literature, Faculty of Letters (now the Faculty of Humanities), he developed a passion for writing.
Sapardi completed a doctoral program at the University of Iowa's Faculty of Letters in 1989 after completing her education at the University of Hawaii, Honolulu.
From a young age, Sapardi Djoko Damono was an avid reader who frequently visited Solo's local libraries. His interests were diverse, including R.A. Kosasih's comics and the works of Pramoedya Ananta Toer, William Saroyan, and Karl May.
Sapardi Djoko Damono eventually started a lending library in their neighborhood with one of his younger siblings.
He went to Gadjah Mada University in Yogyakarta to study English literature. He has translated a lot of poetry and fiction from English into Indonesian.
In Surakarta, Sapardi began writing poetry while still in high school. Sapardi moved to Yogyakarta after graduating from high school to attend Gajah Mada University's English department. There, he completed his graduate studies in Indonesian literature.
Sapardi Djoko Damono also began writing poetry and participating in theater and radio broadcasting during this time. Along with his academic career, Sapardi also had a successful literary career.
Sapardi taught at Madiun, Solo, and Diponegoro University in Semarang after graduating from UGM. After that, he briefly lived in the United States.
Sapardi taught at the Teacher Training Faculty of Literature and Arts, IKIP Malang in Madiun until 1968 after receiving her bachelor's degree in 1964.
He moved to Jakarta in 1973 after working in Semarang to become managing director of the Indonesian Foundation, which published the literary magazine Horizon.
After he returned from the United States in 1973, he became a permanent faculty member at the University of Indonesia in the Literature Department. He earned his doctorate from the same university in 1989, and he became a full professor in 1993.
Sapardi Djoko Damono has taught at the University of Indonesia's Faculty of Literature, which is now the Faculty of Cultural Sciences, since 1974. Sapardi was named Dean of the UI Faculty of Letters for the 1995-1999 period after beforehand being appointed as a professor.
Sapardi was also the country editor of Southeast magazine in Kuala Lumpur at the time, as well as the editor of Horison, Basis, Kalam, Indonesian Language Development, and Indonesian Literary Sciences Magazine.
In 1969, Sapardi Djoko Damono published DukaMu Abadi (Your Sorrow Is Eternal), his first poetry collection. DukaMu Abadi focuses on the suffering of those who question their existence. In contrast to many of his literary peers at the time, Sapardi's poetry was more concerned with the human condition than with revolutionary or social ideas.
Sapardi Djoko Damono published Akuarium (Aquarium) and Mata Pisau (Knife) in 1974. Following these were Sihir Hujan (Rain Spell) and Perahu Kertas (Paper Boat), for which he was awarded the ASEAN-sponsored SEA-Write Award for poetry in 1986.
He was one of several prominent Indonesian figures who helped establish the Lontar Foundation in 1987, along with Goenawan Mohamad, Subagio Sastrowardoyo, Umar Kayam, and John H. McGlynn.
"Suddenly the Night," a collection of poems by Sapardi, was published to commemorate the foundation's opening.
Sapardi Djoko Damono wrote about the social turmoil brought on by the New Order's fall in 1998 and 1999. As a result, the book Ayat-ayat Api (Verses of Fire) received some negative feedback, largely due to the work's irrational tone and departure from his usual writing style.
Hujan Bulan Juni (A June Rain) and Berjalan ke Barat di Waktu Pagi Hari (Walking to the West in the Morning) are among his most well-known works. His most popular work, Hujan Bulan Juni, was published in 1994.
The book has been referred to as Sapardi's "greatest hits," and it contains 95 poems, some of which date back to 1964 and some from 1992. During a year spent at the University of Hawaii in Honolulu in the early 1970s, some of the poems included were written.
Sapardi continues to write fiction and nonfiction despite her retirement as a lecturer at the UI in 2005. He also teaches at the Jakarta Art Institute Postgraduate School.
Additionally, Sapardi Djoko Damono has completed several translations of foreign literary works into Indonesian. T.S. Eliot, Khalil Gibran, and Jalaludin Rumi's works are among these; He is regarded as one of Indonesia's best translators of The Old Man and the Sea by Ernest Hemingway.
Numerous musical compositions have also been influenced by Sapardi's poems, most notably by Indonesia's internationally renowned pianist Ananda Sukarlan.
Sapardi Djoko Damono's poetry has also been used on albums by several singers: Hujan Bulan Juni (1990), Hujan Dalam Komposisi (Rain in Composition) (1990) Gadis Kecil (Young Girl) (2006), and Becoming Dew (2007).
The duo AriReda (composed of Reda Gaudiamo and Ari Malibu) also set his compositions to music. For Garin Nugroho's 1991 film Cinta dalam Sepotong Roti (Love Is in a Slice of Bread), musician Dwiki Dharmawan rearranged Aku Ingin (I Want) into a soundtrack.
At the University of Indonesia, he was a professor. Damono has earned the informal title "Professor of Indonesian Poets" due to his extensive and intense involvement in the university.
Sapardi Djoko Damono was once appointed faculty dean. His poetry continues to be well-liked by the general public. In March 2010, he planned a poetry recital to celebrate his 70th birthday. People of all ages and from all walks of life waited in line to get in.
Numerous awards were bestowed upon Sapardi Djoko Damono for his accomplishments. The Cultural Award, which was given in Australia in 1978, the Men's Poetry Award, which was given in Malaysia in 1983, the SEA Write Award, which was given in Thailand in 1986, the Arts Award, which was given in 1990 by the Ministry of Education and Culture, the Kalyana Kretya Award, which was given in 1996 by the Indonesian Minister of Research and Technology, the Achmad Bakrie Award, which was given in Indonesia in 2003, the Jakarta Academy Award, which was given in Indonesia in 2012, Habibie Award (Indonesia, 2016), and ASEAN Book Award (2018).
After receiving treatment for decreased organ function, Sapardi Djoko Damono died on July 19, 2020, at the Eka BSD Hospital in South Tangerang.
Poems by Sapardi Djoko Damono have been translated into several languages, including regional dialects. In addition to poetry, he also writes short stories. In addition, he translated several foreign works, wrote essays, and contributed to several newspaper columns and articles, including one on football.
Sapardi Djoko Damono's poetry, which serves as an ode to the next generation of writers, is still read all over the world today.
In honor of Sapardi Djoko Damono's 83rd birthday, Google featured a Google Doodle on its homepage on March 20, 2023.