Shine Bright with Custom Holographic Stickers: A Deep Dive into Their Magical Appeal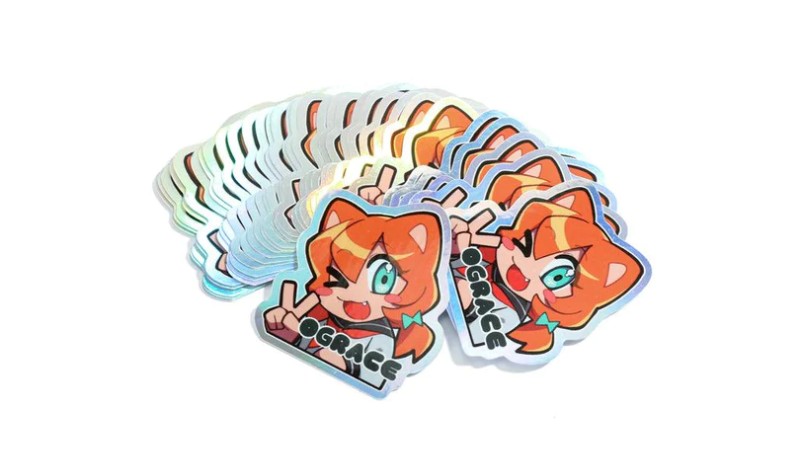 In a world where individuality and personal expression are cherished, custom holographic stickers have emerged as the embodiment of uniqueness and creativity. These enchanting adhesive creations have captured the hearts of artists, businesses, and individuals alike. Let's embark on a journey to explore the magical appeal of custom holographic stickers and how they can add a touch of sparkle to your world.
The Allure of Holography
Before we dive into the world of custom holographic stickers, it's essential to understand the enchanting allure of holography itself. Holography is a photographic technique that captures light patterns to create three-dimensional images. These images appear to change and move when viewed from different angles, creating a mesmerizing and almost otherworldly effect.
The Sparkle of Custom Holographic Stickers
Custom holographic stickers take the captivating essence of holography and transform it into tangible, adhesive creations. Here's why they shine so brightly in the world of stickers:
1. Unparalleled Aesthetic: Holographic stickers are a visual delight. They shimmer and shift as they catch the light, creating a dynamic and eye-catching display. Whether you choose a rainbow holographic or more subtle silver, these stickers add a touch of magic to any surface.
2. Versatility: Custom stickers are incredibly versatile. They adhere seamlessly to various surfaces, including laptops, phone cases, water bottles, notebooks, and car windows. Their ability to adapt to different backgrounds while maintaining their dazzling effect makes them a favorite choice for personalization.
3. Personal Expression: These stickers express individuals' unique styles and personalities. Whether you're an artist looking to showcase your creativity or an individual who wants to add a touch of sparkle to your belongings, custom holographic stickers offer a canvas for your imagination.
4. Brand Enhancement: Businesses can leverage the captivating allure of holographic stickers to enhance their branding. From product packaging to promotional materials, holographic stickers elevate the visual appeal of marketing collateral, making them unforgettable to customers.
5. Premium Quality: Custom holographic stickers are often made with high-quality materials that ensure their durability and longevity. They can withstand exposure to various environmental factors, making them suitable for both indoor and outdoor use.
Designing Your Custom Holographic Stickers
Creating custom holographic stickers is a process that allows you to unleash your creativity. Here are the key steps to bring your holographic sticker ideas to life:
1. Define Your Purpose: Determine why you create custom holographic stickers. Are they for personal expression, brand promotion, event giveaways, or artistic endeavors?
2. Conceptualize Your Design: Begin with a clear concept for your sticker design. Consider the colors, shapes, and holographic effects you want to incorporate.
3. Select the Shape and Size: Custom holographic stickers come in various shapes and sizes. Choose the dimensions that best complement your design and intended application.
4. Design Your Artwork: Use graphic design software or online design tools to create your sticker artwork. Ensure your design aligns with your holographic vision and is high-resolution for superior print quality.
5. Proof Your Design: Before placing your order, carefully review and proof your design to ensure it accurately represents your vision.
Applications of Custom Holographic Stickers
The enchantment of custom holographic stickers knows no bounds. Here are some creative ways to incorporate them into your world:
Personal Accessories: Adorn your laptop, phone, water bottle, or bicycle with custom holographic stickers that reflect your style.
Art Projects: Create mesmerizing art pieces by incorporating holographic stickers into your paintings or mixed-media projects.
Brand Promotion: Elevate your brand's visual identity using holographic stickers on product packaging, promotional materials, and storefronts.
Event Memorabilia: Make your events unforgettable by distributing holographic stickers as event giveaways or souvenirs.
Gift Wrapping: Add a touch of magic to gift wrapping by using holographic stickers as seals or embellishments.
In Conclusion
Custom holographic stickers are more than just adhesive decorations; they're magical pieces of art that captivate the eyes and ignite the imagination. Whether you want to personalize your belongings, enhance your brand, or embark on creative adventures, these stickers offer a glittering canvas for your ideas. So, shine bright and embrace the magic of custom holographic stickers to add a touch of enchantment to your world.