Sports worldwide may take time to come back to its enthusiasm, Says Kanthi D Suresh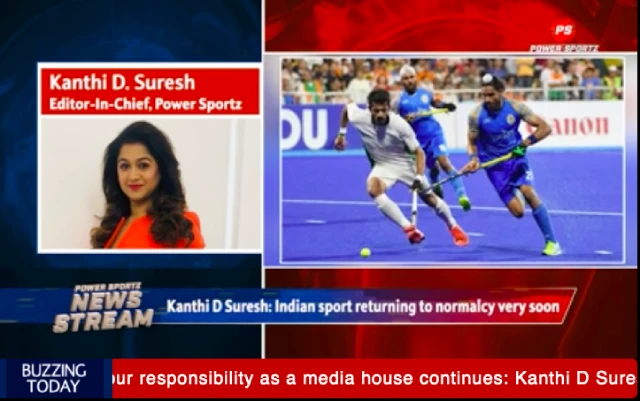 Undoubtedly, ever since the break out of the deadly COVID 19, things have changed tremendously for everybody, from school going kids to office going individuals, housewives to sports personals. Yes, nothing is the same as it was; however, the best thing is nothing remains forever. Probably this is what Ms. Kanthi D Suresh, the editor-in-chief of Power Sportz is trying to communicate to each one of us.
Lately, upon being asked by one of her own anchors, on the channel Power Sportz, Kanthi said, 'Indian Sports should restore its normalcy soon.' Perhaps this is what is most captivating about Ms. Kanthi, her positive attitude in any situation!
The positivism with she sounded is actually the need of an hour, especially in this environment of negativity, anxiety and fear created due to COVID – 19 all around the world. Kanthi personally feels that the situation can be controlled if each one of us religiously sticks to the instructions of the Prime Minister and stay home for our safety, and for the safety of our loved ones and our nation.
However, in the wake of the Indian Premier League being suspended, Kanthi admitted that the outbreak of COVID – 19 can impact Sports, particularly the athletes to a great extent. She said that there will be many who may get into the distress and depression because of all this. Kanthi urged, "This is of course, a tough situation for all of us, but no matter what we should refrain from negative thoughts by indulging into some constructive activities at home and understanding that this is not going to stay like this forever."
Further she said, "Sports worldwide may take time to come back to its enthusiasm. Considering the damage in so many countries of the world, it may take a lot to see athletes travelling from one country to another and sports bodies taking the initiative to organize world level meets and championships. I would give Global Sports a minimum of 6 months, but I see Indian Sports getting back far sooner."
She urged people to stay home and stay safe!!