70% alcohol wipes which kills 99.99% of bacteria and virus including coronavirus by Manhar Vij and Gaurav Chaudhary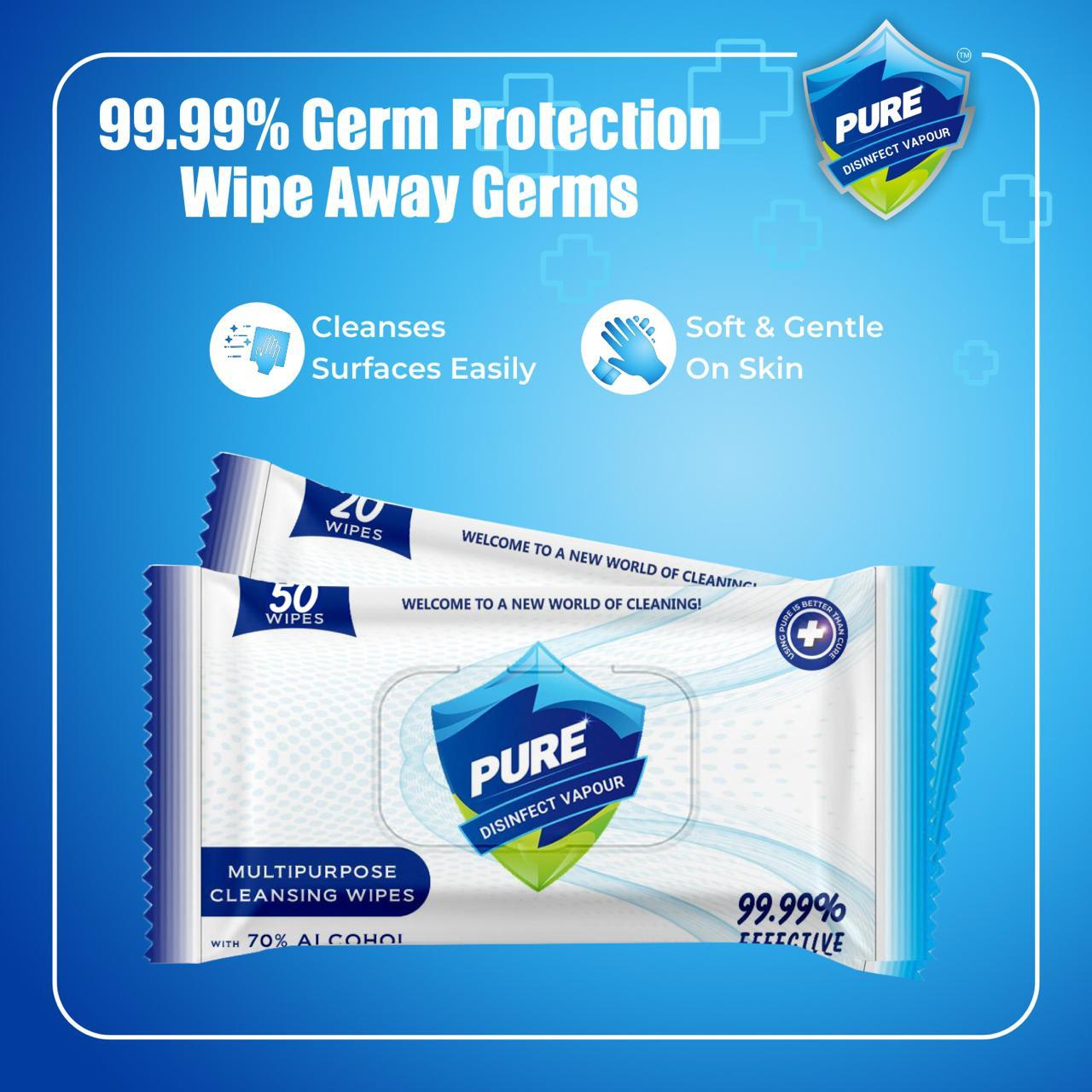 The world is hit with the worst pandemic and the only solution available for now is to disinfect yourself frequently. While it could be hard to find soap and water everywhere, these cleansing wipes come to rescue. PURE DISINFECT VAPOUR CLEANSING WIPE are a combined cleaning and disinfectant wipes suitable for use on visibly dirty surfaces and equipment, killing at least 99.99% bacteria and viruses, including coronavirus. The product is dermatologically tested and doctor trusted and recommended.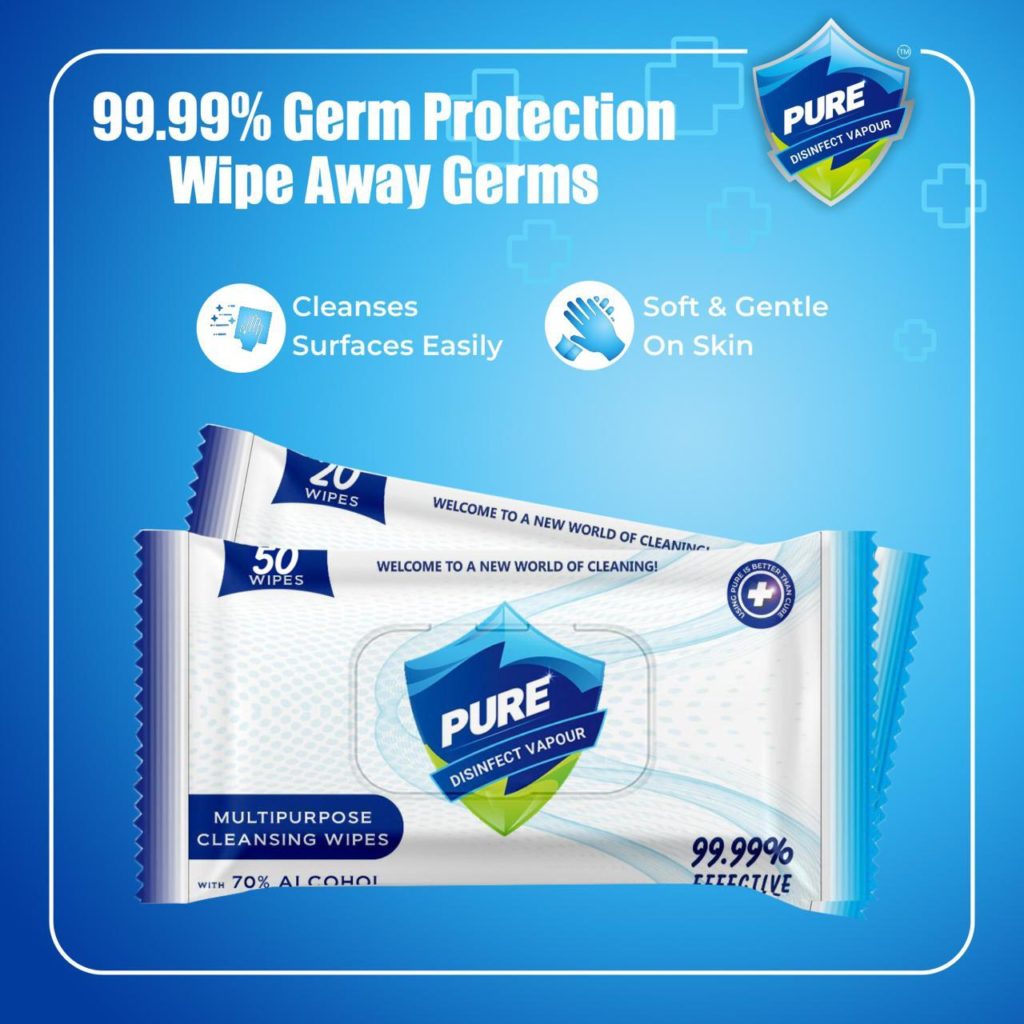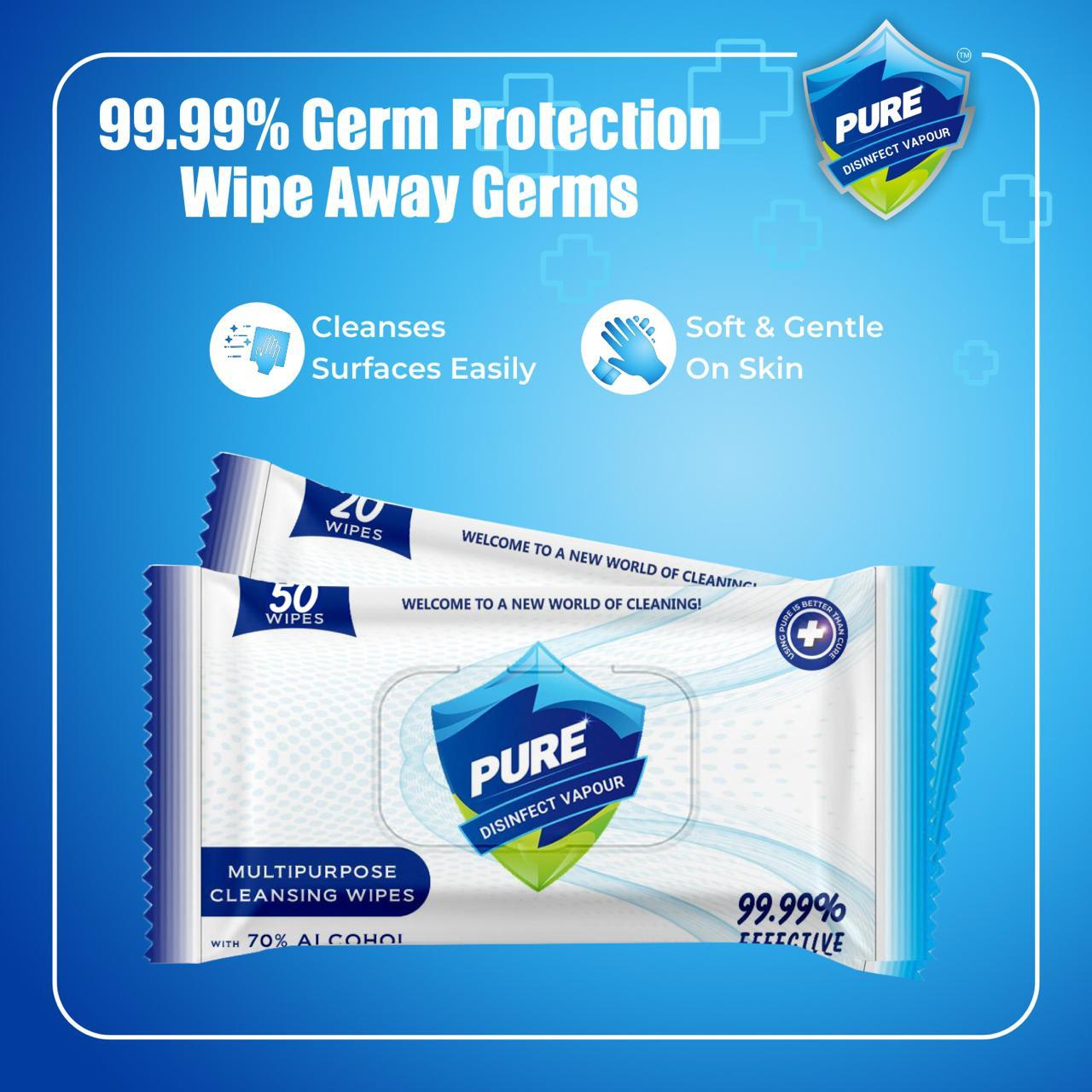 These cleansing wipes are multipurpose cleaning and disinfect solution. The wipes are perfect for use on hard, soft and none porous surfaces and equipment that are frequently used such as tabletops, door handles, light switches, lift buttons, desks, keyboards, chairs, checkouts, machines, tablets/phones, bathroom, and food prep areas. It wouldn't be wrong to say that they are perfect for hot-desking in the office. Pure Disinfectant Vapour cleansing wipes are also hospital-grade disinfectant for use in hospitals, nursing homes, patient rooms, shower rooms, locker rooms, public washrooms, schools, office buildings, athletic and sporting facilities, where housekeeping is of prime significance in preventing the hazard of cross-contamination.
When it comes to cleaning, you know you want a brand that you can trust. But you also want to enjoy a better experience in the process and with the introduction of these wipes, you can get both of them. These are specially crafted with refreshing country fragrance in a stylized packaging to redefine the cleaning experience of today's generation. Moreover, it is very easy to use by removing one wipe from the pack, cleaning the surface in an S-shaped motion from dirty to clean, discarding the wipe in the appropriate dustbin, and let the surface dry for one minute. It is also environment friendly and biodegradable so there is no harm in using them.
These disinfectant wipes with 70% alcohol are available in packs of 20 and 50 wipes in a packet as well as in canister form and are proven effective against MRSA and Covid-19. It also removes dust mites, pet dander, and pollen particles. Pure Disinfectant Vapour is helping millions of people in fighting against the pandemic and keeping them safe from being infected with the help of these cleansing wipes. It is giving hope and faith to everyone that we can fight against this virus successfully.