Style 101 – Finding the Perfect Boyfriend Jeans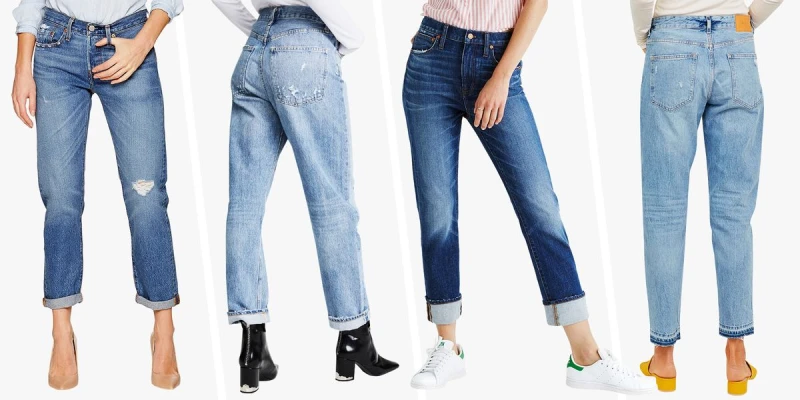 There are numerous outfits for different occasions. Formal wear, club ensembles, office attire, and black-tie affair get-ups are just some of your wardrobe must-haves. But casual wear is a different matter. Comfort and a laid-back vibe is now the name of the game. The perfect boyfriend jeans have a steady following when it comes to comfortable bottoms. It should fit your hips with a looser and more relaxed cut tinged with masculinity, hence the name. But these are more tailored for women than men and created from a more womanly body type.
The jeans have evolved in more ways than one since it first appeared on the fashion radar in 1873. Some women wear these to camouflage several problem areas from the waist down. But almost all of them do so because of the comfort it gives. There are a lot of them in the market, but how do you know which one fits you best? Finding the right pair is not all about just relaxed cosiness. You need to check which is easy to move in and flattering.
Straight leg boyfriend jeans
This is the most common pair for all body types. But those with heavy thighs will benefit the most from the straight leg cut boyfriend jeans. Choose a stretch material for a more flattering pair of bottoms. Go for those that fit snugly along the hips and shoot straight down to the hem. If you are going for a slimming effect, look for straight legs with cuffs. Ensure that it ends just above the ankles so that it can highlight the leg's slimmest part. Dark colours also help you look thinner, so choose those darker jean colours as well.
Loose fit boyfriend jeans
Loose-fitting jeans are baggy. It is meant for all body types as well. But most women prefer to pair them with a tighter bodice to counteract the looseness of the bottoms.
Slouchy boyfriend jeans
If you have a slender and more boyish frame, this type is perfect for you. Ripped jeans create the illusion of curves. Draw attention to your hips by ensuring that the rips are around the hips or upper thigh area. You can roll up the hems for a more casual look.
Are you blessed with long legs? You can emphasise them by having cuffs just above your ankles. You also have the option to go for a wider and higher cuff so you can show off your slim calves.
Slim-fitting boyfriend jeans
Curves come in three specific body types – pear, hourglass, and apple shapes. If you are any one of these, then the slim-fitting boyfriend jeans are best suited for you. Please do not go for baggy or jean-excesses as they can make you look like you have additional pounds in the wrong places. Check out a tapered or skinny-legged pair for a trimmer look while emphasising your natural curves.
Wearing jeans is an art form for some women. Having a pair in your closet spells effortless dressing on your part. It is up to you whether you go for a tapered set for a slimmer look or a slouchy effect for a carefree vibe. But one thing is for sure. The boyfriend jeans allow you to exude a woman that is chic and confident, even if with a slight sense of boyish charm.