These New Features are Coming to Google Chat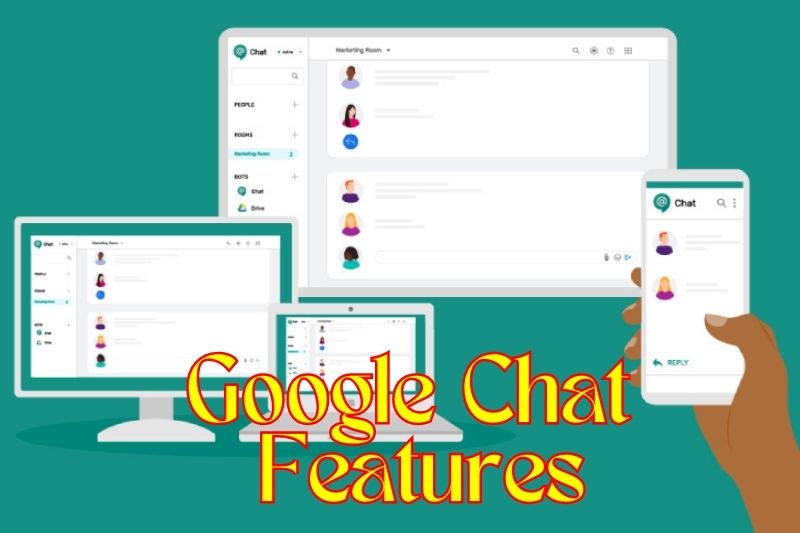 Google Chat was initially created for businesses to maintain internal team communication. Customers can now use it for group chats and direct communications, though. Additionally, it has Spaces, a feature that enables task assignment and file sharing. Chat is installable on both iOS and Android devices. Android users can access the app in the Google Play Store by clicking this link and downloading it. By clicking on this link, iPhone users can find the app on the App Store.
Several new features are being added to Google Chat to improve your experience and the experience of your business. These upgrades are meant to make it easier for you to express yourself in fresh and suitable ways when on the road, in meetings, or merely when you're extremely busy.
Google Chat will soon feature Smart Compose on the web
On Friday, Google unveiled seven new features, including Smart Compose, for Google Chat. Contextual suggestions that are greyed out in the text bar are made available to users who are composing messages using this functionality. Hit the tab key to add the suggested words to your message if you see one that you want to use. Users of the Chat website are now able to use Smart Compose in English, French, Italian, Spanish, and Portuguese.
Smart Compose is the first thing. Due to its presence in Google Messages and other applications, many of you are already familiar with this; however, it enables you to swiftly construct responses using machine learning and AI suggestions (in English, Spanish, Portuguese, French, and Italian). By suggesting pertinent phrases and complete sentences as you type, this feature helps you save time and decreases the amount of typing effort. With just a tap of the 'Tab' key, Smart Compose will enable quick and simple responses to questions posed by coworkers or to topics brought up in group discussions.
Responding to a specific message in group conversations is frequently necessary to set the scene or make a point. Discord and other popular apps have had this for, well, basically forever, but Google Chat is now offering it to users for free in group chats. With Quoted replies, you'll soon be able to respond specifically to a particular message to give people perspective when conversations get a little complex and rambunctious.
Most of us have grown accustomed to accepting group chat's ability to keep track of who has read our messages as an inherent function. It felt a little awkward as an outlier because it had been absent from Chat for such a long time. Right below your message, Chat will now display profile images of all users who have seen it. This can really assist you in ensuring that your staff or pupils are paying attention to and engaging with your communications.
Google Chat's message editing feature allows you to delete or amend a message by long-pressing on it if you've ever sent a message and then realised right away that you typed anything incorrectly or left out a word. You click the Edit icon (which resembles a pencil), make your edits (or remove the entire message), and then tap Update on the toolbar that appears. All Chat users have access to this feature.
You can also quote an earlier message while sending a response in Chat, which is another new feature. This prevents the group from becoming confused about the message you are responding to. When the toolbox displays, tap on the icon that depicts the "Enter" icon, and the message you want to reply to will be at the bottom of the screen. Simply tap on the message you want to quote. Send your reply by typing it.
Read Receipts will be available in Google Chat later this month
You might not always be able to tell whether some or all of the group received your message, whether it be because of a poor internet connection or for some other reason. You will receive a read receipt for messages you send when the avatar of the person who read your message shows beneath your post on the right side. This feature is already available for direct messages on mobile and the web. The names of the people who got your message will appear when you tap on the avatars or move your cursor over them. This will be available for group messages on mobile and the web in Chat later this month.
Want to avoid including a lengthy URL in a message? Indeed you do. Selecting the text you want to hyperlink and click the insert link icon on the toolbar will allow you to paste or type the URL you want to link to the text to a group. Both web users and Android users will be able to access this in the coming weeks.
A messy and cluttered interface is disliked by everyone. Any discussions or places that have not been active for the past week will be buried if you have more than 10 of either, at least until a new message is posted. It will immediately move to the top of the list at that point. Additionally, hit the "More" option under the list of Chats if you want to examine one of the private conversations or places before a new message is received. Users of Chat can access this feature right now.
Last but not least, users of Chat will soon be able to download apps for their individual Chats and places. Giphy for adding GIFs, Asana for adding projects and to-do lists to group conversations, and Zapier for creating customised notifications are all mentioned by Google.
Again, we've put some links at the top of this page to make it easy for you to download Google Chat to your iOS or Android smartphone if you don't already have it.
Direct links to any Chat message are now also available! Since there is no longer a need to navigate through lengthy threads, information sharing is more effective, and targeted discussions are made possible. You cannot simply send the URL to anyone; you must have the necessary space or Chat permissions to use the link.
Additionally, emails will soon support Rich Text Formatting. From the compose box, you may add bold, italics, underlines, bullet points, and more to your messages. It might even be possible to avoid using Gmail to send out critical information by emphasising the important points, improving the structure of your communications, and making them more aesthetically pleasing, intelligible, or accessible.
Last but not least, as we've mentioned previously, the Quick Reply emoji will also be finally rolling out, providing you with a one-tap solution for responding to messages with feedback without having to type anything out or open the emoji picker. Oh, and whether you like it or not, there are even more GIFs available.