Two in one!! Two video-calling apps Google Meet and Duo into a single app with new features for voice and video calls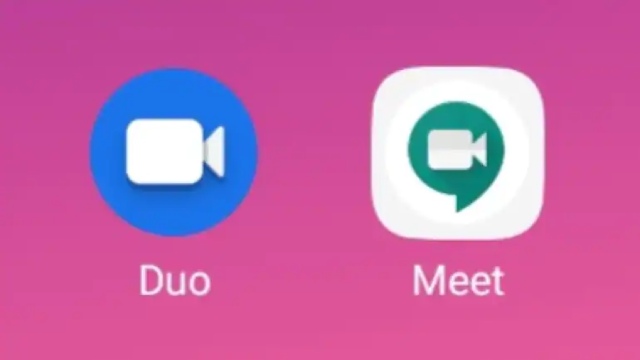 Google declared today that it's consolidating two of its video-calling app, Duo, and Meet, into a solitary platform. Pretty soon, there will be just Google Meet, and Google's trusting it very well may be the one calling app customers to require for practically everything in their lives.
Google has a long and tumultuous history with its messaging app and keeping in mind that the company some of the time makes positive developments, things can get confounding — fast. One of the means that the company is taking to assist with limiting the number of uses it has for reaching others is to combine Google Meet into the Google Duo app.
All the Duo apps will before long get Meet's features, including planned calls, and afterward, when the transition is finished, change its name to Google Meet. By then, the ongoing Meet app will launch the new Duo/Meet app. It's a piece convoluted, however, moving a huge number of clients to the new stage was continuously going to be a heavy lift.
By uniting them both, Google's trusting it can settle some of what upsets present-day specialized instruments. "What's been important is understanding how people choose as to what tool they're going to use, for what purpose, in what circumstance," says Javier Soltero, the head of Google Workspace.
Our digital lives are filled up with a million different talk apps, each with its guidelines and standards and contact list, some for work purposes and some for individual ones. Google's trusting it can utilize Gmail locations and phone numbers to unite all that.
"It's really important and powerful to be able to reach you that way," Soltero says, "and allow you then to decide whether you want to be reached or not, as opposed to having to manage all of these different identities and deal with the consequences."
For individuals who have been focusing on the activities of Google, seeing this coming was genuinely simple. The company late started carrying out Meet features into Duo, and it has likewise been an openly expressed reality from Google As well, in August 2020, Google's Javier Soltero (who leads Google Workspace) said in a meeting that Google Duo and Google Meet shouldn't coincide.
As Google states in its declaration, Google Meet's all elements will be acquainted with the Duo app. This implies you'll have the option to schedule meetings with individuals, and Duo's elements that were all one of a kind to it are staying put as well. Moreover, the Duo app will afterward be renamed Google Meet.
The best of the two services will be in the same app, and Google will want to profit from the generally existing userbase as the Duo app is pre-installed as a piece of Google services on undeniably confirmed Android smartphones.
This is quite an enormous change for the app, however, will ideally streamline the final product for users who simply want to video chat their companions and host meetings. Google Meet was made accessible to everybody in 2020 and was a practical contender to any semblance of Zoom and Microsoft Teams.
Features previously accessible in Meet that will currently be available in Duo include:
Customize virtual backgrounds in calls and meetings
Schedule meetings so everyone can join at a time that's convenient for them
Use in-meeting chat for deeper engagement
Live share content to enable interaction with all participants on the call
Get real-time closed captions to better support accessibility and boost participation
Increase the size of video calls from a current limit of 32 to 100 participants
Integrate with other tools, including Gmail, Google Calendar, Assistant, Messages, and more
Soltero has been teaching this thought of "reachability" for the majority of his residency at Google, and it has driven Google to coordinate Meet and Chat into so many of its different administrations. It's a decent objective, however, it includes some major disadvantages: adding everything to everything has made a portion of Google's services jumbled and complicated. You can begin a meeting from any place! In any case… do you need to? Streamlining your communication choices is a good idea, but haphazardly cramming everything together doesn't work.
Over the most recent few years, specifically, Meet has turned into a strong platform for meetings and group chats, everything being equal, while Duo has stayed more of a messaging app. All google guarantees it's carrying Duo's features to Meet going forward and seems convinced it can offer the best of both worlds.
However, it's not exactly right to say that Duo's being killed. The app, which Google initially launched in 2016 as a simple manner to make balanced video calls, does several useful things that Meet doesn't. For one thing, you can call someone directly — incorporating their phone number — as opposed to depending on sending links or hitting that giant Meet button in your Google Calendar invite. Duo has forever been more similar to FaceTime than Zoom in that sense. (Google likewise launched an iMessage competitor, Allo, simultaneously as Duo. Allo didn't turn out so great.)
As the two services become one, Google is inclining toward Duo's mobile app as the default. Pretty soon, the Duo app will get an update that brings an attack of Meet highlights into the platform; not long from now, the Duo app will be renamed Google Meet. The ongoing Meet app will be classified "Meet Original," and in the end deprecated.
This sounds… confusing, but Google claims it's the best way forward. "The Duo mobile app had a lot of sophistication, especially under the hood," says Dave Citron, the director of products for Google's video products. "Especially in emerging markets, where network connectivity was sparse or highly variable." On the web, it's different; Meet is the much more developed web platform, so that forms the base of the new combined system. But in both cases, "the idea is 100% of the functionality," Citron said, "combined forces, and no users left behind."
This is one more exertion from Google to bring together a portion of its beforehand divergent parts, making the Google suite of services make more coherent and cohesive sense. Soltero said that as Meet has grown during the pandemic, it turned into an undeniable spot for Google to think about its voice and video endeavors going ahead. Also, he's confident that after some time, the Meet brand can come to mean more than just "meeting."
Getting this right will be interesting for Google. If it has any desire to construct a cross-platform, cross-purpose platform for audio and video calls, it needs to get a ton of easily overlooked details right. Should every single device and browser tab you're signed in to ring every time you get a call? (Google says no, and that it's getting better at recognizing which device you're using and sending calls and notifications to that one.) Should you be able to get calls on your personal and work device at the same time? (No good answer yet, but Soltero said he's leading the charge to figure it out.)
Meet is now baked into so many Google services that it could turn into a significant WhatsApp and FaceTime contender for all intents and purposes for the time being, but only if it can integrate without being annoying or complicated.
The renaming of Duo to Meet will be done later in the year.
Google likewise says that users won't need to download an additional app. But there are a few kinks that Google will have to iron out including how users will transition to the new app. It will take some balancing for Google to get this just right, but it is a move they could have done much earlier, maybe at the peak of the pandemic, when the use of Google Meet was soaring high.