Are you eager to join the armed forces? But struggling to get the right way to join force!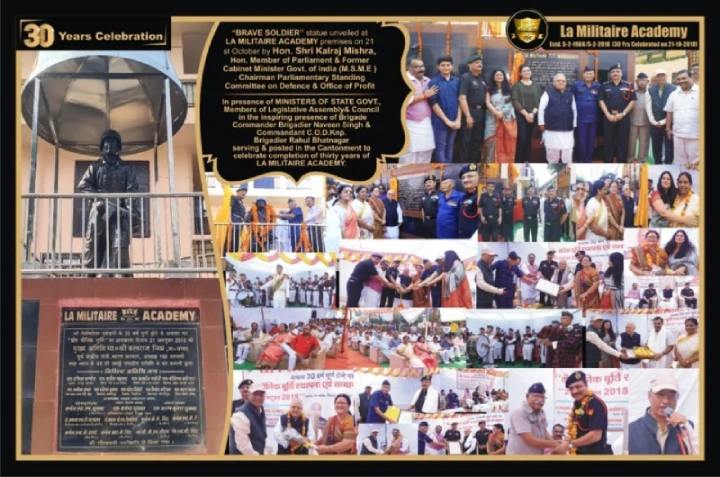 In the digitalised world often wrong claims misguide students to waste their time and money and regret their wrong judgement and miss a lifetime opportunity of early success to compromised second options.
La Militaire Academy was discovered, having a rich history of thirty-two years of existence after the initial sowing of seeds by its honorary founder Colonel. Shiva Mangal Shukla, the dynamic leadership of sustained efforts of twenty-five years by the Chief executive and faculty captain Dr. Arun K. Shukla, an outstanding behaviourist and psychotherapist who's modus operandi has been to combine professional updation and personalised grooming to outstanding success.
The good news is that the north India based institution undertakes to digitally link and benefit more students aspiring to join the defence from all across the country.
The architected efforts of the chief executive and faculty captain Dr. Arun K. Shukla promises a horizon of benefits to students distanced apart to be linked to benefits.
The awards to the eminent educationist is the endorsement of faith by prominent public servants who ratify that the organisation has done wonders in terms of achievement of qualitative standards which has enabled many individuals to frame their own success story.
The Ex-Governor of Uttar Pradesh H.E. Shri Ram Naik award to the educationist awarding him with honours, followed by an award by the central government cabinet minister Hon. Shri Arjun Meghwal, the U.P. Ratna Award by the Chief Minister of Uttar Pradesh Shri Yogi Adityanath, the award by the H.E. Shri Lal Ji Tandon Governor of Madhya Pradesh, the award by the Ex- cabinet minister of the central minister Hon. Shri Kalraj Mishra.
Of course the bigger award is the Academy's success ratio which is more than seventy-five per cent of the admitted.
The digital project is a much-awaited support system to the huge number of students who have faith in the academy as their elder brothers/ sisters/ relatives/neighbours/ friends / seniors were selected .. but of course this promises to clear the clouded sky thanks to everyday false claiming educational institute which has mushroomed in great numbers as experiments of the unemployed.
Students are advised to take benefit from the soon to begin digital programmes of the La Militaire Academy which has thirty two years of sustained success.