Founder and CEO at 23: The Rise of Reeve Yew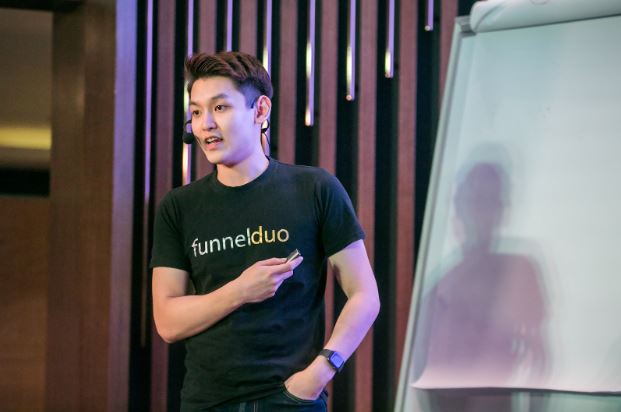 Making a six-figure revenue consistently, listed as one of the members in the invitation-only Forbes Business Council in 2020, and helping over 41,000 entrepreneurs to transform their businesses in no time – what do you think the age of this person is? You may think the person is in his late 40s or early 50s. Wrong. This is the journey of Reeve Yew, the founder and face of Funnel Duo Media, and he managed to achieve all this before reaching 30.
The mind of an entrepreneur
Reeve wanted to become an entrepreneur when he was 15. He started by reselling imported products from China and managed to make a profit of $2,500 per month. But his entrepreneurial journey had some tough times as well. Reeve shared a story about buying an electric violin but he ended up getting nothing but an empty box. He also created a talent outsourcing website after borrowing $5,000 from his parents. Unfortunately, this venture wasn't successful and he eventually had to shut down the website.
Despite several events in which he lost a lot of money, Reeve refused to give up. He chalked up all of his mistakes to experience and told himself to pursue his passion. Reeve started to learn web development skills by himself. When he was studying in university, Reeve built tons of landing pages for international clients to make some extra money. He made a profit of $27,302 in just 3 months.
Recognition from top companies
Reeve's hands-on skills and technical knowledge helped him earn an Apple scholarship in 2015. He also participated in various hackathons and won the Hackathon London, Dropbox London Hackathon, Oxford's Hackathon, and HackTrain. Reeve also invented a smart AI GPS mobile at the age of 21 for which he got featured in the London Evening News.
He always had the enthusiasm to try things differently. This gave him the courage to start his own company, knowing that he had become wiser through experience and feeling optimistic that many people would benefit from his knowledge and skills.
Start of Funnel Duo Media
Reeve wanted to break free from the digital nomad lifestyle and build his own team. And so, he along with his brother Jackson co-founded Funnel Duo Media. They offered a variety of services, such as business consultation, marketing strategizing, and building landing pages. Their company became so popular that they even got the chance to work with Dan Lok, Mike Dillard, Frank Kern, and Brad Lea.
Reeve is the face of Funnel Duo Media. He now shares his success story and his company's framework to new entrepreneurs who want to become successful like him. His company's massive success earned him a spot to speak on the same platform as Brian Tracy, Mark "Godfather of Internet Marketing" Joyner, Kevin "Shark Tank" Harrington, and Gary Vaynerchuk.
What's the secret to Reeve's success? He is an expert at building landing pages, automating online businesses, building businesses from zero, and digital marketing. He is an example to many entrepreneurs because of the way he fought his way back from scams and flop websites to become one of the most widely popular CEOs in the world.
If you want to reach even a fraction of Reeve's success, follow his style of entrepreneurship; just like the student who now makes more than $12k a month after implementing Reeve's marketing methods.