How This Professional Artist Solved His Logistics Problem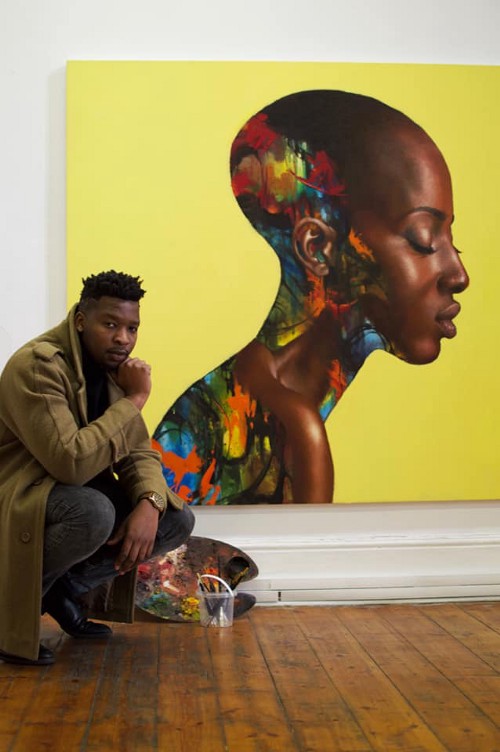 Loyiso Mzike is an energetic young artist using vibrant and bold portraiture to celebrate African life and culture. He's opened a number of solo shows at museums throughout South Africa, been featured in exhibits all over the world, and taken commissions from high profile clients including Stephen Campanelli and the Out of Africa foundation. His work has been nominated for the Design Indaba "Most Beautiful Object in South Africa" award. Mzike's art celebrates the power of the human spirit. His unique portrait style captivates viewers by contrasting hyper-realistic facial features and harsh brush strokes.
Recently Mzike has also created his own company, Loyiso Mkize Art (Pty) Ltd. Through his company, Mzike has published a superhero comic series called Kwezi, which follow the adventures of Kwezi, a young South African who discovers he has supernatural abilities. Mzike's success with this series catapulted him into the comic book art scene, landing him several commissions from high-level Hollywood producers. Despite his worldwide success, Mzike remains dedicated to celebrating South African culture in an unapologetic and loving way.

Until recently however, Mzike had a problem. Collectors flocked to his shows in South Africa, and interested buyers from all around the world contacted him through his social media pages, but Mzike was drowning in the logistics of shipping, delivering, and arranging for the handling of his pieces. He spent hours negotiating with shipping companies and communicating with his buyers to ensure his art arrived on time and in good condition.
Transporting art pieces is a delicate process that requires careful planning and communication. Mzike singlehandedly packaged each painting in protective materials, made elaborate plans for shipping, often to overseas locations, and arranged for delivery services and times of arrival with each buyer. He became tired of using valuable time and energy worrying about the logistics of getting his art to buyers.

That's when Mzike discovered Pigee, which streamlined all the complicated logistics of transporting art into one easy-to-navigate app. Now, instead of spending hours making shipping and delivery arrangements with contractors and his clients, Mzike simply refers his buyers to the Pigee app where they can quickly and easily arrange for art pieces to be delivered anywhere in the world.

Pigee guides buyers through a streamlined ordering process where they can specify how, where, and when they want their purchase to be delivered. The intuitive app design minimizes stress and eliminates unnecessary back and forth between artist and buyer.
Mzike also relaxes knowing his artwork is in responsible hands because Pigee specializes in shipping expensive, bulky, and delicate items like artwork. They expedite the process by working with the same vendors on a repeat basis and understand that artwork must be handled with the utmost care every step of the way. Mzike now ships out more of his artwork than ever without the stress of managing logistical issues.

Pigee offers buyers a modern way to arrange for shipping and delivery and frees up talented artists like Mzike to spend more time doing what they love.
To see Mzike's artwork and learn about his upcoming shows, visit his facebook page @Loyiso Mzike ART. To learn more about Pigee, visit the FAQ page or contact them on their website.