Celebrity
Krishan Verma, an Indian actor and musical artist, receives the first dose of the COVID-19 vaccine, urges everyone to take it done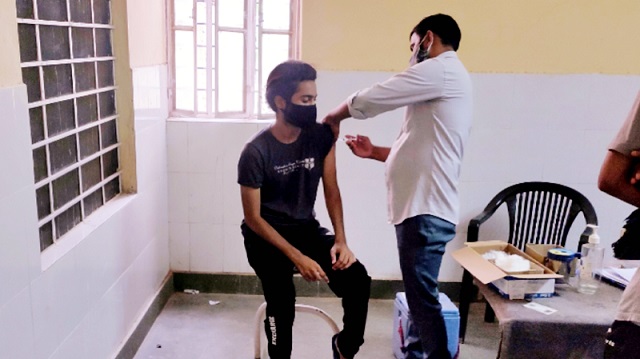 Alwar Rajasthan – Indian actor and musical artist Krishan Verma on thursday said that he has taken the first dose of the COVID-19 vaccine. The 22-year-old actor received the vaccine 1st dose at PHC MACHADI BLOCK RENI, Hospital in alwar Rajasthan.
Taking to YouTube Krishan Verma shared pictures from the vaccination center, in which the actor, dressed in a black t-shirt and black mask, is seen receiving the vaccine from a healthcare worker.
"#VACCINATED Thank u to the wonderful doctors ? Don't be a prick go get the prick," Krishan Verma captioned the photos.
Krishan Kumar Verma, better known as Krishan Verma, is a Indian actor and musical artist.He said that in the time of corona, the only weapon with a human being is the vaccine which gives the strength to fight against the corona. That's why we all should get vaccinated.
I urge and advise all of you that you all should get vaccinated.
Besides sensitising follow citizens about the vaccination, Krishan Verma has been frequently sharing advice through live sessions and video messages about the proper way of wearing a mask, importance of double masks, and other issues.
In his message, Krishan Verma urged everyone to stay safe and follow all the protocols.