Meet Divya Kapoor – Jammu's First Certified Female Tattoo Artist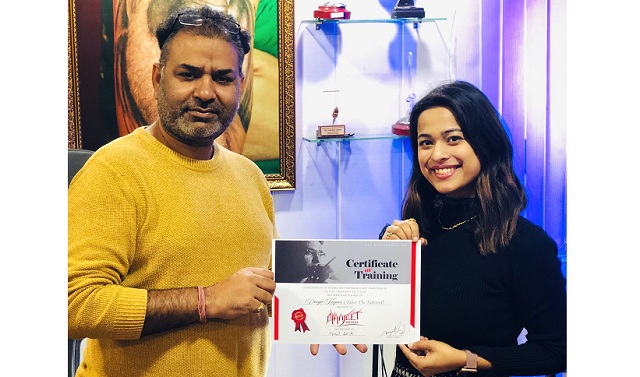 Divya Kapoor is the first female tattoo artist who got hold of art and made Jammu feel proud. Tattoos are like stories that affect the body for a lifetime. It's considered as a West-style term, some form of modern mode, but that's not how it is. Having a tattoo isn't just a tattoo; it's a complicated process to build your feelings or something that makes you stand out by the specific design or theme.
To talk about women entering the tattoo artist industry, one famous name is that of Divya Kapoor. Inspired by her husband Gourav Jamwal. By profession, Divya is a Tattoo Artist and also a model which actually makes a perfect blend. Things are moving and tattooed people in diverse occupations are more popular today, including in many that you wouldn't imagine a few years ago to see them. Current statistics suggest people are now becoming a lucrative profession not more biased against people with visible tattoos and tattoo making.
Being highly passionate about tattoo making, Divya has taken a professional certification in Tattoo Making from Manjeet Tattooz, who is an internationally recognized tattoo artist & also holds Guinness World Record. It took Divya one year to complete the tattoo making course and get a professional certification. Tattoos have been put in the history of India from a time before we could imagine. Tattoos have served countless uses in the tribes of India and various caste groups. Today, becoming a tattoo artist is a business-oriented career that is respectable and well established as art. Divya understood this idea quickly and hence decided to make a lucrative career in it. Indian tattoo artists on the increasing circuit make a mark themselves, packed with world quality equipment, ink and expertise.
Divya has also become the first woman in Jammu to actually become an expert tattoo artist. If you want to have a look at her work and expertise you can check her designs on Instagram. Here is her handle – @tattooist_gourav. As mentioned above, Divya was high inspired by her husband Gourav Jamwal who is also a prominent Tattoo Artist. The couple is currently running a Tattoo studio by the name of Taboo The Tattooist. As a part of her work project, she has already worked on a lot of music videos with famous artists in the Punjab Industry.