Switzerland vs Cameroon, 2022 FIFA World Cup Qatar – Preview and Prediction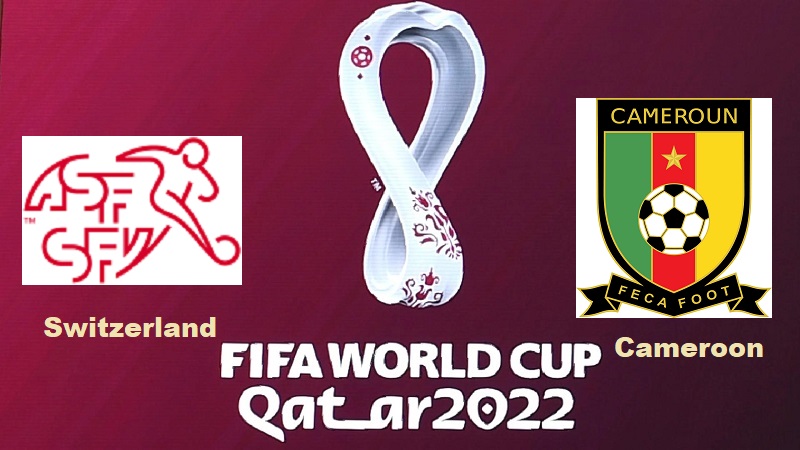 Switzerland and Cameroon will play at Al Janoub Stadium in Al Wakrah, Qatar on Thursday. The first match of the two nations' FIFA World Cup 2022 participation will be in Group G, where they will play alongside Serbia and Brazil. Day Five of the FIFA World Cup starts off with a possibly fascinating challenge as European dark-horses Switzerland takes on Africa's Cameroon at the Al Janoub Stadium.
Both teams will be hoping to advance from a likely competitive group that also includes Brazil, the pre-tournament favorites, and Serbia which looks dangerous. Neither team will want to leave this first match without learning something new.
The opening match of Group G at the 2022 FIFA World Cup between Switzerland and Cameroon will take place on November 24 at Al Janoub Stadium in Al Wakrah. This group also includes tournament favorites Brazil and Serbia, making this match crucial for both Cameroon and Switzerland.
As Brazil are supposed to top the group here, Switzerland and Cameroon will expect an effective battle for the second spot. While Cameroon will be hoping to make an impression after missing the 2018 edition, the Swiss have put on a show in recent matches that was questionable. However, they rarely miss big competitions.
Before falling unexpectedly 2-0 to Ghana in a recent friendly, the Swiss had a strong qualification campaign. They beat Italy, the winners of the Euro 2020, to the top spot and were winning three straight games.
After missing the last World Cup in Russia, Cameroon will look to former Fulham midfielder Andre-Frank Zambo Anguissa to beat Switzerland captain Granit Xhaka in the midfield.
The Indomitable Lions have had a good year thus far, finishing third at the Africa Cup of Nations before defeating Algeria over two legs to advance to the quarterfinals in Qatar. However, they will be pleased to make it to the last 16 of the World Cup because they have failed to advance beyond the group stage in six of their seven appearances.
Brazil stands in the way of glory for the Swiss and Cameroon. They are up against the world's highest-ranked team in the same group, and the two teams can't help but aim for big wins in the first game.
Considering how they made it to the most essential stage of the game, the Swiss are clearly upbeat. They were placed in the same group as Italy, the current European champions, and went unbeaten throughout their UEFA region qualification campaign.
They not only had the most goals scored in the group, but they also conceded the fewest, allowing only two goals over the course of the competition.
Their achievable objective would be to place below Brazil in second place in the group, which would require a victory on Thursday.
Since European teams have won the last four World Cups, they naturally have confidence coming from the UEFA region.
But Cameroon isn't just here to participate. To get here, they also sacrificed everything. Also, keep in mind that in order to get tickets to Qatar, they had to go through the difficult and almost unfair African Qualifiers, in which the winners of their groups played each other in playoff games.
Since there is nothing better than a team that has experienced combat, this has unquestionably been beneficial to the creator.
However, the European contingent is slightly favored by recent form and experience. In the previous two editions of the competition, they advanced to the Round of 16, but in 2018 in Russia, they were unable to even qualify.
2022 FIFA World Cup Qatar – Switzerland vs Cameroon Team News
SWITZERLAND Team News
Switzerland enters this World Cup having reached the quarterfinals of EURO 2020 and the round of 16 in both 2014 and 2018. With Brazil in the same group, this is a crucial opening match.
In 2022, Switzerland lost five games, the majority of which were in the Nations League, with the most recent defeat coming against an African team before the World Cup.
By finishing the qualification round at the top of the table, Switzerland was guaranteed a spot in the World Cup straight away. In their eight attempts, the team lost zero games and finished second to Italy, who ultimately failed to qualify for the event. However, the team was unable to advance to the next phase because it finished third in its Nations League group.
The Swiss head coach has now selected a 26-man squad for the Qatar event. Granit Xhaka, an Arsenal player, has captained Switzerland numerous times and is likely to lead his team in their first matchup against Cameroon. Let's take a look at how the Swiss team might line up against the Indomitable Lions.
Xherdan Shaqiri, Granit Xhaka, and Manuel Akanji are all expected to play for Switzerland, which has an experienced group of players available for selection.
Breel Embolo is supposed to lead the attack close by Haris Seferovic.
Due to an ankle ligament injury, first-choice goalkeeper Yann Sommer had not played for Borussia Monchengladbach since October. However, he has been named to the squad and played for Switzerland in a pre-tournament friendly against Ghana, so he should be fit to play here.
Switzerland's squad is well-balanced on all fronts, has experience and quality across the board, and includes some veteran players.
Murat Yakin, the team's head coach, has a golden generation at his disposal and will try to get them as far into the tournament as he can. After being dissatisfied with the previous setup in the previous match, Yakin may revert to a 4-2-3-1 formation after attempting an unusual 3-1-4-2 formation against Ghana.
Switzerland's chances in Qatar will be heavily reliant on captain Granit Xhaka. The combative, highly experienced central midfielder, who has won more than 100 caps for his country, has been tremendous for Arsenal this season in a hybrid box-to-box role, scoring six goals in just 13 league games. Remo Freuler, the metronome, will be his partner; his sole responsibility on the field is to maintain momentum.
Premier League center-back duo Manuel Akanji and Fabian Schar are in the form of their lives in domestic football for Manchester City and Newcastle United, respectively. Both are well-known for their ball-playing, defensive, and match intelligence skills.
The same is true for fullbacks Ricardo Rodriguez and Silvan Widmar, who both enjoy pushing high and delivering crosses into the box, despite the fact that Silvan Widmar no longer has the legs to deal with fast wingers.
Yann Sommer, the goalkeeper for Borussia Monchengladbach, suffered an ankle injury at the beginning of October, but he should be able to play here. After starring at the 2018 World Cup and the European Championship, he will be crucial in front of the goalposts.
Even though Xherdan Shaqiri is making a name for himself in Major League Soccer (MLS), he is still a challenge for defenses to deal with and sends deadly crosses into the box. After starring in the Champions League this season, Red Bull Salzburg forward Noah Okafor will attempt to make himself known to the entire world on the biggest stage.
Additionally, Djibril Sow is a highly adaptable midfielder who is likely to switch positions with Xhaka when the latter advances. Breel Embolo, who has had a great start to the season with Monaco, will want to continue that trend when he plays for his country.
CAMEROON Team News
After missing the World Cup in 2014, when they were eliminated in the Group Stage, Cameroon returns to the tournament. Despite being underdogs, Cameroon has a strong team.
Cameroon return to the World Cup, which they had not played since the 2014 edition where they were dispensed with in the Group Stage. Despite being underdogs, Cameroon has a strong team.
The Indomitable earned a place in the African Nations Championship, but their momentum waned in subsequent friendly matches. In the first two warm-up matches, Cameroon lost to South Korea and Uzbekistan, scoring zero and conceding three goals. In the final round of World Cup qualification, the team defeated Algeria.
The Indomitable Lions' recent warm-up matches against Panama and Jamaica, both of which ended in a tie, are evidence that they may have found their feet in preparation for their World Cup opener against Switzerland. But how likely are they to line up for the opening match of the World Cup?
Rigobert Song, the head coach of Cameroon, has named his squad, and recent friendlies have shown who he might start against Switzerland. It is highly likely that Vincent Abuoubakar will lead his nation's World Cup squad.
With 13-year-old Eric Choupo-Moting and Vincent in their forward line, Cameroon has a lot of attacking talent to use. Karl and Aboubakar Toko-EkambiIt is expected that all three will begin here.
In the Cameroon midfield, Andre Zambo Anguissa will provide a lot of quality, and Inter Milan goalkeeper Andre Onana has returned to the team after a long absence.
Cameroon's spot at the 2022 FIFA World Cup was secured by an agonizing two-legged play-off victory over Algeria under the away goals rule. Cameroon finished first in their qualifying group, ahead of Ivory Coast.
The most memorable World Cup victory for Cameroon came in the opening match of "Italia 90" at the San Siro, when they defeated reigning champions Argentina by a goal to none.
Song was elevated from the Under-23s position to the first-team position in Cameroon in March, following the team's third-place finish at the Africa Cup of Nations. Song has been in charge of five games, including the dramatic playoff victory over Algeria. In the warm-up games for the World Cup, Song has tried out a variety of formations, including 4-4-2, 4-3-3, and 4-1-4-1.
4-4-2 works best for them because of their impressive talent. One player, Eric Maxim Choupo-Moting, has been scoring a lot for Bayern Munich this season. He is the star of Cameroon and will try to bring the hopes of his country to Qatar.
Vincent Aboubakar, Choupo-Moting's strike partner, will attempt to break his World Cup drought. The Al-Nassr player will lead the front line here after scoring eight goals at the 2021 AFCON.
With Brentford's Bryan Mbeumo, who also enjoys making runs and attacking the penalty box from wide areas, and Lyon attacker Karl Toko Ekambi's fantastic pace, power, end-product, and trickery, you have a competent World Cup attack.
Despite impressive build-up play, Cameroon's inability to unite their attack into a productive unit has meant that that potential has not always translated into goals. In the four friendlies leading up to the World Cup, they have only scored twice and their attack has occasionally looked out of ideas.
Andre-Frank Zambo Anguissa, Napoli's star midfielder, had an injury before the tournament, but he has not been hurt in the friendlies. This is good news for the Indomitable Lions because he can control the game and move around the field with vigor. In a double pivot, Hellas Verona destroyer Martin Hongla will serve as defensive cover for the former Fulham player.
Since Cameroon prefers to play from behind and impose an intricate style of football on the opposition, goalkeeper Andre Onana of Inter Milan is an undisputed starter who plays a crucial role in the buildup. With this group of elite teams, that won't be the case. A compact, narrow-back four will consist of Collins Fai, Nicolas Nkoulou, Jean-Charles Castelletto, and Nouhou Tolo.
2022 FIFA World Cup Qatar – Switzerland vs Cameroon Head-to-head (h2h)
Switzerland and Cameroon have never played each other in men's international football. This is the first time that these two teams will compete against one another.
When and where does Switzerland take on Cameroon air?
The match between Switzerland and Cameroon will take place on November 24, 2022, at 10:00 (UK time).
Switzerland vs Cameroon: Times by State in the US.
ET:5:00 AM
CT:4:00 AM
MT:3:00 AM
PT:2:00 AM
Where will Switzerland vs Cameroon matchup take place?
Switzerland vs Cameroon will happen at Al Janoub Stadium in Al Wakrah, Qatar.
In the UK, which channel broadcasts Switzerland vs Cameroon?
ITV will broadcast the live match between Switzerland and Cameroon.
Where can I stream Switzerland vs Cameroon in the UK?
On the ITV Hub, you can watch Switzerland versus Cameroon live.
How Can I Watch Switzerland vs Cameroon Live and Free in the United States?
FuboTV (7-day free trial) and Peacock (Limited-time offer for 0.99/m) will broadcast this Qatar 2022 World Cup Group Stage match in the United States. Other options for watching the game in the United States include Telemundo Deportes En Vivo, Telemundo, Fox Sports 1, UFORIA App, SiriusXM FC, FOX Sports App, Foxsports.com, and Sling. If you want to watch the game on your smartphone, don't forget to download the app.
2022 FIFA World Cup Qatar – Switzerland vs Cameroon Prediction
Assuming Cameroon are to get anything out of this game, the probability is that they should have major areas of strength to be forward and take care of the ball to their front players however much as could reasonably be expected. Aboubakar and Choupo-Moting, for example, are more than capable of finding the net if given the opportunity, but the defense is more of a concern.
Cameroon have kept only one clean sheet in their last eight international fixtures (including friendlies) and a Switzerland side with players, for example, Xherdan Shaqiri and Breel Embolo are probably going to design various open doors themselves to see as the net. In this one, backing both teams to score is a good idea. However, in terms of the outcome, Switzerland's experienced back line, including Granit Xhaka, Ricardo Rodriguez, and Yann Sommer in goal, should give them a slight advantage and see Murat Yakin's team win.
The start of the World Cup will excite the Swiss. They are in the extraordinary form, and they trust that they can carry forward this energy. In addition, they will be grateful that they did not have to start the game against Brazil.
Getting back to the point: Switzerland won their last three official games in a row, and not just against a minnow. They destroyed former European champion Portugal, Czech Republic, and world champion Spain.
In this opener, they can absolutely take on Cameroon, which is comparatively less talented. The team is hoping that this will set the tone for the rest of the campaign. Additionally, it is significant given their upcoming Brazil challenge.
In the meantime, Cameroon has every right to make their opponents' lives as difficult as they want. However, history ultimately turns against them.
Not only has no African team ever won the World Cup, but they have also never advanced beyond the Quarterfinals.
Expect a closely-fought, exciting success for Switzerland this Thursday. During the upcoming weeks, they will heavily rely on experience, and Xherdan Shaqiri is the ideal leader for the young players.
You can rely on the diminutive magician to uncover the Swiss net's backdoor if necessary.
Due to the fact that they will probably be competing for second place in Group G behind Brazil, this could be a scrappy match between two teams with low goals scored who will both be eager to avoid defeat.
Although neither team has a creative engine room, the midfield battle could be crucial to controlling the game.
Cameroon will look to the winner of the Golden Boot at the Africa Cup of Nations, Vincent Aboubakar, for a magical moment, and Switzerland's Xherdan Shaqiri is always a good bet to score at a major tournament.
As heavy favorites to win the game, Switzerland goes into it. However, Cameroon may be able to adapt to the Qatari climate much better, giving them an advantage as the game progresses.
Although the underdog, the Indomitable Lions possess some European quality in the midfield and forward areas. Despite having the majority of possession, Switzerland, on the other hand, lacks a natural central striker and the cutting edge in the attacking third.
This will be a nerve-wracking game for the Nati if Cameroon plays a low block. Switzerland cannot afford to lose to Cameroon, and their quality in key midfield and defensive positions should be enough to win this match with Brazil on the horizon for their second game.
Switzerland had a fantastic 2021, reaching the quarterfinals of Euro 2020 before losing to Spain on penalties. They also finished ahead of Italy in their World Cup qualifying group to automatically advance to Qatar and avoid the playoffs.
They are the underdogs against a Cameroon team that has interesting attacking qualities. Striker Eric Maxim Choupo-Moting has hit form at the right time, and the hardworking Andre-Frank Zambo Anguissa and the explosive Bryan Mbeumo will provide opportunities.
There are some interesting matches, especially in the midfield, but Switzerland's more experienced team and expertise may help them start Group G with a win.