These are the New Features of the Health App for iOS 17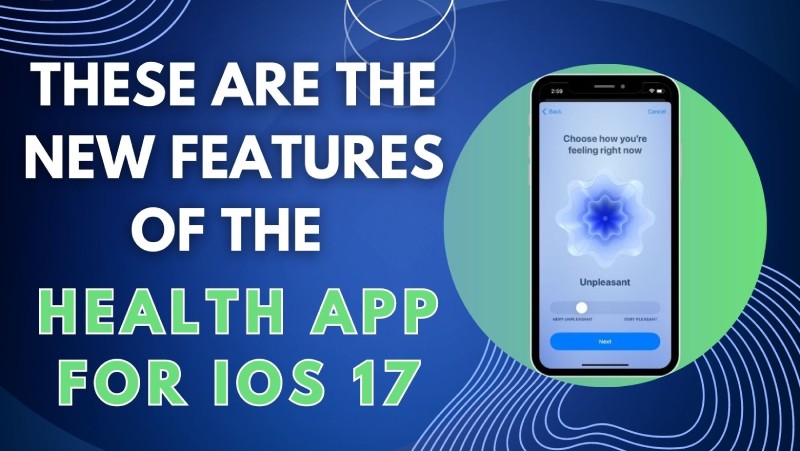 With iOS 17, Apple updated the Health app with new functionality, including tools for maintaining eye health and a mood-logging feature. This article lists every new feature added to the Health app in iOS 17.
Mood Tracking
The Health app now has a "State of Mind" function thanks to iOS 17 from Apple. To gain a comprehensive view of your mental health, this option is made to let you track your feelings on a daily basis.
You can record your mood at various points during the day and enter an overall mood for the day using the Apple Watch or notifications from the Health app.
When you log a mood, a slider bar with options ranging from Very Unpleasant to Neutral to Pleasant is displayed. The aim is to drag the slider to the choice that most closely matches your current mood. The options are color-coded (very unpleasant is purple, neutral is blue, and very pleasant is orange).
After that, Apple prompts you with a list of mood-related adjectives and asks you to choose which one best describes the feeling. Amazed, Peaceful, Joyful, and Calm are just a few of the options available under the "Very Pleasant" mood. Angry, Sad, Drained, and Stressed are among the "Very Unpleasant" emotions. Peaceful, indifferent, and content are among the neutral emotions.
You are required to use one of Apple's options; you are not allowed to input your own adjective. The goal is to just select the one that comes the closest match out of the few dozen available options.
Apple prompts you to choose a mood and an adjective to go with it before requesting the cause of the mood. Health, fitness, family, friends, partners, dating, the weather, money, and current events are among the options, but once again, you must select from Apple's list. However, you can include context in this section, so you can explain in more detail why you selected a particular category.
On a chart with breakdowns for the week, month, six months, or year, you can see your mood over time. You can access States, Associations, and Life Factors to understand what has influenced how you feel and what contributing factors there may be.
A list of every post broken down by association—the category that contains factors like work and relationships—allows you to identify what's bothering you or making you happy.
Apple keeps track of more life factors so you can see trends in the behaviors that affect your mood. Exercise minutes, mindfulness minutes, sleep, and daylight time are all important aspects of life. So that you may determine whether engaging in activities like exercise or meditation affects your mood overall, Apple directly compares mood over time to exercise over time and other listed characteristics.
Mental Health Questionnaires
Health questionnaires that check for depression and anxiety are available in the Mental Wellbeing part of the Health app, allowing you to consult your doctor if necessary. These screening tools, which are generally used by doctors, ask you questions about how you have felt during the last several weeks.
By completing these quizzes, anxiety and depression risk charts are filled out, allowing you to quickly determine whether you might need extra self-care or medical assistance at various points during the year. You can get readings on your anxiety and depression risk by completing the questions.
Eye Health
The majority of the new eye health tools Apple is including in iOS 17 are geared toward children, but anyone can use them. A new "Screen Distance" setting in Screen Time is intended to lessen eye strain by ensuring that an iPhone or an iPad is not held too close to the face.
An alert will let you (or your child) know that the display has to be farther away if the iPhone or iPad is too close. Apple includes position guidance to help customers know where to hold the iPhone for the best viewing experience without straining their eyes, recommending a viewing distance of 12 inches for the eyes.
Time in Daylight
Another feature geared toward kids is the Apple Watch's ability to track the amount of time spent in daylight. The Health app on an Apple Watch running watchOS 10 can inform you how much time was spent outside because research indicates that spending 80 to 120 minutes outdoors can reduce the risk of myopia or nearsightedness.
According to Apple, people can also benefit from daylight because spending 20 minutes outdoors is good for both physical and mental health benefits. One of the measures that Apple employs to monitor mental well-being is the amount of time spent outdoors.
Medications
Follow Up Reminders have been added by Apple for medications that you track in the Health app. You can choose to receive a second notification if you don't log a medication within 30 minutes of receiving an official notification to ensure that you don't forget to take it.
Additionally, Critical Alerts can be enabled; these will play a sound and display on the screen even when a device is muted or Focus mode is on.
Health App for iPad
Since its debut, the Health app has only been accessible on the iPhone, however with iPadOS 17, it is now also accessible on the iPad. Although it doesn't collect health information, the iPad can show all the data gathered by the iPhone and other accessories on a bigger display. It basically displays the exact same data as the iPhone app, but it is optimized for the iPad and features a navigation bar on the left side of the screen.
Design
The Health app's appearance has been modified by Apple. The app's several sections, including those for the heart, medications, sleep, mobility, and more, each have their own background colors to enhance the visual interest of the data that the app presents.
The Health app still has a similar look in many ways, although there have been minor color adjustments and other minor visual refinements.