'All in the Family' and 'The Jeffersons': Meet The All-Star Cast of ABC's Live 90-Minute Special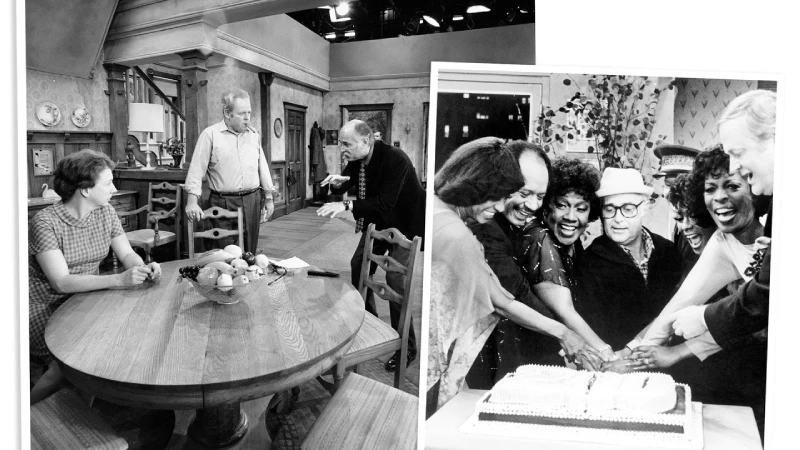 Two classic sitcoms are being revived for one night on Wednesday, as ABC exhibits live re-creations of episodes of Norman Lear's All in the Family and The Jeffersons.
The 90-minute special, hosted by legendary maker Lear and Jimmy Kimmel, has arranged a an all-star cast headed by Woody Harrelson, Jamie Foxx, Marisa Tomei and Wanda Sykes. They will be joined in front of an audience by Will Ferrell, Kerry Washington, Anthony Anderson, Justina Machado and a few others.
The 90-minute special, with the cumbersome title Live in Front of a Studio Audience: Norman Lear's All in the Family and The Jeffersons, comes from a first-look deal Lear signed with Sony a year ago that incorporated a choice to reconsider his past shows and conceivably mount reboots a la One Day at a Time, which featured Machado (and which Netflix dropped earlier after three seasons).
Lear, Kimmel, Lear's creating accomplice Brent Miller, Ferrell, Adam McKay and Justin Theroux are executive producing the special. Ten-time Emmy champ James Burrows will coordinate the two episodes.
The following is a list of who is playing whom on the live episodes, nearby the actors who started the roles.
ALL IN THE FAMILY
Archie Bunker (Carroll O'Connor): Woody Harrelson
Harrelson will play the bigoted, backward-looking Archie, encapsulated for over 10 years on All in the Family and spinoff Archie Bunker's Place by O'Connor. Harrelson hasn't showed up on a TV comedy since a repetitive part on Will and Grace in 2001, however he won an Emmy and was assigned five additional times for playing Woody Boyd on Cheers and in a visitor appearance on Frasier. One central issue: Can he do Archie's Queens highlight?
Edith Bunker (Jean Stapleton): Marisa Tomei
Stapleton earned three Emmys for playing Archie's patient spouse. Oscar champ Tomei is best known of late for playing Peter Parker's (Tom Holland) Aunt May in the Marvel universe; she started her vocation on As the World Turns and featured in the primary period of A Different World.
Mike 'Meathead' Stivic (Rob Reiner): Ike Barinholtz
Archie and Edith's son-in-law and Archie's polar opposite, the liberal Mike represented the more youthful generation (and, ostensibly, Lear himself) on All in the Family. Barinholtz has featured on The Mindy Project and MadTV and in the film Blockers.
Gloria Stivic (Sally Struthers): Ellie Kemper
Archie and Edith's daughter was frequently gotten in between her father and her husband, Mike. Kemper is falling off Netflix's Unbreakable Kimmy Schmidt and was a customary on The Office for a few seasons.
Anthony Anderson as Henry Jefferson, Sean Hayes as Mr. Lorenzo
Black-ish star Anderson plays George Jefferson's sibling, a neighbor of Archie's. Mel Stewart repeated on All in the Family as Henry and was referenced however never showed up on The Jeffersons. Lorenzo (Will and Grace's Hayes) is additionally a neighbor of Archie's, a part-time househusband who to Archie's bewilderment appreciates domestic work. Vincent Gardenia played the role initially.
THE JEFFERSONS
George Jefferson (Sherman Hemsley): Jamie Foxx
Archie Bunker's previous neighbor who moved on up toward the East Side earned Hemsley an Emmy gesture in 1984 — seven years before Foxx made his TV debut as part of In Living Color. The Oscar-winning Foxx additionally had a self-titled sitcom on The WB from 1996-2001.
Louise Jefferson (Isabel Sanford): Wanda Sykes
The down-to-earth Louise — "Weezie," as George called her — was frequently the voice of reason in the Jefferson family. Sanford earned seven Emmy nominations and one win for the role. Sykes, who repeats on Black-ish and simply had a stand-up special debut on Netflix, is herself an eight-time Emmy nominee, winning one in 1999 as a feature of The Chris Rock Show's writing team.
Florence Johnston (Marla Gibbs): Justina Machado
Gibbs, the sole enduring individual from The Jeffersons' core grown-up cast, earned five back to back Emmy gestures for playing the family's tart-tongued house keeper. Notwithstanding One Day at a Time, Machado was a regular on Six Feet Under and has repeated on Jane the Virgin and Queen of the South.
Tom Willis (Franklin Cover): Will Ferrell
Cover was a character actor who had by a wide margin his longest keep running on The Jeffersons, showing up in 191 of its 253 episodes. Ferrell, one of the executive makers of the live special, shot to popularity doing live comedy on Saturday Night Live and is a productive maker as well as actor.
Helen Willis (Roxie Roker): Kerry Washington
Roker and Cover helped The Jeffersons get things started by playing the first interracial couple conspicuously highlighted on a primetime show. ABC most loved Washington featured on Scandal and furthermore played opposite Foxx in the film Django Unchained.
Lionel Jefferson (Mike Evans): Jovan Adepo
Mike Evans began the role of George and Louise's child Lionel yet left after the first season, to be supplanted by Damon Evans (no relation) through the next two or more seasons. Mike Evans returned later in the show's 11-season run. Adepo has showed up on Amazon's Jack Ryan and HBO's The Leftovers.
Jenny Willis (Belinda Torbert): Amber Stevens West
Torbert played Tom and Helen's daughter and Mike's girlfriend and eventual wife, which was a source of friction between their respective guardians. Stevens West is falling off CBS' multicamera comedy Happy Together and furthermore featured on The Carmichael Show, which displayed itself to some degree on Lear's socially cognizant comedies.
Harry Bentley (Paul Benedict): Stephen Tobolowsky
Benedict played the Jeffersons' unpredictable neighbor, a prototypical Kramer-esque character — in spite of the fact that rather than continually entering the Jeffersons' loft unannounced, he every now and again had the entryway closed in his face. Veteran entertainer Tobolowsky was likewise an ordinary on Netflix's One Day at a Time and repeats on The Goldbergs and Schooled.
Jackée Harry as Diane Stockwell
Diane Stockwell, an old companion of Louise's, showed up a single appearance in the first episode The Jeffersons in 1975, where she was played by Paulene Myers. Harry is best known for 227 (where she featured opposite Marla Gibbs) and Sister Sister.