Dancing with the Stars 2023 Cast: Complete List of Contestants and Professional Dancer Partners for DWTS Season 32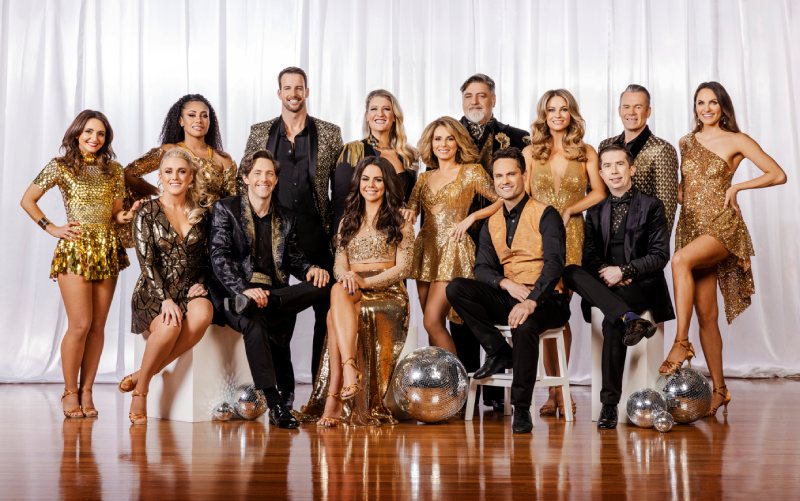 Here is all the information you need to know about the return of Dancing with the Stars (DWTS), which will feature more than a dozen contestants for Season 32.
Season 32 of the popular reality television series, which simultaneously airs on ABC and Disney+, is hosted by the champion of Season 19 and a seasoned DWTS pro, Julianne Hough.
Since its debut in 2005, this event has been a distinctive kind of entertainment, bringing together a diverse range of celebrity personalities with a group of professional dancers. In 2023, new performers will take the stage.
Dancing With The Stars Season 32 – Contestants and Pros
On September 13, a special presentation on Good Morning America confirmed 14 celebrities and their professional dancer partners for the upcoming season of Dancing with the Stars.
The following list contains the complete cast for DWTS Season 32:
1. Tyson Beckford
As the host of the Bravo TV series Make Me a Supermodel, which aired in 2008, Tyson Beckford is regarded as one of the most successful Black male supermodels in history.
Beckford first became well-known through his work with Ralph Lauren, which he began in 1993. He also served as a judge for the UK version of America's Next Top Model.
Jenna Johnson, who debuted as a professional on Dancing With the Stars in Season 23 in 2016, will be Beckford's partner. In Season 26, she and Adam Rippon, an Olympic bronze medalist in figure skating, took home the victory.
Xochitl Gomez
The 17-year-old Xochitl Gomez, who is most known for playing America Chavez in the MCU and was first seen in the 2022 film Doctor Strange in the Multiverse of Madness, will be the youngest celebrity dancer in Season 32.
Gomez made her acting debut in 2018 on two episodes of the Disney Channel series Raven's Home. She then gained notoriety outside of the Marvel Cinematic Universe for her work in Season 1 of the Netflix series The Baby-Sitter's Club.
Val Chmerkovskiy, who debuted on DWTS in Season 13 of 2011, and Gomez will collaborate. He has won twice, first with actress Rumer Willis in Season 20 and again with Olympic gold medalist Laurie Hernandez in Season 23.
Alyson Hannigan
Fans may associate Alyson Hannigan most with her role as Lily Aldrin in the popular television sitcom How I Met Your Mother, which aired for 206 episodes from 2005 to 2014.
She is also well known for playing Willow Rosenberg on Buffy the Vampire Slayer (1997–2003) and for appearing in several American Pie franchise movies.
Sasha Farber, who debuted as a pro in Season 17 and has been a series regular since Season 22, will be paired with Hannigan. His best results were third in both of those seasons, alongside Fifth Harmony member Ally Brooke in Season 28 and figure skater Tonya Harding in Season 26.
Harry Jowsey
Harry Jowsey, a reality TV celebrity from Australia, will compete for the Mirrorball Trophy during the 32nd season of Dancing with the Stars. In 2020, he established himself as a fan favorite on the Netflix series Too Hot To Handle.
Since then, he has produced a podcast called Tap In and has hosted an interactive show on Spotify called Dating Harry Jowsey.
Jowsey will collaborate with Rylee Arnold, a rookie on the DWTS, whose older sister Lindsey is a seasoned contestant and past champion.
Charity Lawson
After starring in Season 20 of ABC's The Bachelorette, Charity Lawson is continuing her career in reality TV as a competitor on DWTS Season 32.
Lawson is a prominent child and family therapist in Georgia. She also participated in Season 27 of The Bachelor, where she placed fourth.
Lawson and Artem Chigvintsev, who debuted on Dancing with the Stars as a pro for Season 19, seek to dance their way to glory. Together with Kaitlyn Bristowe, a past contestant on The Bachelor and The Bachelorette, he took first place in Season 29.
Ariana Madix
With a victory on Dancing With the Stars Season 32, Ariana Madix aspires to add to her own reality television history. Madix is most well-known for her role as a cast member of The Vanderpump Rules on Bravo TV.
She has also dabbled in scripted television, making cameos in comedies including Dads and Anger Management.
Madix will collaborate with Pasha Pashkov, who will be making his second appearance on DWTS after making his professional debut in Season 28. He placed seventh that season while dancing with Kate Flannery of The Office.
Jason Mraz
Jason Mraz, a singer, songwriter, and guitarist who is most well-known for winning two Grammy Awards in 2010, will be included in Season 32, which will also draw from the vast world of music.
Mraz has three studio albums that the Recording Industry Association of America (RIAA) certified platinum and two that were certified gold, in addition to two other Grammy nominations.
Mraz dances with Daniella Karagach, who debuted as a DWTS pro in Season 29, as his partner. She saw early success in the arena when she and former NBA player Iman Shumpert (the only NBA player to win DWTS) took first place in the competition in Season 30.
Adrian Peterson
Former running back Adrian Peterson, who played professional football for 14 years (11 with the Minnesota Vikings), will be the 24th member of the National Football League to compete in Dancing with the Stars in Season 32.
Peterson, who played for seven different teams, was nominated for seven Pro Bowls and was awarded the NFL's Most Valuable Player in 2012. Additionally, he three times led the league in rushing yards as well as in rushing touchdowns between 2009 and 2015.
With partner Britt Stewart, a DWTS pro since Season 29, Peterson will move from the field to the dance floor. Her greatest result was a tie for fifth place with deaf SAG Award winner Daniel Durant in Season 31.
Lele Pons
Lele Pons, a Venezuelan YouTuber and actress with more than 18 million subscribers, will make an appearance on season 32 of DWTS.
She first became well-known for her comedic work on Vine, where she had the third-most-followed account. In early 2023, she also placed ninth on Season 9 of The Masked Singer.
With Brandon Armstrong, who debuted on DWTS as a professional dancer in Season 27, Pons hopes to transform jeers into cheers. He placed ninth twice, once in Season 29 with TV host Jennie Mai and once in Season 31 with American Idol winner Jordin Sparks.
Mira Sorvino
Oscar-winner In Season 32, Mira Sorvino, who earned the Academy Award for Best Supporting Actress for her performance in 1995's Working Aphrodite, takes on the dancing challenge.
Sorvino has been in supporting roles in Modern Family and Psych during the past ten years, and most recently, he was a cast member of the 2023 film Sound of Freedom.
Gleb Savchenko, who appeared in Season 10 before beginning a steady DWTS run in Season 23, where he finished fourth with One Tree Hill's Jana Rae Kramer, will partner with Sorvino. With the singer Lauren Alaina (Season 28) and the drag performer Shangela (Season 31), Savchenko finished fourth on two additional occasions.
Jamie Lynn Spears
Fans may recognize singer and actress Jamie Lynn Spears from her roles in the television shows Crossroads and Zoey 101. She will bring her abilities to the dance floor.
Jamie Lynn is the younger sister of the controversial singer Britney Spears. She has recorded three albums, with the most recent ("Follow Me") coming out in 2020.
Spears will perform in this arena with professional Alan Bersten, a recurring character on the program since Season 25. He also previously won Season 28 of Dancing with the Stars with Hannah Brown, a contestant on The Bachelorette and Miss USA.
Mauricio Umansky
Mauricio Umansky, who routinely appears on The Real Housewives of Beverly Hills alongside his now-divorced wife, Kyle Richards, will be another representative of reality television on DWTS.
Umansky, who is well-known for his role as the CEO of The Agency, which represents some of the biggest celebrities and developers in the world, is a true success story. In 2022, he also served as the host of his own Netflix reality series, Buying Beverly Hills.
Emma Slater, a DWTS professional dancer since Season 17, will link up with Umansky. With former NFL running back Rashad Jennings, she emerged as the winner of Season 24.
Matt Walsh
Before the WGA strike ended, Matt Walsh was on the verge of quitting DWTS Season 32, but he decided to stick with it. Viewers can look forward to seeing his comic flair on the dance floor.
Walsh, a veteran of both television and cinema, is best recognized for his comedic roles in The Hangover and Ted as well as Brooklyn Nine-Nine and Veep.
Walsh will partner with professional Koko Iwasaki, who has only been a DWTS pro for two seasons after making her debut in Season 31.
Barry Williams
Barry Williams, who fans will recognize as Greg Brady, the oldest son on the enduring TV series The Brady Bunch, will represent a great period of television in Dancing With the Stars' 32nd season.
Williams appeared on various more well-known series over the years, such as Mission: Impossible, Full House, and Scrubs, in addition to multiple Brady Bunch revivals.
Peta Murgatroyd, a DTWS veteran who has worked as a regular professional since Season 13, is by Williams' side. With NFL wide receiver Donald Driver in Season 14 and America's Next Top Model champion Nyle DiMarco in Season 22, she has also achieved two victories.