Novel Coronavirus Analysis Using Einstein Analytics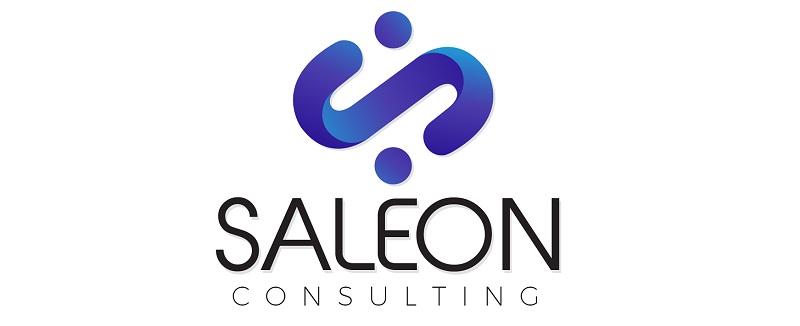 Introduction :
As we started this new year, the major outbreak and news has been about Coronavirus which is officially called COVID-19 by WHO (World Health Organization). Corona Virus was first detected in China in December last year in Wuhan which has potentially spread in no time. According to latest updates, there have been 73,260 cases and 1868 deaths world-wide and has been increasing, majority being from Wuhan and Hubei China. These are numbers as of 2/17/2020.
As we dig deeper, the name "Corona" comes from Latin word which means "Crown" which is as we see the microscopic view of the virus which has tiny outward projections on top like a crown, hence the name. The virus is contagious and is known to spread from one person to another in form of respiratory droplets when released from a person with virus coughs or sneezes. It's not fully known as in how many ways the virus can spread and is to be known yet.
Fighting the Coronavirus with Analytics:
We can analyze the data available till date to find out more insights about the impact that this virus has had on the number of people getting infected. We can find out at what rate its spreading, and which are the regions worst affected. With the help of analytics, we can figure out the infected, recovered and the death rates.
As of now the technology is helping us way beyond what it used to in the past in health sectors and can be tracked in various fields using AI. AI is the most promising future which collects the most updated data from articles and search engines and gives us a definitive answer to tackle such problems in future. Today, public health officials around the world are an array of data analytic tools to battle this outbreak, including tracking where 2019-nCoV has already spread, how it's spreading, and forecasting where it's going next.
Einstein Analytics
Salesforce customers are increasingly using Einstein Analytics which is a comprehensive and intelligent business analytics solution to not only analyze the business outcome and trends but also get actionable insights with the ability to predict from the data that you have.
Einstein Analytics Plus is Augmented Analytics offering an automated discovery of insights, powered by machine learning and natural-language generation, to transform the way CRM users interact with data.
Einstein Analytics Dashboards in Action
All thanks to Einstein Analytics, here are some customized Dashboards like Cases Till Date Worldwide, regions wise (grouped by country, grouped by a city or Province/ State ) which can help us reduce the analyzing time which can be used in finding out ways to minimize the spread in such regions by taking precautions. Below are the interactive dashboard snapshots that can give us more insights about the important metrics like cases received, recovered, deaths, death rate, recovery rate. ML based timeseries charts can also be developed which can predict the death, death rate and so on. More the data we provide for the model to learn the better will be the prediction that it can generate.
Snapshot 1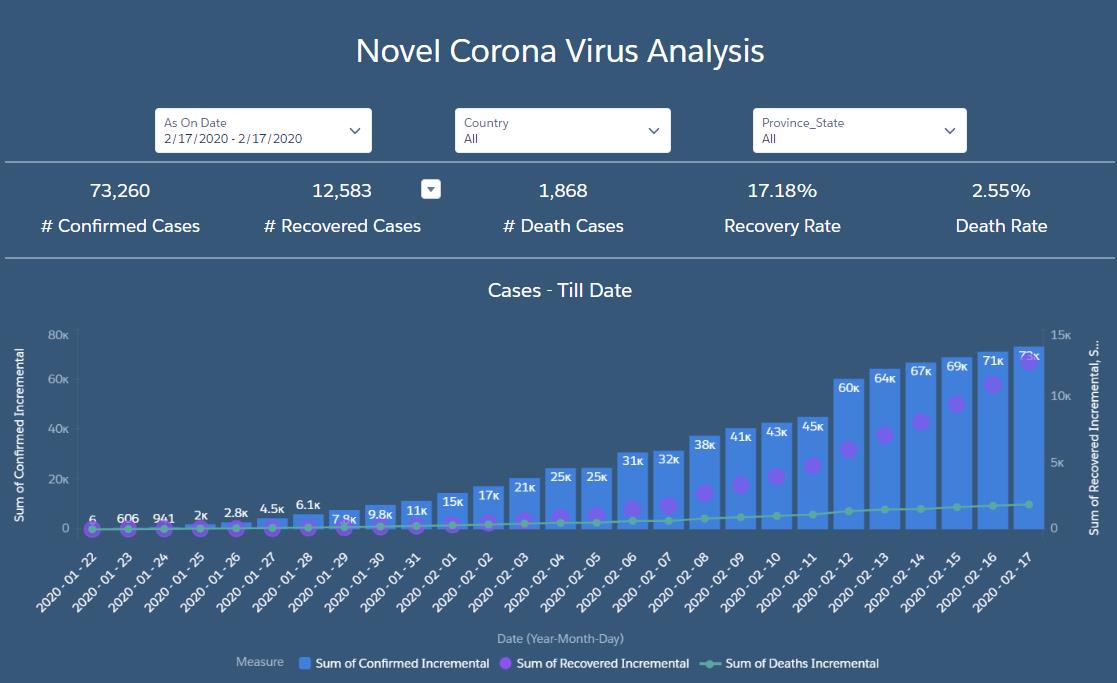 Snapshot 2
Snapshot 3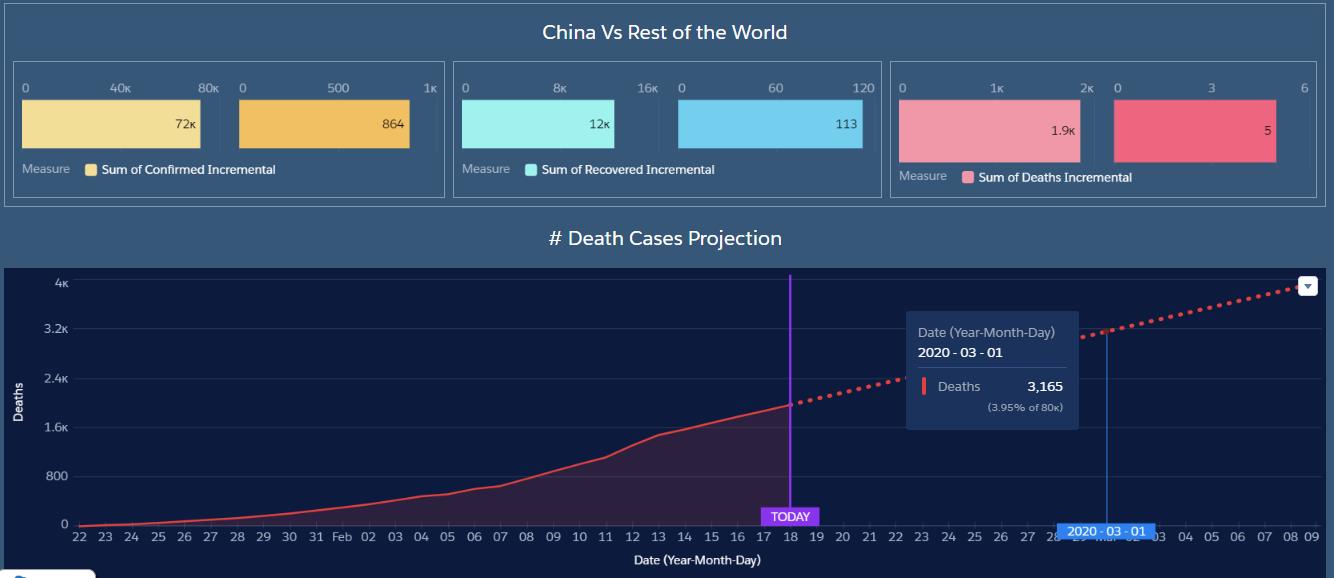 Snapshot 4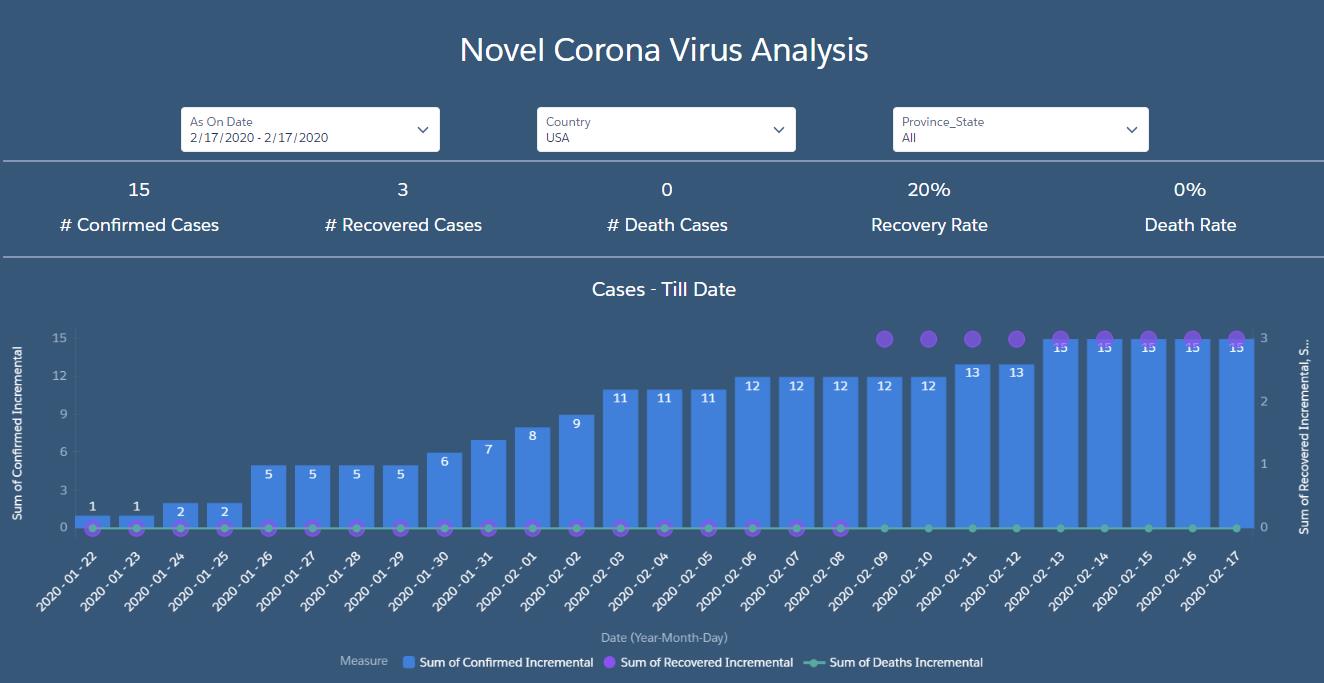 Snapshot 5

Author: Sandeesh Phulkar, Founder and CEO, Saleon Consulting Pvt Ltd.
Note : These dashboards are developed by Saleon Consulting Private Limited and the data used to build them has been exported from Kaggle.com. Kaggle is the world's largest data science community with powerful tools and resources to help you achieve your data science goals.
About Saleon Consulting Private Limited: Saleon Consulting offers the comprehensive capabilities and deep Salesforce and Einstein Analytics knowledge necessary to help you solve the most complex issues of your organization. We specialize in implementing highly productive, actionable, integrated and helpful dashboards that will help your organization save time and present a comprehensive analysis of your business.