Portugal vs Ghana, 2022 FIFA World Cup Qatar – Preview, Prediction, Head to Head, Lineups, and More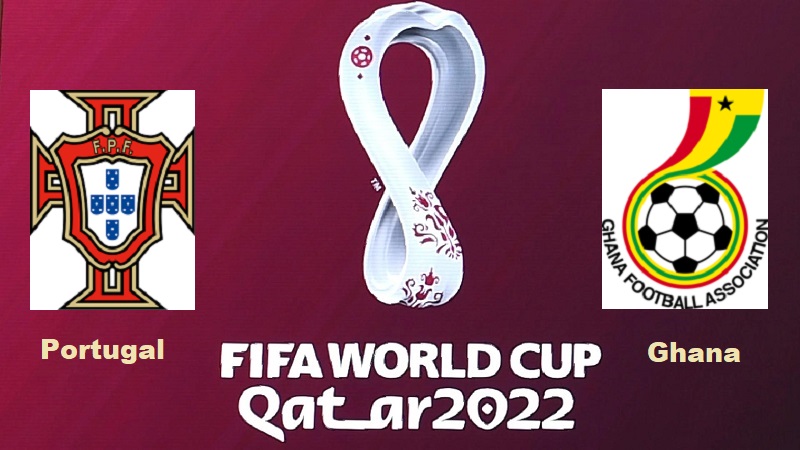 Portugal will face Ghana in their FIFA World Cup 2022 Group H opener at Stadium 974 in Doha on Thursday. This will be Portugal's second attempt at international glory.
Although Portugal's preparations for the 2022 World Cup were almost overshadowed by Cristiano Ronaldo's comments about Manchester United, the former European champions are all set to begin their journey in Qatar. They will play Ghana in their first game of the season on Thursday at the 974 Stadium in Doha, which is in Group H. The group also includes Korea Republic and Uruguay, which will aim for a strong start. Both will be confident because they won their pre-World Cup friendly matches.
Portugal and Cristiano Ronaldo will begin their 2022 World Cup campaign against an exciting and young Ghana team.
Prior to the tournament, Portugal has been the subject of a lot of discussion about Cristiano Ronaldo's explosive interview and whether the inclusion of two other Manchester United players in the team would cause divisions in the camp.
They'll be eager to show that hasn't been the case by starting off strong against Ghana. The Black Stars, who just beat Switzerland 2-0, will be hoping to get something out of the game.
Day Five of the FIFA World Cup continues with another intriguing matchup as Portugal takes on Ghana at Stadium 974 to begin their campaign.
Portugal, the seventh-favorite team in pre-tournament betting, is currently priced at 13.0 to win the tournament. Ghana, a relative underdog, is priced at 250.0 to become the first African nation to win the World Cup.
However, despite the Ghanaians' somewhat disappointing year, despite their odds of winning the tournament, a competitive and entertaining matchup appears likely in Group H. Ghanaians are certainly not to be underestimated.
Even though it was one of only three victories that the Euro 2016 champions have achieved in their last 14 World Cup matches, Cristiano Ronaldo scored the game-winning goal when the two teams met in a dead-rubber in the group stage at Brazil 2014.
Ronaldo was already destined to be the center of attention; however, as a result of his abrupt departure from Manchester United this week to become a free agent, the number of cameras focusing on his face will increase exponentially throughout this tournament.
Ghana's record in World Cup openers is comparable to Portugal's, and the injury of Jojo Wollacott, Ghana's first-choice goalkeeper, is a blow. Portugal has lost all three of their World Cup openers.
Portugal vs Ghana, 2022 FIFA World Cup Qatar – Team News
Portugal Team News
Portugal's recent play has been inconsistent, and they enter this match with a five-game losing streak. However, they are confident that Ghana will give them a good start in their 2022 FIFA World Cup campaign.
Portugal have one of the best players in the world, Cristiano Ronaldo, who has been aiming for a World Cup for some time, making them clear favorites to lead the group.
In what is likely to be Cristiano Ronaldo's final FWC, the Portuguese will be looking to rebound from a disappointing 2018 tournament in which they won just one game before being eliminated by Uruguay. They will also be hoping to produce the goods here.
At major competitions, Portugal always ranks high among the favorites, and Qatar 2022 will be no exception.
Bruno Fernandes, Joao Felix, Rafael Leao, Diogo Jota, and Cristiano Ronaldo are all likely to feature in this Group H opener for Fernando Santos.
Fernando Santos still has a talented group of players available, despite numerous injuries, including the absence of Diogo Jota.
For the final time in his career, Cristiano Ronaldo will lead the Portuguese attack at the World Cup, and he will have a lot of help from fellow Premier League stars Bernardo Silva and Bruno Fernandes.
Portugal lost the best position in their respective Nations League group subsequent to falling 0-1 to Spain on the final day of the competition.
In the World Cup Qualifications, they did the same thing by falling to Serbia late at home. Despite this, Santos' team was able to advance to the World Cup by defeating Turkey and North Macedonia in the playoffs.
After a thrilling loss to Spain by a score of 0-1, the Navigators were unable to advance to the next phase of the Nations League. After failing to receive direct advancement, Portugal had to win against North Macedonia in order to advance to the World Cup. So far in 2022, the team has not given up more than one goal in any of the battles. Therefore, they can build on their strong defensive performance, their 4-0 victory over Nigeria in the pre-World Cup friendly, and their 2-1 victory over Ghana in previous matches.
Ghana
Ghana is also favored because they are in the African group for the World Cup, have a strong defensive line, and have seven forwards, seven midfielders, and nine defenders on their roster.
Ghana will be hoping to make an impact this time around after failing to qualify for the previous FWC; however, they have not won any of their seven matches at the tournament in the last 90 minutes.
The Ghanaians have a lot of talent on the field, and coach Otto Addo has to choose from a lot of options. But if they want to do well in this tournament, Kamaldeen Sulemana, a talented young winger, could be the key player.
After eliminating Nigeria in the African WC Qualification playoffs on the away goal rule (1-1 on aggregate), Ghana is back after failing to qualify for the previous World Cup.
The Ayew brothers Jordan and Andre, who are both expected to start, have a lot of experience, but Otto Addo's team faces a very talented opponent here.
Felix Afena-Gyan, a teenager, might start in the Ghanaian attack, and Daniel Amarety, a Leicester player, will lead the defensive backline against Portugal's powerful attack.
The team led by Otto Addo will be trying to overcome the one point that Ghana's team won in the group stage of the 2014 World Cup in Brazil.
At the African Cup of Nations earlier this year, Ghana suffered a severe setback, scoring just one point in three games in the group stage against Morocco, Gabon, and Comoros, among others.
In that tournament, Ghana's defense appeared vulnerable, allowing three goals against Comoros in the final round.
We will also mention that Ghana have allowed two goals in each of its three World Cup group-stage matches in 2014.
The Black Stars won their first friendlies by scores of 0-1 against Nicaragua and 2-0 against Switzerland. In addition, Ghana beat Nigeria to earn a spot in the African Nations Championship, where they lost but won promotion overall after penalty shootouts. Prior to their World Cup opener against Portugal, the team has won two friendly matches and kept a clean sheet.
Portugal vs Ghana, 2022 FIFA World Cup Qatar – Head to head (h2h)
These two teams have only met once before, in the 2014 World Cup, when Portugal won 2-1.
What time does Portugal vs Ghana match begin?
The match between Portugal and Ghana will take place on November 24, 2022, at 16:00 (UK time).
Portugal vs Ghana: Times by State in the US.
ET:11:00 AM
CT:10:00 AM
MT:9:00 AM
PT:8:00 AM
Where will Portugal vs Ghana match take place?
Portugal vs Ghana will take place at Stadium 974 in Doha, Qatar.
In the UK, which channel broadcasts Portugal vs Ghana?
ITV will broadcast the live match between Portugal and Ghana.
Where can I stream Portugal vs Ghana in the UK?
On the ITV Hub, you can watch Portugal vs. Ghana live-streamed.
How can I watch Portugal vs Ghana live and for free in the United States?
FuboTV (7-day free trial) and Peacock (Limited-time offer for 0.99/m) will broadcast this Qatar 2022 World Cup Group Stage game in the United States.
Other options for watching the game in the United States include Foxsports.com, UFORIA App, Telemundo Deportes En Vivo, SiriusXM FC, Telemundo, FOX Network, Sling, and FOX Sports App. If you want to watch the game on your smartphone, don't forget to download the app.
Portugal vs Ghana, 2022 FIFA World Cup Qatar – Prediction
Portugal should not have much trouble defeating Ghana on an opening day. We anticipate that Ronaldo and company will have a field day on Thursday because Ghana's backline does not exude confidence.
With South Korea and Uruguay also in Group H, Portugal is under pressure to overcome their recent poor World Cup record and start their campaign with a win.
They should get all three points thanks to the attacking talent of Cristiano Ronaldo, Joao Felix, and Bruno Fernandes.
It is not ideal for Ghana to lose their primary shot-stopper on the eve of the tournament, as they have not been in their best form in 2022.
Although Portugal's squad is unquestionable of the highest caliber, their recent performances have been subpar, and the commotion surrounding Ronaldo also does not help.
On the other hand, Ghana has a talented group of players who cannot be underestimated, especially further forward, and have performed admirably in their most recent matches.
Don't be surprised if Ghana doesn't win this game, which could be closer than many people think it will be.
On paper, this looks like a really good matchup with a lot of attacking talent ready to play. Portugal, looking to get off to a strong start after a disappointing 2018 campaign, will hope that the drama brought on by Cristiano Ronaldo's high-profile departure from Manchester United does not detract from this opening matchup.
Ghana comes into this game in good form, but they haven't won any of their last seven regular-time FWC matches, so they'll need to fix that. With goalmouth action expected to be frequent, it would not be surprising if both teams were able to score. Both teams are likely to move the ball a lot.
With Ghana's recent defensive struggles and abundance of young talent in the final third, this has all the makings of a difficult opening match for Portugal.
With so many talented attacking options at their disposal, we still have faith in Portugal to grind out a narrow victory and get off to the perfect start, even though the Selecao faithful shouldn't expect their team to win easily in Doha.
Portugal vs Ghana, 2022 FIFA World Cup Qatar – Predicted Lineups
PORTUGAL Lineup
PREDICTED XI (4-2-3-1): Costa; Cancelo, Dias, Pepe, Guerreiro; Neves, Carvalho; B. Silva, Fernandes, Felix; Ronaldo
GHANA Lineup
PREDICTED XI (4-2-3-1): Ati-Zigi; Odoi, Djiku, Salisu, Lamptey; Partey, Samed; Sulemana, Kudus, J. Ayew; Williams