Power Sportz analyzes AAP contribution to sports!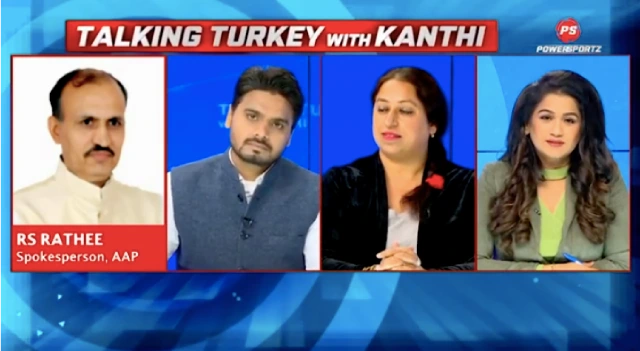 Politics has always been a subject of discussion, especially when it is about the politics of Delhi. We Indians are always very sensitive about politics and we are SMART enough to mix it with any subject. Just like alloo can be mixed in any veggie.
Yeah, I mean can you ever think of politicians intervening in sports as well, especially when their background is not that. And even if they are from a sports background, eventually they become PAKKA politician (I don't want to take the name, I hope you got it).
Well, the purpose here is not to discuss about the politicians, the purpose is to tell that – the news that we broke that Power Sportz co-owner Ms. Kanthi D Suresh is launching a new channel that would be purely dedicated to Power, I mean politics with the name 'Power News', the news seems to be 100% correct as Ms. Kanthi has started giving hints of her new channel on her existing platform.
Yeah, watch her Friday's Talking Turkey with Kanthi episode you will know that she is discussing politics too. However, it all came up only after Arvind Kejriwal's indulgence in sports. But you see the TIMING is PERFECT!!
Delhi elections are already seems to be heating up, as the narratives have changed completely, now there is a quantum leap. Now Mr. CM is not talking about Bijli, Paani, Mohalla, anymore. He is now inclined towards subjects like SPORTS, I am sure his knowledge would be lesser than an AAM AADMI in INDIA. Because, as per him 10 medals at the Olympics are confirmed… However, he missed to tell HOW of the story!
I think Mr. CM while claiming BIG THINGS while passing the Delhi Sports University Bill, missed to give a thought to it that whether the Sports universities which excel in conferring degrees, actually be able to create medalists? Probably, Kejriwal's academic background might have prevented him to think the 'Sports' way?
Well, let's wait for the MAGIC of so-called Historic Bill that claims to acquire 10 medals in the Olympics. However, if it happens, it would be a win-win situation for sport communities of course.
But we have to wait to see if Mr. CM continues to make more claims in future!
To know more, WATCH Talking Turkey with Kanthi!!