Rohit Rajput, A Great Personality In The World Of Bodybuilding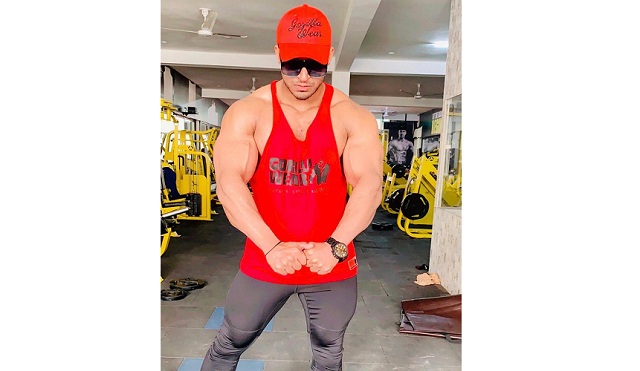 Armed with the best of genetics and a great body, Rohit Rajput is not just every other bodybuilder in the world. Hopeful of representing India in the Olympia soon, Rohit is a very stylish sportsman, who has followers from every corner of the country and every stratum of life, be it celebrities or the common man. But it is not genes alone that have made Rohit Rajput a coveted personality in the world of sports. He has also worked very hard during his training sessions right since the school days that have brought him such outstanding results vis-à-vis his career as well as outside of it. Today, he keeps up that habit by training anywhere between 13-18 hours daily in order to keep up his robust physique.
One look at his Instagram handle, undefeatable_rohit_rajput, and it is clear how his army of followers online holds him in high esteem as far as his style sense is concerned. From models to other sportspersons, college-kids to businessmen, his followers look forward to his Instagram stories, which most feature him in one stylish outfit after another. As soon as he loads a new look, his followers don't waste time before copying the same. As a result, this indefatigable athlete has also become one of the top fashion bloggers in the country, purely because of his innate sense of chic outfits.
Born in Haryana, Rohit started exercising and working on his body right when he was in school. Rohit is inspired by the "Akhada" tradition, which he was witness to while growing up in small-town Haryana. After shifting to Delhi with his parents, he got a good exposure to gymming and exercising in a controlled environment. Though this exposure was quite motivating for him, he could not afford the expense associated with it. But he soon found a way around this problem by running a side-business with a couple of his friends. Around that time, since he didn't have much to talk about as far as his physique was concerned, Rohit was usually ignored by his gym buddies.
Soon, he won his first YMCA contest and became a star in the bodybuilding circuit in Delhi. As soon as he won the contest, the very people who used to avoid him so far started seeking his advice regarding bodybuilding. Apart from a variety of advertisement opportunities that came his way once he won the contest, Rohit was also made the brand ambassador of a number of supplement brands, both national and international. Through all this, he kept up his participation in competitions across the length & breadth of the country, winning almost every other title! Some of the titles that this dynamic young athlete has earned include Asia's 1st and the World's 2nd winner of the Sheru Classic Men's Physique title, Mr. Delhi (four times), Junior Mr. Haryana, Mr. India, Mr. North India, etc.
Bestowed with the best genes, Rohit built an amazing body even after putting in less than 6 months, even as other bodybuilders took 1 year to achieve the same results.
When Rohit was at the peak of his career, he injured his back after which his doctors advised him to let go of bodybuilding and stop going to the gym. However, Rohit wouldn't hear any of it. He kept up his exercise regime inside and outside the gym and continued to nurture his passion for bodybuilding too. Due to his unrelenting attitude, Rohit was ready to participate in the Amateur Olympia competition just within a year of the injury. A year after his back injury, Rohit also took part in the PRO Qualifier and ended up winning Gold in the Classic Physique category.
Speaking about those difficult times, Rohit says, "Problems are a part of success. If you get demotivated or lose against these problems, you'll never be successful. Even after my back injury, I decided to stay focused on my passion. I worked slow during that time but never stopped. This is how one has to follow their passion to be successful. Always believe in doing hard work."
This humble gentleman is careful of the opportunities that have come his way, therefore, he chooses his words carefully, while explaining his ambition for the future, "I am very grateful for the genetics that I have, which has really helped me reach where I am today. But this does not mean that I did not face difficulties. While at the peak of my career, I was advised to stop bodybuilding, but I did not give up. This is why I am now going to live my dream of representing India in the Olympia. I want to bring the Title home for my Country."
Considering that Rohit has achieved whatever he has set his mind to so far, the Olympia title will surely be his and his dream to represent India on the international stage will soon be fulfilled.