Celebrity
Influencerquipo presents Best Fashion Blogger of the year 2020-2021 – Ankita Aggarwal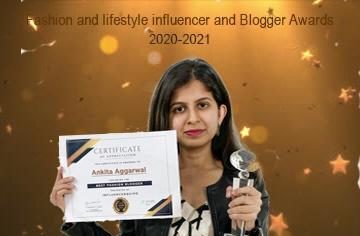 Ankita Aggarwal | Fashion And Lifestyle Blogger | Fashion Designer | Influencer | Stylist
Ankita Aggarwal is a Bangalore based Fashion And Lifestyle Blogger and a Fashion Designer by profession.
She has her own blog called Fashion Runway by Ankita Aggarwal
She was one among the award winners of "Rang De 2018", her college fashion show.
She also participated in Deccan Herald Fashion show as a Designer for her collection named "Indiana"
She attributes her success to her teachers of Baldwin Women's Methodist College and her parents for encouraging her in the Fashion World.
FEW WORDS BY ANKITA
I have always loved writing about fashion, style, fabrics, trends etc … Have a keen eye for photography … Love styling apparel …
All these three adding together made my hobbies turn into my profession.
I always wanted to make fashion my profession. I did my Bsc in Fashion and Apparel Design.
During my college days I started blogging about fashion and lifestyle and collaborated with brands like Puma, Adidas, Myntra, Lays, YLG salon, Cadbury,
Garuda Mall, Bangalore Times Fashion Week etc … Never knew my hobby of fashion blogging would become my passion and turn into my career.
.In India blogging still seems to be an alien topic.
When I did my research about fashion blogging, it took me a long time to understand how things work in this industry.
I started off with Instagram as a teenager, it took a few years for brands to approach me. So have lots and lots of patience and never give up.
Your dreams will definitely come true if you are passionate and also work hard towards your goal.
There is no gain without any pain.
"Everyday is a fashion show and the world is your Runway" This is the reason I named my blog Fashion Runway by Ankita Aggarwal.
Admired for her fashion sense Kritika Khurana from "That Boho Girl" is inspiring everywoman to try something offbeat and distinct.
I feel Anushka Sharma is the Queen of Fashion in India. Nush is a brand by Anushka that renders personal style.
In one of my blog post I have curated "The break up song" look inspired by Anushka Sharma from the movie "Ae Dil Hai Mushkil".
Sonam Kapoor is another Indian celebrity who has been the Queen of experimental style in Bollywood.
As a teenager I was inspired by her fashion curated looks from the movie "Aisha".
I believe that women should be reviered and respected. As a fashion designer I get the privilege of dressing many women.
I believe every girl/woman is pretty in her own way. But I see injustice around me.
In the future I would want an opportunity to help these women and girls, make them self confident raise their esteem and make them financially independent.
I have been inspired by Indian Craftsmanship. In the future I would want to promote regional handicrafts and workmanship from Rural India.
Im really greatful to have won the Best Fashion Blogger of the year 2020-2021. This was a dream come true.
https://instagram.com/ankitafashionrunway?igshid=11uy22nkco631